In this article, we've scouted out the best places to fly a drone in Virginia.
Virginia is a state rich in history. The state has an advantage above the record of eight, the highest of any state, because four of the first five presidents were born there. The Revolution and the Civil War both came to an end in Virginia, which also has the most Civil War battlefields of any state.
Long golden beaches are well-liked summer vacation spots, while the mountains are excellent locations for hiking and other outdoor activities. Some of the best things to do in the state are to visit its natural marvels, such as Shenandoah National Park, Natural Bridge, the barrier islands of Chincoteague and Assateague, and Luray Caverns.
In this article, I will reveal to you where to fly your drone in Virginia, as well as where it is permitted and not permitted by the law to fly a drone. I will also offer regulatory guidance to assist you in maintaining compliance with federal, state, and local laws.
Drone Regulations In Virginia
The federal drone laws governing drone operations in Virginia, which were created by the Federal Aviation Administration, classify drone operations as either recreational or commercial.
Federal Regulations In Virginia
Recreational drone pilots are subject to the FAA rules for recreational flyers, which require them to register their drones if they weigh more than 250 g and complete The Recreational UAS Safety Test (TRUST) before they can operate their drone for recreational purposes in the United States of America.
Commercial drone pilots are subject to FAA rules for commercial pilots, which require them to follow The Part 107 regulations, complete a multiple-choice exam, and earn a drone pilot certification from the FAA before they can operate their drone for commercial purposes in the United States of America.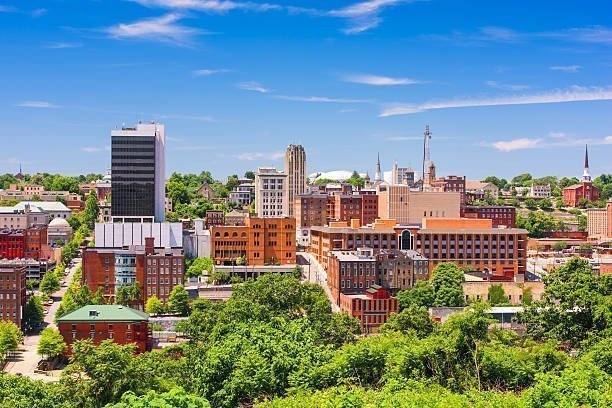 When flying within five miles of an airport, drone pilots are no longer needed to independently contact air traffic control. Instead, to obtain airspace authorization to fly in regulated airspace near and above numerous airports, both commercial and leisure fliers can use the automated LAANC system. You must apply for airspace authorization if you are operating in Class B, C, D, or E regulated airspace. In areas where LAANC is not available, you can use the FAA Drone Zone or LAANC.
Interested in becoming an FAA-certified drone pilot so you can operate under the Part 107 regulations and make money flying your drone? Check out our industry-leading online training course over at Drone Pilot Ground School.
State and Local Regulations In Virginia
Here is an in-depth guide to the drone laws in Virginia that we put together. Be sure to check them out to see the state and local drone laws you need to adhere to in Virginia. You should always exercise sound judgment when in doubt and adhere to the FAA's regulations.
DISCLAIMER: Nothing on this website should be construed as legal advice and is solely provided for informative reasons. If there is anything we missed or if you have any further questions, please contact us at info [at] droneller [dot] com, and we will do our best to assist you.
Best Places To Fly A Drone In Richmond, Virginia
Here are my top recommendations for where to fly a drone in Richmond, Virginia. These places were chosen because of their accessibility, airspace constraints, and tourist attractions.
1. Brown's Island
S 7th St, Richmond, VA 23219, United States
Brown's Island is a magnificent six-acre riverfront park. Brown's Island is located on the James River, between 5th Street and 12th Street, to the south of Tredegar Street. It is a 1.25-mile section of the Riverfront Canal Walk and was created by the Haxell Canal.
The Island, which links to the James River Park, is a well-liked location for outdoor concerts and events, including the Richmond Folk Festival and the Friday Cheers concert series, which draw over 400,000 people to the riverbank.
The island is a large, open area of greenery located between the Haxall Canal and the river. The ancient and new bridges make the vistas even more breathtaking. Drone pilots who fly above metropolitan parks, bodies of water, and contemporary city skylines will always be in awe of the scenery.
2. Four Mile Creek Park
Henrico, VA 23231, United States
The 52-mile path that links Richmond, the state capital of Virginia, with Jamestown and Williamsburg, the historic capitals, ends at Four Mile Creek Park.
Finding acceptable takeoff and landing locations is difficult in Four Mile Creek Park due to the area's thick vegetation. However, there is one tiny field with adequate room.
3. Monroe Park
620 W Main St, Richmond, VA 23220, USA
Monroe Park is a 7.5-acre (3.0 ha) landscaped park located 1 mile (1.6 km) northwest of the Virginia State Capitol Building in Richmond, Virginia. It is named after James Monroe, the fifth President of the United States (1817–1825). The park was established in 1851 and is Richmond's oldest park.
It is close to Virginia Commonwealth University's Monroe Park Campus, has free Wi-Fi, and sees a lot of student traffic. Throughout its lengthy history, the park has hosted agricultural fairs and served as a camp and training place for Confederate forces.
This lovely location is about one mile northwest of the Virginia State Capitol. Several improvements to the park were made during the 2018 renovations, restoring the grounds to their original layout from 1877. Drone pilots like to film here due to the beautiful open areas and views of the Richmond skyline.
4. Reedy Creek Trailhead
4001 N Riverside Dr, Richmond, VA 23225, United States
Reedy Creek Trailhead is located on the banks of the scenic James River. There are beautiful trails that follow the banks of the river and plenty of places for fishing. It is a great place for drone operations and other outdoor activities, but you have to bring a lot of bug spray and clean up your dog's waste.
5. Three Lakes Park and Nature Center
400 Sausiluta Dr, Richmond, VA 23227, United States
The air, water, and land are all represented in Three Lakes Park & Nature Center's characteristics. The 6500-square-foot facility features a variety of interactive exhibits that let visitors get their hands dirty.
The Nature Center contains a 50,000-gallon fisheye-view aquarium in addition to other flora and animals. It's a fun and instructive facility in a lovely location. The mature, shady forested areas, beautiful pathways surrounding the three lakes, picnic spaces, and a playground may all be enjoyed by visitors.
Drones are permitted here, but the authorities do urge that operators respect other people. Additionally, they ask that drones only take off and land in the more vacant, wide spaces.
Best Places To Fly A Drone In Virginia Beach, Virginia
Here are my top recommendations for where to fly a drone in Virginia Beach, Virginia. These places were chosen because of their accessibility, airspace constraints, and tourist attractions.
1. Great Bridge Lock Park
100 Locks Rd, Chesapeake, VA 23320, United States
Great Bridge Locks Park is a 19-acre space that's best for aerial photography on sunny days. The Elizabeth River borders the narrow peninsula on one side and the Albemarle and Chesapeake Canal on the other. People prefer to visit this congested river to see the yachts and other river activity.
There are several options available to camera drone pilots that enjoy capturing beautiful landscapes, canals, and boats. Fishing, crabs, picnic sites, and beautiful trails are further local draws.
2. Little Island Park
3820 S Sandpiper Rd, Virginia Beach, VA 23456, United States
Little Island Park is a 144-acre beach park located in Sandbridge, just north of Back Bay Wildlife Refuge.
The park has a 775-foot surfing beach to the north of a 400-foot fishing pier and a 2,000-foot swimming and fishing beach to the south. Along the park's western edge, Back Bay, a brackish lake, offers fantastic fishing and crabbing opportunities.
Their amenities include a public beach with lifeguards (seasonal), a fishing pier with a surfing and fishing area, volleyball courts, basketball courts, tennis courts (lighted), playground equipment, vending machines, picnic shelters, restrooms, showers and foot rinses, a changing area, and a diaper changing area.
Please note that there is a fee for parking and pier admission.
3. Munden Point Park
2001 Pefley Ln, Virginia Beach, VA 23457, United States
Munden Point Park is a 100-acre park located on the North Landing River, a major leg of the Intra​coastal Waterway. It has a well-designed disc golf course and plenty of open fields to operate your drone. The park's outdoor amphitheater is reserved for weddings, classroom instruction, and other special events.
Munden Point Park amenities include a boat ramp, basketball courts, ballfields, volleyball courts, horseshoe pits, disc golf course, outdoor amphitheater, picnic shelters, gardens, playground equipment, vending machines, a diaper changing area, and restrooms.
4. Oak Grove Lake Park
409 Byron St, Chesapeake, VA 23320, USA
Oak Grove Lake Park is located in central Chesapeake, off Battlefield Blvd/Volvo Pkwy, and is easily accessible from Greenbrier, Great Bridge, and I-64. The park has a 1.5-mile walking trail around a man-made lake in the park, which is surrounded on one side by the 168 bypass.
The facilities are the only negative aspect of this park. Be ready to parallel park because the parking lot is relatively small and frequently full on good days. There are no flush toilets or drinking faucets; however, the three porta potties beside the playground are often kept reasonably clean.
Drones are permitted in the park as long as they follow FAA guidelines. Multirotor aircraft may be launched and landed in a number of locations, allowing for aerial photography of this amazing location.
5. Stumpy Lake Natural Area
4797 Indian River Rd, Virginia Beach, VA 23456, United States
Stumpy Lake Natural Area is a 278-acre lake with an elevated, ADA-accessible viewpoint, a 174-acre golf course, and more than 970 acres of undeveloped, wooded terrain surrounding the lake and 1.65 miles of gentle shared-use paths. It is situated near the south-central city boundary with Chesapeake.
The region provides a chance for passive leisure activities including hiking, fishing, bird watching, nature observation, and photography as a priceless aesthetic resource. The City of Norfolk sold the land, which is 1,422 acres, to the buyer in 2001.
Just before the causeway from Indian River Road and close to the entrance to the Stumpy Lake Golf Course is a canoe/kayak launch. The launch was created for non-motorized watercraft and complies with all ADA requirements. A tiny picnic shelter is close by. There are parking spots available for
6. Virginia Beach Fishing Pier
1413 Atlantic Avenue, Virginia Beach, VA 23451, USA
The Virginia Beach Fishing Pier, which is located exactly in the middle of the boardwalk at 15th Street, has long been a popular destination in the beach resort city of Virginia Beach. A highlight for fishermen from all around with varying degrees of experience is fishing the Virginia Beach pier.
Drone pilots should use this area with caution because of the high volume of pedestrian activity. From here, you may get stunning, all-encompassing views of the Atlantic Ocean. For some amazing video, keep the camera pointed back toward the pier and down the Virginia coastline.
7. West Neck Creek Natural Area
2249 N Landing Rd, Virginia Beach, VA 23456, United States
The 217-acre West Neck Creek Natural Area is a woodland area in Virginia Beach that is situated south of the Municipal Center along North Landing Road.
Almost all of the natural area is covered in older deciduous trees, with the exception of the open space that is kept surrounding the Buffington House and the gravel road that leads to it.
A marsh that is nourished by West Neck Creek and other drainage channels that branch off Princess Anne Road to the south is accessible from the natural area's southern side.
Finding good takeoff and landing places may be challenging, particularly for inexperienced drone pilots, due to the dense forest. This region contains some controlled airspace.
When flying in uncontrolled airspace, always ask for permission.
Final Thoughts on Where To Fly A Drone In Virginia
So there you have it: the best places to fly a drone in Virginia!
I hope you have a great time exploring the beautiful landscape of Virginia from above. You can also check out where to fly a drone in other states and cities in the United States.
Always remember to obey the federal, state, and local drone laws in Virginia to avoid having issues with the law and authorities.
And don't forget to share this article with a friend and other drone pilots who will benefit from this information using the share icons below.