In this article, we've scouted out the best places to fly a drone in Wisconsin.
Wisconsin, which is bordered by Lakes Michigan and Superior, has a variety of landscapes and attractions that are fun to explore. Large tracts of hills to the north and west are ideal for hiking and mountain biking, whereas lowland regions to the south and east have proven to be good for dairy production. The beaches are among the most visited locations in the summer.
The state also provides a wide variety of outstanding cultural activities and events. Outdoor enthusiasts have a variety of options, including some of the top hiking and biking routes in the nation, fantastic fishing lakes, and lakes for boating and leisure activities.
 In this article, I will reveal to you where to fly your drone in Wisconsin, as well as where it is permitted and not permitted by the law to fly a drone. I will also offer regulatory guidance to assist you in maintaining compliance with federal, state, and local laws.
Drone Regulations In Wisconsin
The federal drone laws governing drone operations in Wisconsin, which were created by the Federal Aviation Administration, classify drone operations as either recreational or commercial.
Federal Regulations In Wisconsin
Recreational drone pilots are subject to the FAA rules for recreational flyers, which require them to register their drones if they weigh more than 250 g and complete The Recreational UAS Safety Test (TRUST) before they can operate their drone for recreational purposes in the United States of America.
Commercial drone pilots are subject to FAA rules for commercial pilots, which require them to follow The Part 107 regulations, complete a multiple-choice exam, and earn a drone pilot certification from the FAA before they can operate their drone for commercial purposes in the United States of America.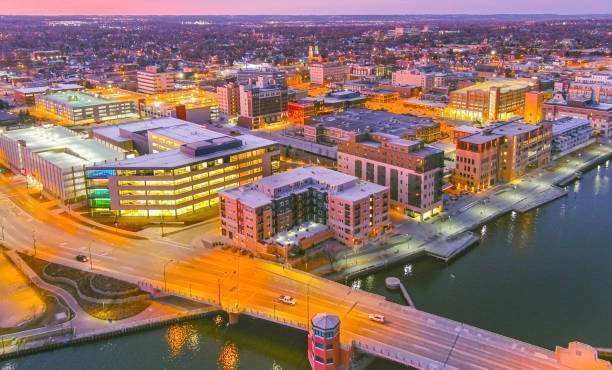 When flying within five miles of an airport, drone pilots are no longer needed to independently contact air traffic control. Instead, to obtain airspace authorization to fly in regulated airspace near and above numerous airports, both commercial and leisure fliers can use the automated LAANC system. You must apply for airspace authorization if you are operating in Class B, C, D, or E regulated airspace. In areas where LAANC is not available, you can use the FAA Drone Zone or LAANC.
Interested in becoming an FAA-certified drone pilot so you can operate under the Part 107 regulations and make money flying your drone? Check out our industry-leading online training course over at Drone Pilot Ground School.
State and Local Regulations In Wisconsin
Here is an in-depth guide to the drone laws in Wisconsin that we put together. Be sure to check them out to see the state and local drone laws you need to adhere to in Wisconsin. You should always exercise sound judgment when in doubt and adhere to the FAA's regulations.
DISCLAIMER: Nothing on this website should be construed as legal advice and is solely provided for informative reasons. If there is anything we missed or if you have any further questions, please contact us at info [at] droneller [dot] com, and we will do our best to assist you.
Best Places To Fly A Drone In La Crosse, Wisconsin
Here are my top recommendations for where to fly a drone in La Crosse, Wisconsin. These places were chosen because of their accessibility, airspace constraints, and tourist attractions.
1. La Crosse River Conservancy Area
S Kinney Coulee Rd, Onalaska, WI 54650, USA
The La Crosse River Conservancy is located in the valley of the La Crosse River in La Crosse, Wisconsin. It is a natural area accessible to the general public for hiking, fishing, and birding.
This is an excellent location to fly your drone without having to worry about crowds because of the abundance of hiking trails and vast open areas.
2. Mormon Coulee Park
N1150 Park Ave, La Crosse, WI 54601, USA
Mormon Coulee Memorial Park in La Crosse, Wisconsin, is situated at the intersection of Mormon Dr. and Bloomer Mill Rd. The Four Apostles marble statue is one of the park's most impressive elements. The park also has monuments to veterans, children, and babies.
There is a lot of open space for drone flights; however, the park's wooded portions are cut through by the Mormon Creek. Mormon Coulee Park is a nice location for some light drone flying training; however, it is somewhat smaller than other La Crosse parks.
3. Red Cloud Park
520 Powell St, La Crosse, WI 54601, United States
Red Cloud Park, located near the flowing La Crosse River, is primarily a swamp with flat terrain. It would be preferable to fly your drone here on days when the river's water level is low if you intend to do so. Despite how well-liked the park is among children, it shouldn't be difficult to locate quiet areas.
4. Riverside Park
100 State St, La Crosse, WI 54601, United States
Riverside Park is a public park located on the riverfront of downtown La Crosse, Wisconsin. Riverfest, the Fourth of July fireworks, Oktoberfest, Moon Tunes, and the Rotary Lights are just a few of the occasions it sponsors.
Along the river at the park, the steamboats American Queen, La Crosse Queen, and Julia Belle Swain make stops. The park contains paths for running and walking.
Riverside Park is one of the most well-liked parks in downtown La Crosse because of its breathtaking view of the Mississippi River and immaculate amenities.
Although it is lovely all year, it appears even more lovely when the Christmas lights are turned on. There is space here to fly your drone and get beautiful photos of the nearby river on less crowded days.
Best Places To Fly A Drone In Milwaukee, Wisconsin
Here are my top recommendations for where to fly a drone in Milwaukee, Wisconsin. These places were chosen because of their accessibility, airspace constraints, and tourist attractions.
1. Atwater Park
4000 N Lake Dr, Shorewood, WI 53211, USA
Atwater Park is a small, 5-acre recreation space located on the shores of Lake Michigan in Milwaukee, Wisconsin. Don't be deterred by the park's little size. The most breathtaking lake views may be seen here. This is so because the land looks down over the sandy coast from a sloping incline.
Atwater Park has long served as a significant area for neighborhood gatherings. Today, it serves as a nice getaway from the city and a great location to fly drones and capture the beautiful scenery.
2. Lake Geneva
42.568267, -88.488562
Lake Geneva is a popular resort city in Wisconsin that thrives on tourism due to its relative proximity to both the Chicago and Milwaukee metropolitan areas.
Drone cameras may capture breathtaking overhead images of the lake, boats, and surrounding forested area. There are some magnificent Gilded Age houses along the lakeshore Shore Path.
The best location to unwind is Big Foot Beach State Park in Lake Geneva. The 900-foot beachfront is well-kept, and there are miles of beautiful hiking paths.
3. Manitowoc Harbor
44.091811, -87.647487
Manitowoc Harbor, Wisconsin, is situated on the western side of Lake Michigan, about 106 miles from Sturgeon Bay Harbor and the Lake Michigan Ship Canal and 79 miles north of Milwaukee, Wisconsin.
There are many intriguing things to shoot in this port. To help shield the coastline and ships from the waves of Lake Michigan, two walls stretch from the shore on either side. You can fly your drone with fewer impediments there because there is a lighthouse and a sizable area of open ocean.
4. Richard Bong State Recreation Area
26313 Burlington Rd., Kansasville, WI 53139, United States
Richard Bong State Recreation Area is a 4,515-acre (1,827 ha) unit of the state park system of the U.S. state of Wisconsin. It is situated in Brighton, a town in Kenosha County. Mountain biking routes extend 8.3 miles (13 km) through this controlled prairie.
Among the other leisure activities are high-powered rocketry, swimming, dog sledding, falconry, ATV sports, land sailing, horseback riding, hunting, fishing, camping with facilities, and ultralight flying.
Great egrets, Sandhill cranes, and great blue herons are reported to nest in a nature preserve. One of the focal points of the planned Hackmatack National Wildlife Refuge is the Richard Bong SRA.
5. South Shore Park
2900 S Shore Dr, Milwaukee, WI 53207, United States
South Shore Park is located on the city's sandy Lake Michigan shoreline in Milwaukee, WI. Drones can capture stunning aerial footage of the rip-rap, yachts, and glistening ocean from the open beach area.
In addition, distant vistas of the Milwaukee skyline provide a magnificent backdrop. The paved Oak Leaf Trail, boating, swimming, and parkland are additional attractions.
6. Veterans Park
1010 N Lincoln Memorial Drive, Milwaukee, WI 53202, USA
Veterans Park is a recreation space with large open grassy areas on the shores of Lake Michigan.
The wide fields, tall trees, picturesque lake vistas, lagoon, and boats make it a favorite among drone pilots. On quiet days, the Milwaukee skyline may be seen clearly, and it reflects beautifully off the lake.
Paddle boaters, kayakers, and supporters of the Oak Leaf Trail all enjoy this park. If boats and floating docks are of interest to you, be sure to stop by the adjacent McKinley Lakefront Marina.
7. Washington Park
1859 N 40th Street, Milwaukee, WI 53208, USA
Washington Park (1900), originally called West Park, is a park in Milwaukee, Wisconsin, in the United States. The Milwaukee County Zoo was housed in the park from 1892 to 1958. It is among Milwaukee's oldest parks, and in 2019 it was included in the Wisconsin Architecture and History Inventory.
Visitors may learn about sustainability, environmental challenges, and conservation at its well-known Urban Ecology Center. The sizable lagoon, wide open areas, strong ancient trees, and a lovely pond are additional beloved elements. Flying drone cameras over its lovely terrain is a great use of this large, picturesque property.
Final Thoughts on Where To Fly A Drone In Wisconsin
So there you have it: the best places to fly a drone in Wisconsin!
I hope you have a great time exploring the beautiful landscape of Wisconsin from above. You can also check out where to fly a drone in other states and cities in the United States.
Always remember to obey the federal, state, and local drone laws in Wisconsin to avoid having issues with the law and authorities.
And don't forget to share this article with a friend and other drone pilots who will benefit from this information using the share icons below.