In this article, we've scouted out the best places to fly a drone in Wyoming.
The Cowboy State is the ideal location for anybody who wishes to enjoy the magnificent natural splendor of the American West because over half of Wyoming is designated as public property. The top places to visit in Wyoming, the state with the fewest people in the Union, are characterized by breathtaking scenery, from the hot geysers of Yellowstone to the craggy mountain peaks of Grand Teton.
The state with mountains is justifiably proud of its Wild West past. It is evident that cowboy culture is still very much alive in Wyoming whether you are watching a bronco-busting rodeo, eating a chuckwagon meal, or having a good time at a country music dance hall.
In this article, I will reveal to you where to fly your drone in Wyoming, as well as where it is permitted and not permitted by the law to fly a drone. I will also offer regulatory guidance to assist you in maintaining compliance with federal, state, and local laws.
Drone Regulations In Wyoming
The federal drone laws governing drone operations in Wyoming, which were created by the Federal Aviation Administration, classify drone operations as either recreational or commercial.
Federal Regulations In Wyoming
Recreational drone pilots are subject to the FAA rules for recreational flyers, which require them to register their drones if they weigh more than 250 g and complete The Recreational UAS Safety Test (TRUST) before they can operate their drone for recreational purposes in the United States of America.
Commercial drone pilots are subject to FAA rules for commercial pilots, which require them to follow The Part 107 regulations, complete a multiple-choice exam, and earn a drone pilot certification from the FAA before they can operate their drone for commercial purposes in the United States of America.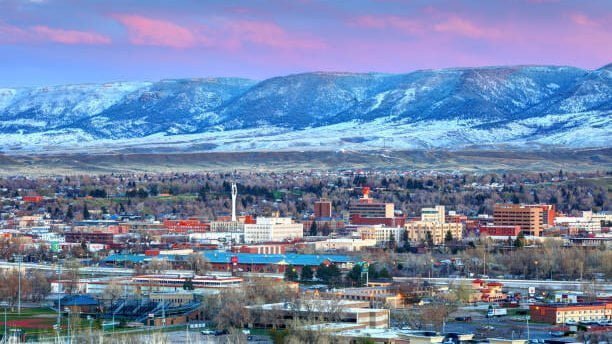 When flying within five miles of an airport, drone pilots are no longer needed to independently contact air traffic control. Instead, to obtain airspace authorization to fly in regulated airspace near and above numerous airports, both commercial and leisure fliers can use the automated LAANC system. You must apply for airspace authorization if you are operating in Class B, C, D, or E regulated airspace. In areas where LAANC is not available, you can use the FAA Drone Zone or LAANC.
Interested in becoming an FAA-certified drone pilot so you can operate under the Part 107 regulations and make money flying your drone? Check out our industry-leading online training course over at Drone Pilot Ground School.
State and Local Regulations In Wyoming
Here is an in-depth guide to the drone laws in Wyoming that we put together. Be sure to check them out to see the state and local drone laws you need to adhere to in Wyoming. You should always exercise sound judgment when in doubt and adhere to the FAA's regulations.
DISCLAIMER: Nothing on this website should be construed as legal advice and is solely provided for informative reasons. If there is anything we missed or if you have any further questions, please contact us at info [at] droneller [dot] com, and we will do our best to assist you.
Best Places To Fly A Drone In Cheyenne, Wyoming
Here are my top recommendations for where to fly a drone in Cheyenne, Wyoming. These places were chosen because of their accessibility, airspace constraints, and tourist attractions.
1. Twin Mountain
41.183360, -105.36708
Twin Mountain with a height of 13,191 feet (4,021 m) is located in the Wind River Range in the U.S. state of Wyoming. Twin Mountain is the 20th highest peak in Wyoming.
In the Bridger Wilderness of the Bridger-Teton National Forest, Twin Mountain lies.58 miles (0.93 kilometers) southwest of Mount Woodrow Wilson and roughly the same distance southeast of Split Mountain. Twin Mountain is located there. The larger Mammoth Glacier originates from the peak's north slopes, and the smaller Twins Glacier originates from the southeast.
Twin Mountain has plenty of wide open space around the area to fly your drone.
2. Metal Art Roadside Attraction
3560 I-80 Service Rd, Cheyenne, WY 82009, United States
This roadside attraction has original metal artwork. Even though you will undoubtedly need permission to fly here, this artwork is amazing to view.
Best Places To Fly A Drone In Gillette, Wyoming
Here are my top recommendations for where to fly a drone in Gillette, Wyoming. These places were chosen because of their accessibility, airspace constraints, and tourist attractions.
1. Devil's Tower
44.582576, -104.696447
Devils Tower is a butte, possibly laccolithic, composed of igneous rock in the Bear Lodge Ranger District of the Black Hills, near Hulett and Sundance in Crook County, northeastern Wyoming, above the Belle Fourche River.
Please be advised that drone activities inside this national park are not permitted. Do not fly from National Park land. However, it could be feasible to fly from a location near the park's perimeter.
From there, you may get some impressive distant shots of the Devil's Rock Tower and its geological characteristics. The isolated 5,112 foot igneous rock tower is spectacular from any angle.
Before visiting this national monument, make sure you are aware of any recent changes to the drone policies and use caution.
Final Thoughts on Where To Fly A Drone In Wyoming
So there you have it: the best places to fly a drone in Wyoming!
I hope you have a great time exploring the beautiful landscape of Wyoming from above. You can also check out where to fly a drone in other states and cities in the United States.
Always remember to obey the federal, state, and local drone laws in Wyoming to avoid having issues with the law and authorities.
And don't forget to share this article with a friend and other drone pilots who will benefit from this information using the share icons below.