In this article, we've scouted out the best places to fly a drone near Washington DC.
Washington, D.C., the nation's capital, is bursting at the seams with amazing things to see and do. Along with housing the legislative, executive, and judicial departments of the government, it is also home to several world-class museums and the National Mall, which is lined with innumerable monuments.
The lively city, which has its own federal district, is located between Virginia and Maryland on the east bank of the Potomac River. While the city's vibrant food and nightlife cultures make the rest of the area well worth exploring, the majority of visitors just travel to the National Mall, which is home to nearly all of Washington, D.C.'s biggest tourist attractions.
In this article, I will reveal to you where to fly your drone near Washington DC as well as where it is permitted and not permitted by the law to fly a drone. I will also offer regulatory guidance to assist you in maintaining compliance with federal, state, and local laws.
Drone Regulations In Washington DC
The federal drone laws governing drone operations in Washington DC, which were created by the Federal Aviation Administration, classify drone operations as either recreational or commercial.
Federal Regulations In Washington DC
Recreational drone pilots are subject to the FAA rules for recreational flyers, which require them to register their drones if they weigh more than 250 g and complete The Recreational UAS Safety Test (TRUST) before they can operate their drone for recreational purposes in the United States of America.
Commercial drone pilots are subject to FAA rules for commercial pilots, which require them to follow The Part 107 regulations, complete a multiple-choice exam, and earn a drone pilot certification from the FAA before they can operate their drone for commercial purposes in the United States of America.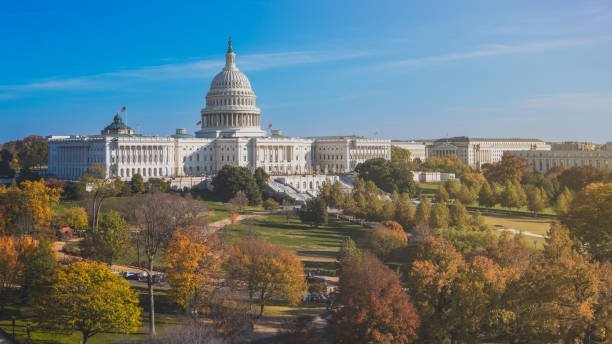 When flying within five miles of an airport, drone pilots are no longer needed to independently contact air traffic control. Instead, to obtain airspace authorization to fly in regulated airspace near and above numerous airports, both commercial and leisure fliers can use the automated LAANC system. You must apply for airspace authorization if you are operating in Class B, C, D, or E regulated airspace. In areas where LAANC is not available, you can use the FAA Drone Zone or LAANC.
Interested in becoming an FAA-certified drone pilot so you can operate under the Part 107 regulations and make money flying your drone? Check out our industry-leading online training course over at Drone Pilot Ground School.
State and Local Regulations In Washington DC
Here is an in-depth guide to the drone laws in Washington, DC, that we put together. Be sure to check them out to see the state and local drone laws you need to adhere to in Washington, DC. You should always exercise sound judgment when in doubt and adhere to the FAA's regulations.
DISCLAIMER: Nothing on this website should be construed as legal advice and is solely provided for informative reasons. If there is anything we missed or if you have any further questions, please contact us at info [at] droneller [dot] com, and we will do our best to assist you.
Where To Fly A Drone Near Washington DC
Here are my top recommendations for where to fly a drone near Washington, DC. These places were chosen because of their accessibility, airspace constraints, and tourist attractions.
1. Fountainhead Regional Park
10875 Hampton Rd, Fairfax Station, VA 22039
Fountainhead Regional Park is a roughly 2,000-acre regional park that borders a Potomac River tributary and is located in Fairfax County, northern Virginia. The Northern Virginia Regional Park Authority, now known as NOVA Parks, is responsible for maintaining and managing the park.
The park also has a fishing pond, a mini-golf course, a mountain bike track, and four horse trails. The large amounts of water, wide space, and substantial forest cover will be appreciated by drone pilots.
2. Greenwell State Park
25420 Rosedale Manor Ln, Hollywood, MD 20636
Greenwell State Park is a public recreation area located on the Patuxent River in St. Mary's County, Maryland. The Bonds-Simms tobacco barn complex and the historic Rosedale Manor House are both located in the state park. Hiking, cycling, horseback riding, fishing, picnicking, hunting, swimming, and canoeing are a few of the park's recreational options.
Hollywood, Maryland, is home to Greenwell State Park, which is situated on the Patuxent River. This area offers a lot of open space for drones with its expansive 596 acres. Additionally, a pier that extends into the river offers simple access for a number of leisure pursuits. The picturesque views of the river, pier, and nearby farms provide a relaxing environment for any drone operation.
3. Liberty Reservoir
5685 Oakland Rd, Eldersburg, MD 21784
Liberty Reservoir is a reservoir west of Baltimore, Maryland, about a mile north of Patapsco Valley State Park's McKeldin area. It separates Baltimore and Carroll Counties but is owned by the City of Baltimore Department of Public Works and situated outside the city.
The reservoir was formerly a settlement called Oakland Mill. In 1947, the region was leveled to make room for the reservoir's construction. The main source of water for the area is the Patapsco River. Beautiful drone footage is produced by the wide-ranging lake vistas, the deep forest, and the abundant wildlife.
4. Sandy Point State Park
1100 E College Pkwy, Annapolis, MD 21409
Sandy Point State Park is a public recreation area on Chesapeake Bay, located at the western end of the Chesapeake Bay Bridge in Anne Arundel County, Maryland. The bathing beach at the state park is well-known for drawing more than a million people each year.
The Sandy Point Farmhouse and Sandy Point Shoal Lighthouse are located on the property. The park's total area is 786 acres, and the beach is located on Chesapeake Bay. The ideal setting for a drone shoot is a view of the bridge and the water.
Final Thoughts on The Best Places To Fly A Drone Near Washington DC
So there you have it: the best places to fly a drone in Washington, DC!
I hope you have a great time exploring the beautiful landscape of DC from above. You can also check out where to fly a drone in other states and cities in the United States.
Always remember to obey the federal, state, and local drone laws in Washington,DC,C to avoid having issues with the law and authorities.
And don't forget to share this article with a friend and other drone pilots who will benefit from this information using the share icons below.