In this article, we've scouted out the best places to fly a drone in Washington.
In Washington, the natural world is more expansive than human existence. The state is filled with islands brimming with attractions, beautiful jungles, and dormant volcanoes. Cities of different sizes, bursting with culture, are found all throughout these lush surroundings.
Each year, millions of people visit Washington State. There are several reasons why these tourists and potential immigrants arrive in the state. There is no better time than now for those who have not yet experienced the Evergreen State's immense allure, from world-class adventures to distinctive musical and creative communities.
In this article, I will reveal to you where to fly your drone in Washington, as well as where it is permitted and not permitted by the law to fly a drone. I will also offer regulatory guidance to assist you in maintaining compliance with federal, state, and local laws.
Drone Regulations In Washington
The federal drone laws governing drone operations in Washington, which were created by the Federal Aviation Administration, classify drone operations as either recreational or commercial.
Federal Regulations In Washington
Recreational drone pilots are subject to the FAA rules for recreational flyers, which require them to register their drones if they weigh more than 250 g and complete The Recreational UAS Safety Test (TRUST) before they can operate their drone for recreational purposes in the United States of America.
Commercial drone pilots are subject to FAA rules for commercial pilots, which require them to follow The Part 107 regulations, complete a multiple-choice exam, and earn a drone pilot certification from the FAA before they can operate their drone for commercial purposes in the United States of America.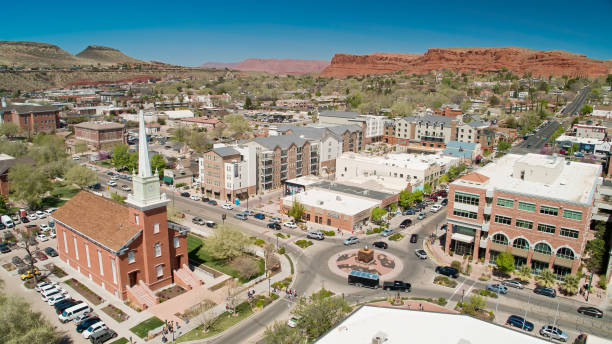 When flying within five miles of an airport, drone pilots are no longer needed to independently contact air traffic control. Instead, to obtain airspace authorization to fly in regulated airspace near and above numerous airports, both commercial and leisure fliers can use the automated LAANC system. You must apply for airspace authorization if you are operating in Class B, C, D, or E regulated airspace. In areas where LAANC is not available, you can use the FAA Drone Zone or LAANC.
Interested in becoming an FAA-certified drone pilot so you can operate under the Part 107 regulations and make money flying your drone? Check out our industry-leading online training course over at Drone Pilot Ground School.
State and Local Regulations In Washington
Here is an in-depth guide to the drone laws in Washington that we put together. Be sure to check them out to see the state and local drone laws you need to adhere to in Washington. You should always exercise sound judgment when in doubt and adhere to the FAA's regulations.
DISCLAIMER: Nothing on this website should be construed as legal advice and is solely provided for informative reasons. If there is anything we missed or if you have any further questions, please contact us at info [at] droneller [dot] com, and we will do our best to assist you.
Best Places To Fly A Drone In Seattle, Washington
Here are my top recommendations for where to fly a drone in Seattle, Washington. These places were chosen because of their accessibility, airspace constraints, and tourist attractions.
1. Luther Burbank Park
2040 84th Ave SE, Mercer Island, WA 98040, USA
Luther Burbank is a 73-acre park with a quarter-mile of Lake Washington shoreline.
Luther Burbank Park, which lies on the northeastern part of Mercer Island, offers breathtaking vistas of Lake Washington and facilities for a number of water sports, including swimming, boating, and fishing.
A large portion of the park has been kept undeveloped to support a diversity of wildlife, including 135 species of birds, 50 species of waterfowl, raccoons, beavers, muskrats, tree frogs, and rabbits. The marshes that make up the park's north and south ends are home to a large number of these creatures.
This is an excellent location for camera drone pilots because of the picturesque lake, unspoiled natural setting, and distant views of the city.
2. Marlow Anderson RC Field
24041 276th Ave SE, Hobart, WA 98038, USA
Marlow Anderson R/C airstrip is one of the best drone-friendly places, located just south of Seattle. This AMA airfield is managed by the Lake Sawyer Hawks. The club is busy and has a lot to offer its members, including model shows, flying displays, flight instruction, and more.
The Marlow Anderson RC airfield is a fantastic place to fly because of its spaciousness and sense of camaraderie. Kids and novices alike are welcome to participate at any age and ability level.
3. Marymoor RC Club
6046 West Lake Sammamish Pkwy NE, Redmond, WA 98052, USA
Marymoor Park AMA Airfield is located in the northeastern corner of Seattle, Washington. The R/C Club is in charge of maintaining and organizing the Marymoor Park AMA Airfield. It's a well-run facility with lots of room and flying instruction available to those who desire it.
Throughout the summer, a variety of aviation-related activities are organized. The club hosts monthly gatherings so that fans may connect and discuss their love of RC flying. Users using drone cameras enjoy the surrounding forests and vistas of Lake Sammamish.
4. Shoreview Park
17229 3rd Ave NW, Shoreline, WA 98133, United States
Boeing Creek and Shoreview Park are an 88-acre (360,000 m2) park system located in Shoreline, Washington. Both parks surround Shoreline Community College and share an internal boundary.
The majority of Boeing Creek Park is made up of forests. Shoreview Park contains tennis courts, baseball and soccer fields, and an off-leash dog park.
Shoreview Park is a fantastic area to fly your drone. There is a good deal of unobstructed space that is wide open. As your drone ascends, you will be able to see a breathtaking view of the waterfront, which is bordered by trees. A little, secret lake is another unique feature of Shoreline Park.
5. Sixty Acres Park
15200 NE 116th St., Redmond, WA 98052, USA
Sixty Acres Park is a park located in Redmond, Washington, next to the Sammamish River Trail.
It is a lovely multi-use space that accommodates a variety of gatherings, events, and activities. Twenty-five game-grade athletic fields, a covered picnic area, bathrooms, and parking are all available at Sixty Acres Park.
Sixty Acres Park is the best spot to fly a drone if you desire a broad, open area. There are acres of terrain for you to explore, as suggested by the name.
Even though the views from this spot in Seattle aren't as breathtaking as some of the others, it's the ideal place to practice flying a drone. But when there are soccer competitions, this park does get crowded.
Final Thoughts on Where To Fly A Drone In Washington
So there you have it: the best places to fly a drone in Washington!
I hope you have a great time exploring the beautiful landscape of Washington from above. You can also check out where to fly a drone in other states and cities in the United States.
Always remember to obey the federal, state, and local drone laws in Washington to avoid having issues with the law and authorities.
And don't forget to share this article with a friend and other drone pilots who will benefit from this information using the share icons below.