In this article, we've scouted out the best places to fly a drone in Utah.
Utah is one of the best states for outdoor recreation in the United States, which has world-class ski resorts, fantastic national and state parks, and unique natural beauties. One of the finest ways to enjoy the scenery in Utah is via driving, and there are picturesque routes all around the state.
Go to Salt Lake City for cultural attractions or adjacent skiing. Check out Moab and St. George if you're seeking for outdoor activities like hiking, mountain biking, camping, riding an ATV, and off-road driving. Even lakes where you can take a boat ride or lie on a beach can be found in Utah.
In this article, I will reveal to you where to fly your drone in Utah, as well as where it is permitted and not permitted by the law to fly a drone. I will also offer regulatory guidance to assist you in maintaining compliance with federal, state, and local laws.
Drone Regulations In Utah
The federal drone laws governing drone operations in Utah, which were created by the Federal Aviation Administration, classify drone operations as either recreational or commercial.
Federal Regulations In Utah
Recreational drone pilots are subject to the FAA rules for recreational flyers, which require them to register their drones if they weigh more than 250 g and complete The Recreational UAS Safety Test (TRUST) before they can operate their drone for recreational purposes in the United States of America.
Commercial drone pilots are subject to FAA rules for commercial pilots, which require them to follow The Part 107 regulations, complete a multiple-choice exam, and earn a drone pilot certification from the FAA before they can operate their drone for commercial purposes in the United States of America.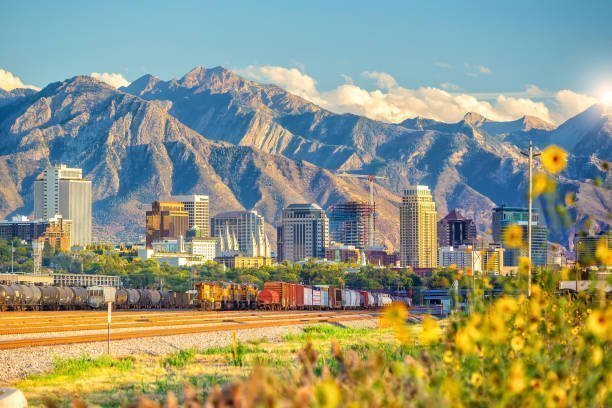 When flying within five miles of an airport, drone pilots are no longer needed to independently contact air traffic control. Instead, to obtain airspace authorization to fly in regulated airspace near and above numerous airports, both commercial and leisure fliers can use the automated LAANC system. You must apply for airspace authorization if you are operating in Class B, C, D, or E regulated airspace. In areas where LAANC is not available, you can use the FAA Drone Zone or LAANC.
Interested in becoming an FAA-certified drone pilot so you can operate under the Part 107 regulations and make money flying your drone? Check out our industry-leading online training course over at Drone Pilot Ground School.
State and Local Regulations In Utah
Here is an in-depth guide to the drone laws in Utah that we put together. Be sure to check them out to see the state and local drone laws you need to adhere to in Utah. You should always exercise sound judgment when in doubt and adhere to the FAA's regulations.
DISCLAIMER: Nothing on this website should be construed as legal advice and is solely provided for informative reasons. If there is anything we missed or if you have any further questions, please contact us at info [at] droneller [dot] com, and we will do our best to assist you.
Best Places To Fly A Drone in Salt Lake City, Utah
Here are my top recommendations for where to fly a drone in Salt Lake City, Utah. These places were chosen because of their accessibility, airspace constraints, and tourist attractions.
1. Antelope Island State Park
4528 West 1700 South Syracuse, UT 84075, USA
Antelope Island, with a surface area of 42 square miles (109 km2), is the largest of the ten islands in the Great Salt Lake of Utah. The island turns into a peninsula when the lake is at exceptionally low levels, and it is located in the southeast corner of the lake, close to Salt Lake City and Davis County.
Bison, antelope, bighorn sheep, and several other desert creatures may be seen here in their natural habitats. Visitors to Syracuse's Great Salt Lake location enjoy unmatched views often only found in TV documentaries.
There is much to do here when you're not admiring the amazing view from your drone in the sky. Hikers, horseback riders, mountain bikers, campers, and swimmers will find outdoor paradise here.
Note that only during the months of December through February are drone flights permitted in Antelope Island State Park, and only inside the permitted airspace.
2. Ensign Peak
40.794299, -111.89268
Ensign Peak is a mountain in the foothills, not far from Salt Lake City and Utah City's centers. It is situated almost immediately behind the Utah State Capitol and is about a mile (1.6 km) north of it.
Since the airport is so near, you will need to use LAANC to ask the FAA for permission to fly over this site. The greatest height you may currently request to fly is 100 feet above the earth, but if you take off from the mountain's summit, that will be more than enough.
3. Great Salt Lake
41.138132, -112.58972
The Great Salt Lake is the eighth-biggest terminal lake in the world and the largest saltwater lake in the Western Hemisphere. It is located in Utah's northern region and significantly affects the local climate, especially through lake-effect snow.
Northern Utah's Great Salt Lake and its islands provide breathtaking beauty and a variety of outdoor activities. Lakeside sunsets may be stunning. In the evening sky, amazing red, orange, lavender, and magenta hues slowly fade.
Sailors are drawn to the lake's turquoise waters, while swimmers and sunbathers enjoy its white-sand beaches. Hikers and mountain bikers are drawn to the lake's rugged outcroppings on Antelope Island and some of its coastline sections.
There are many acres of undeveloped land. You may get beautiful shots of the light reflecting off the sea at sunset or sunrise if you come here at the proper time of day.
4. Kessler Peak
40.622608, -111.67686
Kessler Peak, which rises to a height of 10,403 feet in Big Cottonwood Canyon, is accessible by a 5.5-mile hike. The North Route is the easiest and least challenging, but it is still a long journey.
Therefore, it is beneficial to get in shape before coming up here. It's probable that you'll also want to pack lightly. For drone operators who want to shoot, the walk is definitely worth the effort.
Amazing panoramas may be seen from Kessler's top. You get to see the southern peaks, Mount Raymond, Big Cottonwood Canyon's upper end, and some of the Salt Lake Valley.
5. Liberty Park
600 900 S, Salt Lake City, UT 84105, United States
Liberty Park is a well-liked public urban park in Salt Lake City, Utah. It is the city's second-largest public park, with 80 acres (32 hectares); only Sugar House Park, with 110.5 acres (44.7 ha), is larger. The Tracy Aviary is situated in the park, which also has a pond with two islands.
Liberty Park is a spacious city park with walking and running paths, a swimming pool, tennis courts, paddle boats, a children's amusement park, a playground, picnic facilities, and plenty of room for recreation or relaxation. The park hosts many community events.
The natural setting is magnificent on every level. On clear days, you may see vistas of the far mountains and their reflections in the lake. Whether you're strolling, having a picnic, picnicking, playing sports, or filming with drones, this historic, well-kept urban park has something for everyone.
6. Little Mountain Summit
588 Emigration Canyon Rd, Salt Lake City, UT 84108, United States
Little Mountain Summit is located in the Emigration Canyon, to the east of Salt Lake City. Little Dell Reservoir's turquoise lake vistas and the green-covered mountains in the distance are reminiscent of a Scottish loch. If you're a drone photographer drawn to alpine lakes, gorgeous skies, and huge open areas, don't pass this location.
7. Sugar House Park
1330 2100 S, Salt Lake City, UT 84106, United States
Sugar House Park, also known as Sugarhouse Park, is located between I-80, 2100 South, 1300 East, and 1700 East in the Sugar House neighborhood of Salt Lake City, Utah, United States. The 110-acre (45 ha) park is at the heart of the Sugar House neighborhood.
Sugar House Park is one of Salt Lake City's hippest neighborhoods. There are several eateries, bars, and nightclubs there. Despite being a crowded park, it offers breathtaking views of the adjacent snow-covered mountains. Ducks and other birds use a small lake in the park.
Final Thoughts on Where To Fly A Drone In Utah
So there you have it: the best places to fly a drone in Utah!
I hope you have a great time exploring the beautiful landscape of Utah from above. You can also check out where to fly a drone in other states and cities in the United States.
Always remember to obey the federal, state, and local drone laws in Utah to avoid having issues with the law and authorities.
And don't forget to share this article with a friend and other drone pilots who will benefit from this information using the share icons below.