In this article, we've scouted out the best places to fly a drone in Rhode Island.
Despite being a small state, "Rhode Island" is home to some of the most well-known tourist destinations in New England. The state's main attraction is Newport, America's most well-known playground for the super-rich in the heyday of the early 20th century, with its legendary mansions constructed to compete with (and frequently imitate) the grand palaces of European royalty.
However, Providence is also rich in the history of a previous era, when its merchants prospered from the slave trade and other lucrative trade. You'll understand why Rhode Island should be on any New England itinerary when you consider the state's miles of stunning beaches, rich history, and idyllic island.
In this article, I will reveal to you where to fly your drone in the United States, as well as where it is permitted and not permitted by the law to fly a drone. I will also offer regulatory guidance to assist you in maintaining compliance with federal, state, and local laws.
Drone Regulations In Rhode Island
The federal drone laws governing drone operations in Rhode Island, which were created by the Federal Aviation Administration, classify drone operations as either recreational or commercial.
Federal Regulations In Rhode Island
Recreational drone pilots are subject to the FAA rules for recreational flyers, which require them to register their drones if they weigh more than 250 g and complete The Recreational UAS Safety Test (TRUST) before they can operate their drone for recreational purposes in the United States of America.
Commercial drone pilots are subject to FAA rules for commercial pilots, which require them to follow The Part 107 regulations, complete a multiple-choice exam, and earn a drone pilot certification from the FAA before they can operate their drone for commercial purposes in the United States of America.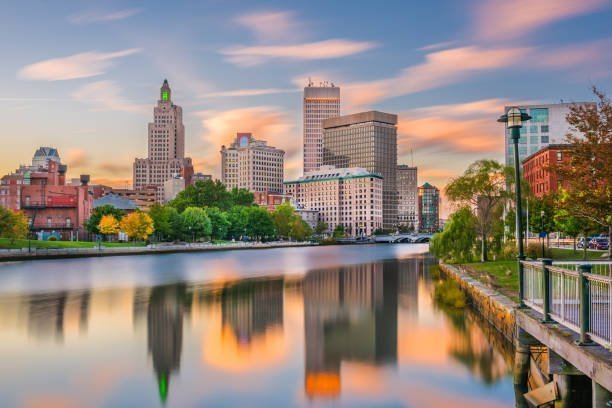 When flying within five miles of an airport, drone pilots are no longer needed to independently contact air traffic control. Instead, to obtain airspace authorization to fly in regulated airspace near and above numerous airports, both commercial and leisure fliers can use the automated LAANC system. You must apply for airspace authorization if you are operating in Class B, C, D, or E regulated airspace. In areas where LAANC is not available, you can use the FAA Drone Zone or LAANC.
Interested in becoming an FAA-certified drone pilot so you can operate under the Part 107 regulations and make money flying your drone? Check out our industry-leading online training course over at Drone Pilot Ground School.
State and Local Regulations In Rhode Island
Here is an in-depth guide to the drone laws in Rhode Island that we put together. Be sure to check them out to see the state and local drone laws you need to adhere to in Rhode Island. You should always exercise sound judgment when in doubt and adhere to the FAA's regulations.
DISCLAIMER: Nothing on this website should be construed as legal advice and is solely provided for informative reasons. If there is anything we missed or if you have any further questions, please contact us at info [at] droneller [dot] com, and we will do our best to assist you.
Best Places To Fly A Drone In Providence, Rhode Island
Here are my top recommendations for where to fly a drone in Providence, Rhode Island. These places were chosen because of their accessibility, airspace constraints, and tourist attractions.
1. Field's Point
41.7873058, -71.3862598
Fields Point, often spelled Field's Point, is a historic park that juts into Narragansett Bay in Providence, Rhode Island, close to the Providence River and Route 95. It is located in the Washington Park area.
The park is sparse and fairly tiny, and the adjacent factories and storage facilities greatly dwarf it. If you want to fly over the water or the beach with your drone, it's still a fantastic place to launch it.
2. Governor John Notte Memorial Park
1801 Douglas Ave, North Providence, RI 02904, United States
On Wenscott Reservoir in North Providence town lies the Historic Governor John Notte Memorial Park. It's a wonderful location for everyone, even kids.
The park features several open green spaces for picnics and relaxing, as well as athletic amenities. Walkers may enjoy leisurely strolls along the system of paved walkways, while children can have fun at the playground beside the shore.
Users of camera drones may record themselves while engaging in a variety of activities using follow-me settings. The park is a popular location for activities including running, swimming, boating, and riding.
It's also common to get overhead footage of the lovely lake's tree-lined shores and sandy beaches. A charming footbridge crosses a tranquil waterfall where the upper and lower reservoirs converge.
3. India Point Park
225 India St, Providence, RI 02903, United States
India Point Park is an 18-acre park located in the Fox Point neighborhood of Providence, Rhode Island, at the confluence of the Seekonk River and the Providence River. The maritime activities that linked Providence to the East and West Indies gave the park its name.
With wide-open green spaces and secure recreation places for youngsters to play, it's a fun destination for families as well. Fans of camera drones also like the park. The expansive vistas of Providence Harbor, the Seekonk River, and the stunning cityscape may all be captured on camera.
4. Neutaconkanut Hill Conservancy
41.8103597, -71.4644715
In the north, south, east, and west of the city of Providence, there are several lovely parks. The Neutaconkanut Hill Conservancy, also known as "Neut," is located in the west end. It is a magnificent 88-acre property with several leisure amenities located in certain sections.
The park is home to the 296-foot-tall hill that is the highest in the city. The gorgeous forested route, green areas, illuminated walking trails, and freshwater springs in this urban refuge draw drone users in.
5. Pomham Rocks Lighthouse
41.7776065, -71.3700516
A historic lighthouse called Pomham Rocks Light, often known as "Pomham Lighthouse," is located on the Providence River about 180 meters (200 yards) from the Riverside area in East Providence, Rhode Island. In Narragansett Bay, it is the lighthouse furthest to the north.
Most people view this lighthouse from a distance; however, if you come out here with your drone, there is no such restriction. Riverside's parking lot and bike pathways provide excellent launch pads.
6. Wanskuck Park
229 Woodward Rd, Providence, RI 02904, United States
In the Providence area, there is a straightforward local park called Wanskuck Park. A walking path runs through a large open field and a wooded area. Just enough space exists in the park to allow you to fly your drone around or investigate.
Be particularly cautious about where your drone lands and takes off because many people bring their drones to this area.
7. WaterFire Sculpture
4 N Main St, Providence, RI 02903, United States
On the waterways in the heart of Providence, Rhode Island, Barnaby Evans has installed a sculpture called WaterFire. It was originally made by Evans in 1994 to commemorate First Night Providence's tenth anniversary and has since evolved into a free public art project.
The symbolism and meaning of WaterFire are a reflection of the understanding that people must work together to strengthen and sustain their community.
On WaterFire evenings, eighty-six burning braziers (each with about 33 pieces of wood) transform downtown Providence.
Some of the braziers are mounted on the piers of former bridges, while others float just above the rivers that run through Waterplace Park (the Woonasquatucket River) and the center of the city (the Moshassuck and Providence rivers).
Finding a window to fly a drone around might be difficult because of the crowds that frequently gather around the blazing braziers. The wait is definitely worth it since witnessing the river lined with fire is an incredible sight.
Final Thoughts on Where To Fly A Drone In Rhode Island
So there you have it: the best places to fly a drone in Rhode Island!
I hope you have a great time exploring the beautiful landscape of Rhode Island from above. You can also check out where to fly a drone in other states and cities in the United States.
Always remember to obey the federal, state, and local drone laws in Rhode Island to avoid having issues with the law and authorities.
And don't forget to share this article with a friend and other drone pilots who will benefit from this information using the share icons below.