In this article, we've scouted out the best places to fly a drone in Oklahoma.
An actual entryway to the West, Oklahoma is a place of red dirt, buffalo roam the plains, and oil rigs pour wealth. However, the main towns, Oklahoma City and Tulsa, which were developed thanks to an early 1900s oil boom, also have a particularly polished air.
Many tourists and drone pilots choose to experience Oklahoma with the straightforward pleasures of a road trip, and no highway is more iconic than the state's stretch of Route 66. The state's modern museums, galleries of international art, and lavish gardens, among other cultural attractions, all give the state a more cosmopolitan edge.
In this article, I will reveal to you where to fly your drone in Oklahoma, as well as where it is permitted and not permitted by the law to fly a drone. I will also offer regulatory guidance to assist you in maintaining compliance with federal, state, and local laws.
Drone Regulations In Oklahoma
The federal drone laws governing drone operations in Oklahoma, which were created by the Federal Aviation Administration, classify drone operations as either recreational or commercial.
Federal Regulations In Oklahoma
Recreational drone pilots are subject to the FAA rules for recreational flyers, which require them to register their drones if they weigh more than 250 g and complete The Recreational UAS Safety Test (TRUST) before they can operate their drone for recreational purposes in the United States of America.
Commercial drone pilots are subject to FAA rules for commercial pilots, which require them to follow The Part 107 regulations, complete a multiple-choice exam, and earn a drone pilot certification from the FAA before they can operate their drone for commercial purposes in the United States of America.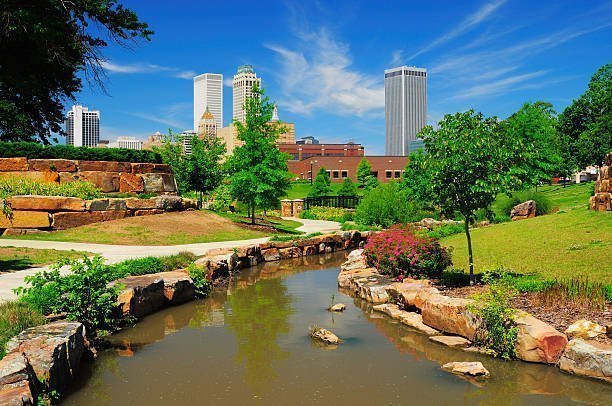 When flying within five miles of an airport, drone pilots are no longer needed to independently contact air traffic control. Instead, to obtain airspace authorization to fly in regulated airspace near and above numerous airports, both commercial and leisure fliers can use the automated LAANC system. You must apply for airspace authorization if you are operating in Class B, C, D, or E regulated airspace. In areas where LAANC is not available, you can use the FAA Drone Zone or LAANC.
Interested in becoming an FAA-certified drone pilot so you can operate under the Part 107 regulations and make money flying your drone? Check out our industry-leading online training course over at Drone Pilot Ground School.
State and Local Regulations In Oklahoma
Here is an in-depth guide to the drone laws in Oklahoma that we put together. Be sure to check them out to see the state and local drone laws you need to adhere to in Oklahoma. You should always exercise sound judgment when in doubt and adhere to the FAA's regulations.
DISCLAIMER: Nothing on this website should be construed as legal advice and is solely provided for informative reasons. If there is anything we missed or if you have any further questions, please contact us at info [at] droneller [dot] com, and we will do our best to assist you.
Best Places To Fly A Drone In Oklahoma City, Oklahoma
Here are my top recommendations for where to fly a drone in Oklahoma City, Oklahoma. These places were chosen because of their accessibility, airspace constraints, and tourist attractions.
1. Lake Hefner
35.562284, -97.607799
Lake Hefner, an urban lake near Oklahoma City, has a boat dock, fishing docks, an enclosed heated fishing dock, picnic areas, grills, restrooms, playgrounds, group shelters, a nature trail, a softball field, a running track, a golf course with a pro shop and cart rentals, a model airplane field, and a soccer field.
There are boat docks and dry storage options. The 18 miles of coastline and 29-foot average depth of the 2,500-acre Lake Hefner are also impressive. Additionally, it provides the breathtaking Bert Cooper Trail, a network of paved walking and bicycling paths spanning more than nine miles.
One of the city's top spots for pictures that would light up your Instagram is reportedly the lighthouse on the eastern side. Due to its spaciousness, Lakeshore Park is a popular place for drone takeoffs, but once in the air, you can easily explore the rest of the lake.
2. Lakeshore Park
8121 W Lake Hefner Oklahoma City, OK 73162, USA
Lakeshore Park is situated on a peninsula at Lake Hefner in Oklahoma City, Oklahoma, United States. This large property is perfect for drone flights because it has plenty of flat green space and old trees.
The 2,500-acre reservoir in the park offers guests breathtaking sunset views from its shores. If you arrive at the right moment, you might be able to record a few sailboats skimming gracefully across the sea.
3. Oliver Park
13 SW 32nd St, Oklahoma City, OK 73109, United States
Oliver Park is a very unremarkable park with a little brook running next to a sizable open field along Santa Fe Avenue. It is an excellent location for a laid-back day of drone flight because it is frequently not congested. It's recommended to fly a drone here with a friend because the park occasionally draws an eccentric crowd.
4. Pops Arcadia, Route 66
660 U.S. Rte 66, Arcadia, OK 73007, United States
There is an interesting attraction on the well-known Route 66 just outside of Oklahoma City. A classic restaurant and gas station, Pops Arcadia serves hundreds of various kinds of soda. Although it is spectacular, drone photographers are not drawn to the beverage menu.
They are more intrigued by the 66-foot-tall Pepsi bottle that is LED-lit in the front yard. Photographers who enjoy preserving the strange and amazing landmarks of America will find it to be an intriguing topic.
5. Regatta Park
701 S Lincoln Blvd, Oklahoma City, OK 73129, United States
Regatta Park is a great recreation center for the locals of Oklahoma City. The park, which is in the center of Downtown, is utilized by people to organize a variety of festivals, celebrations, and athletic occasions.
The park also hosts the yearly Oklahoma River Fest, which attracts a sizable crowd from all across the city. The festival features a variety of sports and activities for both children and adults, such as boat racing, bicycle races, and live music.
Anglers, dragon boat racers, kayakers, and canoeists all enjoy this section of water. While runners and bikers may utilize the smooth concrete paths, hikers can enjoy the natural walks along the banks. The unspoiled scenery, bridges, and adjoining railroad lines are the top attractions for drone pilots.
6. Wheeler Park
35.456014, -97.528072
The municipal zoo first opened its doors at Wheeler Park, which is located alongside the Oklahoma River. It is a well-liked recreation area among locals and guests, bearing the name of the land giver James B. Wheeler.
This 43-acre (17-hectare) park contains playgrounds, biking routes, the Eggeling Stadium, baseball and athletic fields, and more.
There is a lot of lovely open area around that is covered with mature trees. The renowned 100-foot Wheeler Ferris Wheel is also housed at this location. In 2008, the enormous sculpture was purchased on eBay for $134,000 and transported here from Santa Monica Pier.
Around Wheeler Park, drone photographers can catch other intriguing views. There are river lakes with views of the city skyline and nicely groomed landscapes surrounding them.
Best Places To Fly A Drone In Tulsa, Oklahoma
Here are my top recommendations for where to fly a drone in Tulsa, Oklahoma. These places were chosen because of their accessibility, airspace constraints, and tourist attractions.
1. Golden Driller Statue
Tulsa Expo Center, 4145 E 21st St, Tulsa, OK 74114, United States
The Golden Driller is a statue of an oil worker that stands 75 feet tall and weighs 43,500 pounds in Tulsa, Oklahoma. A steel frame coated with concrete and plaster makes up the building. [2] Since 1966, it has been in front of the Tulsa Expo Center and is the sixth-tallest monument in the country.
You should not pass up the chance to capture it on camera with your drone since it is one of Tulsa's most distinctive vistas.
2. River West Festival Park
2100 S Jackson Ave, Tulsa, OK 74107, United States
A frequent location for concerts and festivals, most notably the yearly Oktoberfest event, is River West Festival Parks in Tulsa. As a result, it has a very large riverside open space that is ideal for a drone flight with no interruptions. This park has already hosted a Drone Racing League competition.
3. Swan Lake
1596 Swan Dr, Tulsa, OK 74120, United States
Swan Lake is a historic area in Tulsa, Oklahoma. 15th Street to the north, Utica Street to the east, 21st Street to the south, and Peoria Avenue to the west make up its boundaries.
Early in the 20th century, the District was built as a middle-class residential neighborhood with single-family homes, some duplexes, and apartment complexes. With a high occupancy rate, it is still recognized as a prestigious residential neighborhood.
Despite being tiny, the park surrounding Swan Lake is really beautiful. The eponymous lake is surrounded by a flower-filled walking path. Within the park, there isn't much to photograph, but if you fly your drone at a higher height, you can still get some nice shots of Tulsa's downtown.
4. Turkey Mountain
36.073294, -95.999164
The 300-acre (121 ha) Turkey Mountain Urban Wilderness Area is a piece of unspoiled terrain in Tulsa, Oklahoma, that spans from I-44 to 71st Street.
The public can visit Turkey Mountain Urban Wilderness, which is administered by the Tulsa River Parks Authority. In West Tulsa, near 67th Street and Elwood Avenue, is where the wilderness area's main entry is located.
There are two difficult hikes that should take you less than two hours each to reach the top. To get the best views of the Tulsa River and the surrounding woodlands, drone flights should be conducted around the summit area. Beware of severe winds.
5. Woodward Park
2435 S Peoria Ave, Tulsa, OK 74114, United States
Woodward Park is a 45-acre public park, botanical garden, and arboretum that is situated between 21st and 24th Streets, east of South Peoria Avenue and west of South Rockford Street, in Tulsa, Oklahoma, in the United States.
The park was created to provide tourists with exposure to a range of horticultural topics. There are several specialty gardens there, including the Tulsa Rose Garden, the Tulsa Garden Center, and the Tulsa Arboretum, as well as ones with spring flowers, tropical plants, and cacti.
One of the best sites to take pictures in Tulsa is the Woodward Park Garden Center. The ideal times to fly a drone here are early in the morning to avoid the typical crowds. Please be aware that a permit is required for commercial photography and filming in the park.
Final Thoughts on Where To Fly A Drone In Oklahoma
So there you have it: the best places to fly a drone in Oklahoma!
I hope you have a great time exploring the beautiful landscape of Oklahoma from above. You can also check out where to fly a drone in other states and cities in the United States.
Always remember to obey the federal, state, and local drone laws in Oklahoma to avoid having issues with the law and authorities.
And don't forget to share this article with a friend and other drone pilots who will benefit from this information using the share icons below.