In this article, we've scouted out the best places to fly a drone in New Hampshire.
New Hampshire offers a wide range of activities in a convenient location, from its 18 miles of seacoast to the top of the Northeast's tallest mountain. The natural attractions of New Hampshire provide a wealth of outdoor activities, many of them free, in addition to the numerous locations to explore.
Beautiful ocean and lake beaches, miles of kayaking opportunities, above-treeline hiking on the Appalachian Trail, lake sailing, kid-friendly theme and water parks, thrilling mountaintop rides, and tours of historic homes are just a few of the attractions that draw visitors to this region of New England.
In this article, I will reveal to you where to fly your drone in New Hampshire, as well as where it is permitted and not permitted by the law to fly a drone. I will also offer regulatory guidance to assist you in maintaining compliance with federal, state, and local laws.
Drone Regulations In New Hampshire
The federal drone laws governing drone operations in New Hampshire, which were created by the Federal Aviation Administration, classify drone operations as either recreational or commercial.
Federal Regulations In New Hampshire
Recreational drone pilots are subject to the FAA rules for recreational flyers, which require them to register their drones if they weigh more than 250 g and complete The Recreational UAS Safety Test (TRUST) before they can operate their drone for recreational purposes in the United States of America.
Commercial drone pilots are subject to FAA rules for commercial pilots, which require them to follow The Part 107 regulations, complete a multiple-choice exam, and earn a drone pilot certification from the FAA before they can operate their drone for commercial purposes in the United States of America.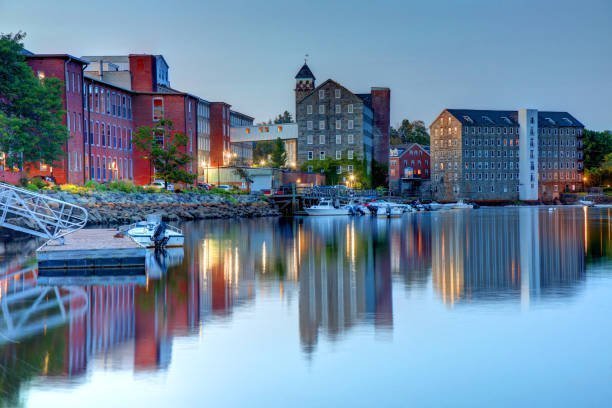 When flying within five miles of an airport, drone pilots are no longer needed to independently contact air traffic control. Instead, to obtain airspace authorization to fly in regulated airspace near and above numerous airports, both commercial and leisure fliers can use the automated LAANC system. You must apply for airspace authorization if you are operating in Class B, C, D, or E regulated airspace. In areas where LAANC is not available, you can use the FAA Drone Zone or LAANC.
Interested in becoming an FAA-certified drone pilot so you can operate under the Part 107 regulations and make money flying your drone? Check out our industry-leading online training course over at Drone Pilot Ground School.
State and Local Regulations In New Hampshire
Here is an in-depth guide to the drone laws in New Hampshire that we put together. Be sure to check them out to see the state and local drone laws you need to adhere to in New Hampshire. You should always exercise sound judgment when in doubt and adhere to the FAA's regulations.
DISCLAIMER: Nothing on this website should be construed as legal advice and is solely provided for informative reasons. If there is anything we missed or if you have any further questions, please contact us at info [at] droneller [dot] com, and we will do our best to assist you.
Best Places To Fly A Drone In Manchester, New Hampshire
Here are my top recommendations for where to fly a drone in Manchester, New Hampshire. These places were chosen because of their accessibility, airspace constraints, and tourist attractions.
1. Hammond Nature Preserve
2-32 Dunbarton Center Rd, Bow, NH 03304, United States
There is a decent mix of thick forests, open fields, large pathways, tight trails, and streams in the Hammond Nature Preserve. It's a well-liked location for camping or bicycling. The best place to launch a drone for a drone photography shoot or for casual flying practice should be the open campsite next to the road entrance.
2. Horse Hill Nature Preserve
184 Amherst Rd, Merrimack, NH 03054, United States
Horse Hill Preserve is a 563-acre property that consists of a number of streams, ponds, marshes, and several wetlands totaling around 60 acres. Numerous species of animals have flourished on the land thanks to the varied topography, habitats, and huge, undeveloped open spaces.
The best vantage points for this vast outdoor area should be from the tops of either Blodgett Hill or the namesake Horse Hill. This area is an engaging one for aerial exploration because of the varied topography and pockets of undeveloped open land.
3. Massabesic Cliffs
43.006247, -71.378705
The adjacent Massabesic Lake may be seen from the Massabesic cliffs, which also serve as a nice broad area for a drone takeoff. From the local parking lot, it is simply a short trek to the cliffs. The cliffs are the area's main attraction, but there are a number of additional routes you may explore as well.
4. Musquash Conservation Area
42.890137, -71.444561
The Musquash Conservation Area is the largest conservation reserve in Londonderry. There are more than 1,500 acres of property in the vicinity, and there is a vastly defined trail network with more than 20 miles of maintained paths.
Musquash Conservation Area has more than 100 acres of property and more than 20 miles of trails, so it's not difficult to locate an area that's free of people where you may fly your drone.
We advise less experienced drone pilots to avoid this area because of how dense the forest is. Make careful you prepare appropriately because the region is big enough to get lost in.
5. Nottingcook Forest
56 S Bow Rd, Bow, NH 03304, United States
Nottingcook Forest is a piece of land between South Bow Road and Woodhill Hooksett Road. The paths are open all year and are mostly utilized for hiking, walking, and wildlife excursions. The forest is home to marshes, a few streams, a recovered gravel mine, and a kettle hold, which is a glacial structure.
It has a vast network of trails, so using a drone there should allow you to avoid crowds. An excellent method to fly through an open area and get images of the surroundings is to launch your drone from one of the higher points.
6. Searles Castle
23 Searles Rd, Windham, NH 03087, United States
Searles Castle is located in Windham, New Hampshire, in the United States. The building was commissioned by Edward Francis Searles in 1905, but it was completed in 1915.
The Stanton Harcourt Tudor manor in Oxfordshire, England, was meant to be a 1/4-scale duplicate of the Searles Castle, but as most of the manor had been demolished in the 18th century, the castle shows little similarity to the actual building.
One of New Hampshire's most picturesque locations for shooting is this English Tudor castle. Weddings and other occasions are frequently held in the historic and rustic castle tucked away inside a forest.
We suggest taking off with your drone from the woodland area to capture the entire stunning landscape without upsetting the occupants of the castle.
7. Smith's Ferry Heritage Park
42.954014, -71.47353,
South of Manchester, nestled up behind the Pine Grover Cemetery, lies this little, unremarkable park. Although the park itself isn't particularly impressive, it does provide a fantastic perspective of the Merrimack River.
The area is usually quiet, making it an ideal location for drone flights. Don't go too far to the north since you will be flying close to the Manchester-Boston Regional Airport's No-Fly Zone.
Final Thoughts on Where To Fly A Drone In New Hampshire
So there you have it: the best places to fly a drone in New Hampshire!
I hope you have a great time exploring the beautiful landscape of New Hampshire from above. You can also check out where to fly a drone in other states and cities in the United States.
Always remember to obey the federal, state, and local drone laws in New Hampshire to avoid having issues with the law and authorities.
And don't forget to share this article with a friend and other drone pilots who will benefit from this information using the share icons below.