In this article, we've scouted out the best places to fly a drone in Mississippi.
Mississippi is home to a wide range of tourism attractions and locations. Its most well-known city, Jackson, is also the location of the Mississippi Museum of Natural Science and the state capitol
Drone Pilots may partake in some sightseeing while traveling across the state on the Natchez Trace Parkway, a beautiful road with numerous historic sites and picturesque vistas.
Mississippi's beach, which is sometimes disregarded, is a beautiful location to explore, abundant with marine life, and home to the only dolphin rescue facility in the area.
In this article, I will reveal to you where to fly your drone in Mississippi, as well as where it is permitted and not permitted by the law to fly a drone. I will also offer regulatory guidance to assist you in maintaining compliance with federal, state, and local laws.
Drone Regulations In Mississippi
The federal drone laws governing drone operations in Mississippi, which were created by the Federal Aviation Administration, classify drone operations as either recreational or commercial.
Federal Regulations In Mississippi
Recreational drone pilots are subject to the FAA rules for recreational flyers, which require them to register their drones if they weigh more than 250 g and complete The Recreational UAS Safety Test (TRUST) before they can operate their drone for recreational purposes in the United States of America.
Commercial drone pilots are subject to FAA rules for commercial pilots, which require them to follow The Part 107 regulations, complete a multiple-choice exam, and earn a drone pilot certification from the FAA before they can operate their drone for commercial purposes in the United States of America.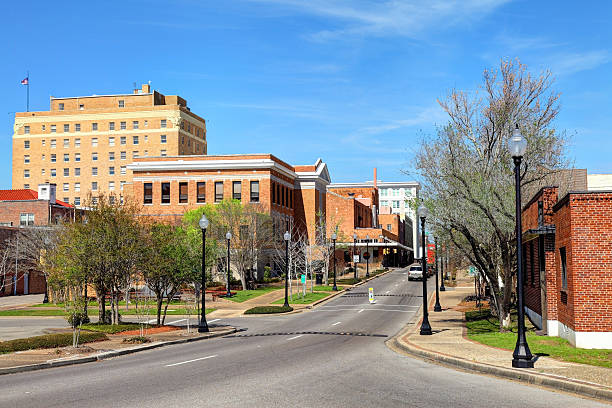 When flying within five miles of an airport, drone pilots are no longer needed to independently contact air traffic control. Instead, to obtain airspace authorization to fly in regulated airspace near and above numerous airports, both commercial and leisure fliers can use the automated LAANC system. You must apply for airspace authorization if you are operating in Class B, C, D, or E regulated airspace. In areas where LAANC is not available, you can use the FAA Drone Zone or LAANC.
Interested in becoming an FAA-certified drone pilot so you can operate under the Part 107 regulations and make money flying your drone? Check out our industry-leading online training course over at Drone Pilot Ground School.
State and Local Regulations In Mississippi
Here is an in-depth guide to the drone laws in Mississippi that we put together. Be sure to check them out to see the state and local drone laws you need to adhere to in Arkansas. You should always exercise sound judgment when in doubt and adhere to the FAA's regulations.
DISCLAIMER: Nothing on this website should be construed as legal advice and is solely provided for informative reasons. If there is anything we missed or if you have any further questions, please contact us at info [at] droneller [dot] com, and we will do our best to assist you.
Best Places To Fly A Drone In Jackson, Mississippi
Here are my top recommendations for where to fly a drone in Jackson, Mississippi. These places were chosen because of their accessibility, airspace constraints, and tourist attractions.
1. Byram Swinging Bridge
100 Swinging Bridge Dr, Jackson, MS 39272, United States
The Byram Bridge is a historic bridge that spans the Pearl River between the Mississippi counties of Rankin and Hinds. It was added to the National Register of Historic Places in 1979.
Finding a place to launch your drone and take pictures of the Pearl River Bridge is simple. Amazing greenery may be seen all around, especially in the summer and fall.
2. Elton Swamp
118 Elton Rd #1200, Jackson, MS 39212, United States
The Elton Swamp in Jackson is an off-road riding park for ATVs. If you can capture the cars in motion, it makes for some spectacular drone footage. Just keep in mind to keep your drone far enough away from the people, and always get permission before taking any footage from the participants.
3. The Pecan Grove
874 Madison Ave., Madison, MS 39110, United States
The Pecan Grove is a small park in Jackson, Mississippi, on the state's northern outskirts. The park is primarily used as a venue for weddings and other events. The Pecan Grove is an open grassland, which makes it awesome for drone pilots looking to have a nice time flying their drone.
4. Pelahatchie Shore Park
32.3873345, -90.0375792
From downtown Jackson, a short drive away, the Pelahatchie Shore Park provides a stunning view of the Barnett Reservoir. There is lots of open green space in the park where you may fly your drone. If you're feeling brave, you can soar over the lake.
5. Sheppard Brothers Park
1355 Hattiesburg St, Jackson, MS 39209, USA
The Sheppard Brothers Park in Jackson has a big open area that is rarely crowded, which makes it an excellent place for casual drone flights. Additionally, there aren't many trees there, so even inexperienced drone pilots should feel at ease flying here. A basketball court, a jogging path, and a pavilion for indoor events are some of the park's amenities.
Final Thoughts on Where To Fly A Drone In Mississippi
So there you have it: the best places to fly a drone in Mississippi!
I hope you have a great time exploring the beautiful landscape of Mississippi from above. You can also check out where to fly a drone in other states and cities in the United States.
Always remember to obey the federal, state, and local drone laws in Mississippi to avoid having issues with the law and authorities.
And don't forget to share this article with a friend and other drone pilots who will benefit from this information using the share icons below.