In this article, we've scouted out the best places to fly a drone in Maine.
Maine is one of the finest places for aerial photography because of its unparalleled beauty, excellent seafood scene, and laid-back culture among drone pilots in New England.
Maine is dubbed "Vacationland" for a reason—it boasts so many entertaining activities. No of your hobbies or the season you come, Maine has SO many wonderful things to offer!
Maine is the place for you if you like big adventures, or just beautiful sightseeing, boating, golfing, biking, skiing, or just visiting lighthouses in Maine, antique shops, playhouses, museums, and galleries.
In this article, I will reveal to you where to fly your drone in Maine, as well as where it is permitted and not permitted by the law to fly a drone. I will also offer regulatory guidance to assist you in maintaining compliance with federal, state, and local laws.
Regulations In Maine
The federal drone laws governing drone operations in Maine, which were created by the Federal Aviation Administration, classify drone operations as either recreational or commercial.
Federal Regulations In Maine
Recreational drone pilots are subject to the FAA rules for recreational flyers, which require them to register their drones if they weigh more than 250 g and complete The Recreational UAS Safety Test (TRUST) before they can operate their drone for recreational purposes in the United States of America.
Commercial drone pilots are subject to FAA rules for commercial pilots, which require them to follow The Part 107 regulations, complete a multiple-choice exam, and earn a drone pilot certification from the FAA before they can operate their drone for commercial purposes in the United States of America.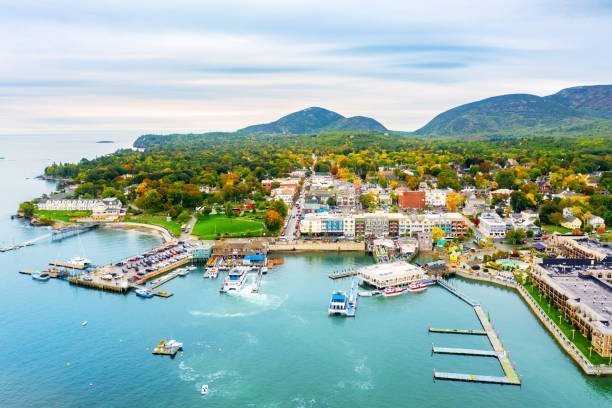 When flying within five miles of an airport, drone pilots are no longer needed to independently contact air traffic control. Instead, to obtain airspace authorization to fly in regulated airspace near and above numerous airports, both commercial and leisure fliers can use the automated LAANC system. You must apply for airspace authorization if you are operating in Class B, C, D, or E regulated airspace. In areas where LAANC is not available, you can use FAA Drone Zone or LAANC.
Interested in becoming an FAA-certified drone pilot so you can operate under the Part 107 regulations and make money flying your drone? Check out our industry-leading online training course over at Drone Pilot Ground School.
State and Local Drone Regulations In Maine
Here is an in-depth guide to the drone laws in Maine that we put together. Be sure to check them out to see the state and local drone laws you need to adhere to in Maine. You should always exercise sound judgment when in doubt and adhere to the FAA's regulations.
DISCLAIMER: Nothing on this website should be construed as legal advice and is solely provided for informative reasons. If there is anything we missed or if you have any further questions, please contact us at info [at] droneller [dot] com, and we will do our best to assist you.
Best Places To Fly A Drone In Portland, Maine
Here are my top recommendations for where to fly a drone in Portland, Maine. These places were chosen because of their accessibility, airspace constraints, and tourist attractions.
1. Bailey Island
43.7370257, -69.9969358
Bailey Island is an island located in Casco Bay and is part of the town of Harpswell, in Cumberland County, Maine. As of the 2000 census, the island has 400 year-round residents.
The island boasts a port that is picture-perfect, as well as footpaths, peaceful beaches, a rocky shoreline, and warm coastal inns. Drone operators who enjoy capturing seashore ambiances on video will find all of the above appealing.
2. Fort Gorges
43.6631452, -70.2220866
Fort Gorges is a former United States military fort built on Hog Island Ledge in Casco Bay, Maine. The fort has awesome spots for drone photography, like the West Shore Sandy Beach, which is located around 0.3 miles away in the eastern part of the fort.
3. Highland Lake
30 Lowell Farm Rd., Falmouth, ME 04105, United States
Highland Lake is a lake located in Portland, Maine, that extends from the northern tip of Westbrook through the western edge of Falmouth into east Windham, Maine.
If you prefer a place with few people, Highland Lake is an excellent location for drone photography. There are only a few cottages and walking trails surrounding the lake, which makes it generally quiet. The area is still incredibly picturesque despite the absence of any distinguishing features.
4. Marginal Way and Perkins Cove
Perkins Cove Rd, Ogunquit, ME 03907, United States
The Marginal Way in Maine is one of New England's most beloved picturesque coastal walks because of its ocean vistas, many benches, and proximity to downtown Ogunquit.
According to the Ogunquit Police Department, drone flights are permitted off Perkins Cove and along the Marginal Way. However, drones are not permitted on Ogunquit Beach, so be careful not to go too far north.
5. Old Orchard Beach
2 Old Orchard St, Old Orchard Beach, ME 04064, United States
Old Orchard Beach is a popular seaside resort town and census-designated place (CDP) located on the inner side of Saco Bay on the Atlantic Ocean in York County, Maine, United States.
With their broad open areas and picturesque vistas, Old Orchard Beach's beaches make an excellent location for drone flights. Old Orchard Beach is the place to go if you want to use your drone to capture the sunset.
6. Old Port
250 Commercial St., Portland, ME 04101, United States
Old Port is a neighborhood in Portland, Maine, well-known for its brick houses from the 19th century, fishing docks, and cobblestone streets. The neighborhood is teeming with shops, eateries, and pubs. The Old Port is a well-liked attraction for both visitors and residents because of its reputation for nightlife.
You may use a drone to snap pictures of the district's historic brick buildings that overlook the water. When the city comes to life with the lights of the buildings and automobiles, this location is even more stunning at night and during rush hour. Anyone may fall in love with the city because of the Old Port's enchantment.
7. Portland Head Light
12 Captain Strout Cir, Cape Elizabeth, ME 04107, United States
Portland Head Light is a historic lighthouse located in Cape Elizabeth, Maine. The lighthouse is situated on a headland at the entrance to Portland Harbor's main shipping channel, which is located inside Casco Bay in the Gulf of Maine.
With your drone flying out in the bay, where you can capture the waves crashing against the shore, this is the perfect location to snap pictures of the lighthouse.
8. Spring Point Ledge Lighthouse
2 Fort Rd, South Portland, ME 04106, United States
Spring Point Ledge Lighthouse is a sparkplug lighthouse located in South Portland, Maine, that marks a dangerous obstruction on the west side of the main shipping channel into Portland Harbor.
I recommend giving this place a shot since Portland is filled with so many lighthouses. Aerial photographs of the Spring Point Lighthouse are a fantastic opportunity to showcase your drone photography abilities, whether they are placed against the pounding seas or the metropolis.
Final Thoughts on Where To Fly A Drone In Maine
So there you have it: the best places to fly a drone in Maine!
I hope you have a great time exploring the beautiful landscape of Maine from above. You can also check out where to fly a drone in other states and cities in the United States.
Always remember to obey the federal, state, and local drone laws in Maine to avoid having issues with the law and authorities.
And don't forget to share this article with a friend and other drone pilots who will benefit from this information using the share icons below.