In this article, we've scouted out the best places to fly a drone in Louisiana.
Louisiana brings to mind images of hot summer nights with cicadas singing nearby and the laughter of loved ones gathered around a table heaped with mouthwatering Southern cuisine. Time passes more slowly in this condition, and accomplishing is given more weight than living.
The Crescent City, often known as New Orleans, is one of the greatest locations to discover the state's attractions and take in some Creole culture. People have fun as they dress up and march around the streets during the renowned Mardi Gras.
The French Quarter honors the state's past and is a terrific spot to get lost while knowing that a delicious dinner and a fun time are waiting around every corner.
In this article, I will reveal to you where to fly your drone in Louisiana, as well as where it is permitted and not permitted by the law to fly a drone. I will also offer regulatory guidance to assist you in maintaining compliance with federal, state, and local laws.
Regulations In Louisiana
The federal drone laws governing drone operations in Louisiana, which were created by the Federal Aviation Administration, classify drone operations as either recreational or commercial.
Federal Regulations In Louisiana
Recreational drone pilots are subject to the FAA rules for recreational flyers, which require them to register their drones if they weigh more than 250 g and complete The Recreational UAS Safety Test (TRUST) before they can operate their drone for recreational purposes in the United States of America.
Commercial drone pilots are subject to FAA rules for commercial pilots, which require them to follow The Part 107 regulations, complete a multiple-choice exam, and earn a drone pilot certification from the FAA before they can operate their drone for commercial purposes in the United States of America.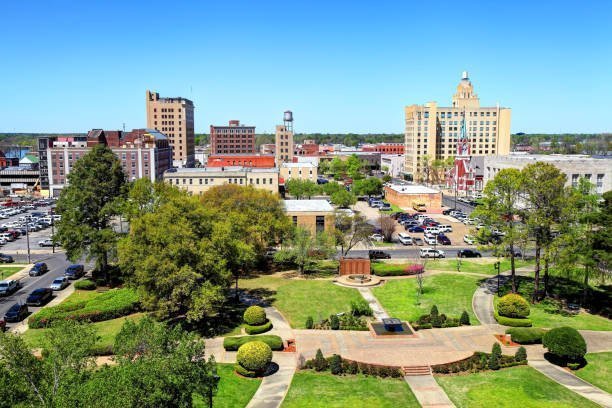 When flying within five miles of an airport, drone pilots are no longer needed to independently contact air traffic control. Instead, to obtain airspace authorization to fly in regulated airspace near and above numerous airports, both commercial and leisure fliers can use the automated LAANC system. You must apply for airspace authorization if you are operating in Class B, C, D, or E regulated airspace. In areas where LAANC is not available, you can use FAA Drone Zone or LAANC.
Interested in becoming an FAA-certified drone pilot so you can operate under the Part 107 regulations and make money flying your drone? Check out our industry-leading online training course over at Drone Pilot Ground School.
State and Local Regulations In Louisiana
Here is an in-depth guide to the drone laws in Louisiana that we put together. Be sure to check them out to see the state and local drone laws you need to adhere to in Louisiana. You should always exercise sound judgment when in doubt and adhere to the FAA's regulations.
DISCLAIMER: Nothing on this website should be construed as legal advice and is solely provided for informative reasons. If there is anything we missed or if you have any further questions, please contact us at info [at] droneller [dot] com, and we will do our best to assist you.
Best Places To Fly A Drone In Baton Rouge, Louisiana
Here are my top recommendations for where to fly a drone in Baton Rouge, Louisiana. These places were chosen because of their accessibility, airspace constraints, and tourist attractions.
1. Burbank Park
12400 Burbank Dr, Baton Rouge, LA 70810, United States
Burbank Park is located on the south side of Burbank Drive, just east of Bluebonnet Road. The park facilities include 22 soccer fields, five baseball fields, a dog park, and a lake. The park offers fishing activities and a wide land mass with forest on the eastern and western sides for you to fly your drone.
2. City-Brooks Community Park
1515 Dalrymple Dr, Baton Rouge, LA 70806, United States
City-Brook Community Park is located in the southwestern part of East Baton Rouge Parish,  Louisiana. The Park facilities include: Tennis Courts, Golf, Dog Park, Soccer Fields, Lake, Baton Rouge Gallery, Swimming Pool, Outdoor Basketball Court, Splash Pad, Walking/Jog Trail, Croquet, Labyrinth, Fishing, Recreation Center, and more.
The park does not have any regulations governing drone operations. However, I advise getting in touch with the BREC for proper approval.
3. Flanacher Road Park
864 E Flanacher Rd, Zachary, LA 70791, United States
Flanacher Park consists of a 175-acre tract with virgin woodland sections and sizable open spaces that are home to stands of massive, mature specimen oak trees and other hardwoods.
A soccer complex with restrooms, a leisure center, walking trails, a fishing pond, picnic areas with shelters, a playground, a basketball court, and a disc golf course are among the park's amenities.
It would be advisable to fly your drone towards the nearby woods after taking off from the field. This should provide you with enough room to fly around for a while and shoot a few beautiful pictures.
4. Highland Road Community Park
14024 Highland Rd, Baton Rouge, LA 70810, United States
Highland Road Community Park is a 144.4-acre (0.584 km2) public park located in the south-eastern part of Baton Rouge, Louisiana. The park offers high levels of security and recreational opportunities.
If you can stay away from the tourists, the woods, nature trails, and disc golf course would be wonderful places to fly a drone. You can also fly southward from the park to see the observatory and the bayou.
Best Places To Fly A Drone In New Orleans, Louisiana
Here are my top recommendations for where to fly a drone in New Orleans, Louisiana. These places were chosen because of their accessibility, airspace constraints, and tourist attractions.
1. Algiers Point
138 Morgan St. New Orleans, LA 70114, USA
Algiers Point is a place in New Orleans, Louisiana, along the Lower Mississippi River. There are several things to do in this lovely, historic area, which is only a short boat ride from the Riverfront.
The enormous cargo ships, the ferry port, and the breathtaking city skyline can all be seen in some great video footage. Algiers Point's sole negative is that it can occasionally be rather windy. If you intend to take pictures and videos, it is a good idea to check the weather in advance.
2. Bonnabel Boat Launch
1599 Bonnabel Blvd, Metairie, LA 70005, United States
Bonnabel Boat Launch is a well-known fishing pier and boat launch in Metairie, Louisiana. It's situated at the end of Bonnabel Boulevard and is surrounded by Linear Park in Jefferson Parish.
The park has a parking area and a wonderful lakeside trail for jogging, biking, and strolling. From the dock, you should be able to securely launch your drone, but be careful to launch it far from any animals.
3. Brechtel Park
4401 Lennox Blvd, New Orleans, LA 70131, United States
Brechtel Park is a 120-acre urban park located in the Algiers neighborhood of New Orleans. The park performs a crucial role in the hydrology of the region and acts as an ecological home for a variety of aquatic, avian, and animal species.
There are plenty of recreational facilities for you to enjoy, like picnics, camping, hiking, etc. However, you have to be watchful of the migrating bird traffic when flying your drone in the park.
4. Crescent Park
Crescent Park Trail, 2300 N Peters St, New Orleans, LA 70117, United States
Crescent Park is a 20-acre, 1.4-mile urban linear park that links the local population and tourists to the riverside. This unrivaled public area offers everyone the chance to enjoy multipurpose pavilions, natural vegetation, bike trails, a dog run, and spectacular vistas of New Orleans.
If you want to launch a drone and capture breathtaking vistas of the Mississippi River, then Crescent Park is one of the best places to launch your drone. This wide area of open parkland features a number of art works, strolling routes, and lines of trees. The metropolitan skyline illuminates the river at night, making it even more appealing for drone aerial photography.
5. Fontainebleau State Park
62883 LA-1089, Mandeville, LA 70448, United States
Fontainebleau State Park is situated on the northern side of Lake Pontchartrain in St. Tammany Parish, Louisiana. The 2,800-acre (1,100-ha) park was previously the location of a brickyard and sugar cane plantation run by Bernard de Marigny and later by his son Armand Marigny.
Users of follow-me drones may capture videos of themselves cycling, hiking, or inline skating across the sizable park. The historic train track, natural walks, sandy beach, and colorful sailboats are additional attractions for drone pilots.
6. Laketown Fishing Pier
5050 Williams Blvd, Kenner, LA 70065, USA
The Laketown Fishing Pier is located in the middle of Laketown Park on the west side of New Orleans. Due to Lake Pontchartrain's connection to the Atlantic Ocean, anglers may anticipate catching a variety of species from this location.
Aerial drone footage of the Laketown Fishing Pier with a lake backdrop is magnificent. There are several places to launch drones from and land them in the nearby green area. If you capture the picturesque vistas during one of the fabled red-orange sunsets, they become much more attractive.
7. Sankofa Wetland Park and Nature Trail
6401 Florida Ave, New Orleans, LA 70117, United States
The Sankofa Wetland Park is located at 6401 Florida Avenue in New Orleans' Lower Ninth Ward neighborhood. The park was developed by the Sankofa Community Development Corporation in conjunction with the Sewerage and Water Board and the City of New Orleans.
This park is for you if you're a drone pilot who loves operating in less crowded areas. However, the park doesn't have a lot of beautiful scenery, but the large area definitely makes up for it.
Final Thoughts on Where To Fly A Drone In Louisiana
So there you have it: the best places to fly a drone in Louisiana!
I hope you have a great time exploring the beautiful landscape of Louisiana from above. You can also check out where to fly a drone in other states and cities in the United States.
Always remember to obey the federal, state, and local drone laws in Louisiana to avoid having issues with the law and authorities.
And don't forget to share this article with a friend and other drone pilots who will benefit from this information using the share icons below.