In this article, we've scouted out the best places to fly a drone in Iowa.
Iowa, a state in the Midwest, is a land rich in both culture and agriculture. And Iowa provides a breath of fresh air coupled with warm towns, from its wide-open regions covered with cornfields to its welcoming cities packed with Midwestern charm.
And there is a lot to discover all throughout the state. The Bridges of Madison County, movie locations, and river museums are just a few cultural marvels that are worth exploring. A vast network of caverns and old German settlements are two more Iowa attractions.
In this article, I will reveal to you where to fly your drone in Iowa, as well as where it is permitted and not permitted by the law to fly a drone. I will also offer regulatory guidance to assist you in maintaining compliance with federal, state, and local laws.
State Regulations In Iowa
The federal drone laws governing drone operations in Iowa, which were created by the Federal Aviation Administration, classify drone operations as either recreational or commercial.
Federal Regulations In Iowa
Recreational drone pilots are subject to the FAA rules for recreational flyers, which require them to register their drones if they weigh more than 250 g and complete The Recreational UAS Safety Test (TRUST) before they can operate their drone for recreational purposes in the United States of America.
Commercial drone pilots are subject to FAA rules for commercial pilots, which require them to follow The Part 107 regulations, complete a multiple-choice exam, and earn a drone pilot certification from the FAA before they can operate their drone for commercial purposes in the United States of America.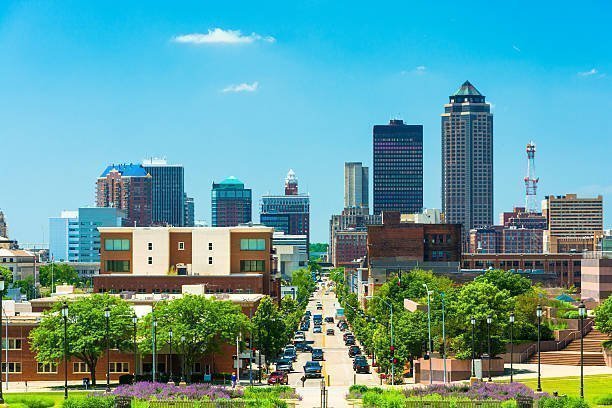 When flying within five miles of an airport, drone pilots are no longer needed to independently contact air traffic control. Instead, to obtain airspace authorization to fly in regulated airspace near and above numerous airports, both commercial and leisure fliers can use the automated LAANC system. You must apply for airspace authorization if you are operating in Class B, C, D, or E regulated airspace. In areas where LAANC is not available, you can use the FAA Drone Zone or LAANC.
Interested in becoming an FAA-certified drone pilot so you can operate under the Part 107 regulations and make money flying your drone? Check out our industry-leading online training course over at Drone Pilot Ground School.
State and Local Regulations In Iowa
Here is an in-depth guide to the drone laws in Iowa that we put together. Be sure to check them out to see the state and local drone laws you need to adhere to in Iowa. You should always exercise sound judgment when in doubt and adhere to the FAA's regulations.
DISCLAIMER: Nothing on this website should be construed as legal advice and is solely provided for informative reasons. If there is anything we missed or if you have any further questions, please contact us at info [at] droneller [dot] com, and we will do our best to assist you.
Best Places To Fly A Drone In Des Moines, Iowa
Here are my top recommendations for where to fly a drone in Des Moines, Iowa. These places were chosen because of their accessibility, airspace constraints, and tourist attractions.
1. Big Creek Lake
8550 NW 142nd Ave, Polk City, IA 50226, United States
Big Creek Lake is a body of water found in Polk County, Iowa's Big Creek State Park. The lake, which covers 814 acres and is located two miles north of Polk City,
Although Big Creek Beach is where we advise launching a drone from, the lake is dotted with boat ramps and marinas, so you shouldn't run out of fresh locations for drone flying.
2. Dale Maffitt Reservoir
Maffitt Lake Rd, Cumming, IA 50061, United States
Dale Maffitt Lake is a reservoir that may be found in the four corners of Iowa's Dallas, Polk, Warren, and Madison counties. It is owned by the Des Moines Water Works and provides the city of Des Moines, Iowa, with an emergency water supply. It is an awesome spot for drone activities given the abundance of pathways and picnic spaces in this park-like setting.
3. Easter Lake Park
2830 Easter Lake Dr, Des Moines, IA 50320, United States
With its spacious campsites, numerous hiking trails, and boat ramps near Lake Ester, Easter Lake Park has a lot to offer. If you feel comfortable flying your drone above water, this area is a big drone flight playground with breathtaking scenery all around. Even if you've been to the region before, the park has just undergone renovations, making it worthwhile to visit.
4. Jester Park
11121 NW Jester Park Dr, Granger, IA 50109, United States
Jester Park is a reasonably well-liked campground that offers dense forest, hiking paths, and a stunning view of the adjacent lake. During the summer, the campgrounds may get rather popular, and there is a considerable possibility that you will see wildlife in the woods. There should be lots of open space in the park for drone flights over land or sea.
5. MacRae Park
1021 Davis Ave, Des Moines, IA 50315, United States
MacRae provides a stunning view of downtown Des Moines and is situated on a cliff overlooking the Raccoon River. One of Iowa's few remaining patches of savanna is also found in the park's upper area.
The park contains a playground, tennis courts, a lagoon with a water feature, and a covered shelter that may be leased for special occasions. Also accessible on a first-come, first-served basis is an open-air shelter.
6. Paragon Prairie Tower
12150 Meredith Dr., Urbandale, IA 50323, United States
The Paragon Prairie Tower is the biggest artwork made of Italian glass mosaic tiles in the country and honors the legacy of the original Iowa prairie. The "Paragon Prairie Tower" is depicted as a double-repeating pattern of natural plants in a stylized deco setting of field and sky.
The Paragon Prairie Tower will rapidly become one of your favorite locations for aerial photography if you can stay away from the people who regularly gather there.
7. Women of Achievement Bridge
41.591790, -93.6192182
The Iowa Women of Achievement Bridge connects Des Moines' east and west sides at the northern end of the Principal Riverwalk circle. The bridge has two distinct paths: one is for walkers or runners, and the other is for bikers. The bridge is a wonderful sight to see in Des Moines, and it is illuminated by vibrant lights that reflect into the lake.
From any of the parks on either side of the Des Moines River, you can obtain nice drone pictures of the bridge. Additionally, we suggest using a drone to take pictures of the bridge at night with all of its beautiful lights.
Final Thoughts on Where To Fly A Drone In Iowa
So there you have it: the best places to fly a drone in Iowa!
I hope you have a great time exploring the beautiful landscape of Iowa from above. You can also check out where to fly a drone in other states and cities in the United States.
Always remember to obey the federal, state, and local drone laws in Iowa to avoid having issues with the law and authorities.
And don't forget to share this article with a friend and other drone pilots who will benefit from this information using the share icons below.