In this article, we've scouted out the best places to fly a drone in Vermont.
Vermont is home to a mystique that other states can only enviously admire. When its name is spoken, pictures of sunlight meadows with black-and-white cows, brilliant white ski runs, neat hillside farms, flaming red maple trees along a stone wall, covered bridges, and buckets used to collect sap for maple syrup instantly come to mind.
Burlington's bustle, Manchester's outlet malls, Killington's frenzied après-ski culture, and Brattleboro's unusual fusion of gritty blue-collar and grown-up '70s hippies symbolize another Vermont alongside this romanticized one.
In this article, I will reveal to you where to fly your drone in Vermont, as well as where it is permitted and not permitted by the law to fly a drone. I will also offer regulatory guidance to assist you in maintaining compliance with federal, state, and local laws.
Drone Regulations In Vermont
The federal drone laws governing drone operations in Vermont, which were created by the Federal Aviation Administration, classify drone operations as either recreational or commercial.
Federal Regulations In Vermont
Recreational drone pilots are subject to the FAA rules for recreational flyers, which require them to register their drones if they weigh more than 250 g and complete The Recreational UAS Safety Test (TRUST) before they can operate their drone for recreational purposes in the United States of America.
Commercial drone pilots are subject to FAA rules for commercial pilots, which require them to follow The Part 107 regulations, complete a multiple-choice exam, and earn a drone pilot certification from the FAA before they can operate their drone for commercial purposes in the United States of America.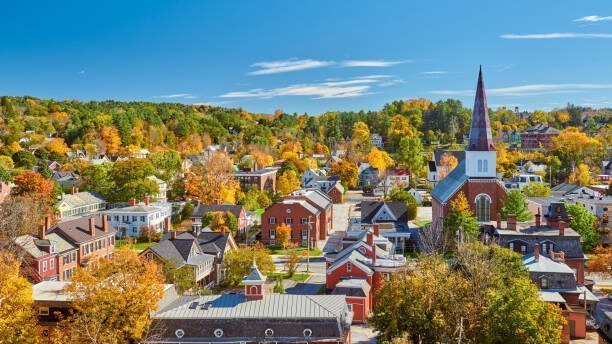 When flying within five miles of an airport, drone pilots are no longer needed to independently contact air traffic control. Instead, to obtain airspace authorization to fly in regulated airspace near and above numerous airports, both commercial and leisure fliers can use the automated LAANC system. You must apply for airspace authorization if you are operating in Class B, C, D, or E regulated airspace. In areas where LAANC is not available, you can use the FAA Drone Zone or LAANC.
Interested in becoming an FAA-certified drone pilot so you can operate under the Part 107 regulations and make money flying your drone? Check out our industry-leading online training course over at Drone Pilot Ground School.
State and Local Regulations In Vermont
Here is an in-depth guide to the drone laws in Vermont that we put together. Be sure to check them out to see the state and local drone laws you need to adhere to in Vermont. You should always exercise sound judgment when in doubt and adhere to the FAA's regulations.
DISCLAIMER: Nothing on this website should be construed as legal advice and is solely provided for informative reasons. If there is anything we missed or if you have any further questions, please contact us at info [at] droneller [dot] com, and we will do our best to assist you.
Best Places To Fly A Drone In Burlington, Vermont
Here are my top recommendations for where to fly a drone in Burlington, Vermont. These places were chosen because of their accessibility, airspace constraints, and tourist attractions.
1. Battery Park
Battery Park Extension, Burlington, VT 05401, United States
Battery Park is a public park that has a view of Lake Champlain and is located at the western end of Burlington, Vermont's downtown. The park has a bandshell, a children's play area, and a number of monuments, such as a bronze statue of General William W. Wells, a soldier of the American Civil War, and a red oak sculpture of Chief Gray Lock, a combatant in Gray Lock's War.
Lake Champlain may be seen well from Battery Park. Despite not being immediately on the lake, the park is nearby and has stunning views. Prior to flying, make sure you obtain airspace permission!
2. Causeway Park
781 Blakely Rd, Colchester, VT 05446, United States
The Causeway Park in Vermont is a lovely park with breathtaking views of the surrounding mountains. With its abundance of picnic spaces, hiking routes, and fishing locations, the park is ideal for spending a leisurely day outside.
A number of fascinating historical locations, such as an ancient covered bridge and a disused train station, may be found at The Causeway Park. Airspace under control is not present at Causeway Park.
3. Leddy Park and Leddy Beach
216 Leddy Park Rd, Burlington, VT 05408, United States
In Burlington's New North End, next to North Avenue, sits Leddy Beach. The 1500-foot-long sandy beach at Leddy Beach is surrounded by a grassy picnic area with grills and picnic tables. There are restrooms in Leddy Park Arena.
Leddy Park is a 51-acre park that is located in Burlington. There are walking trails, a basketball court, an ice rink, a tennis court outside, a playground, and fields for softball and soccer. The park has public restrooms and beach access.
Flying a drone from Leddy Park will give you by far the best views of Lake Champlain. This park is regarded as one of Burlington's "hidden beauties" and is rarely busy. Be aware that you will be flying in regulated airspace and that LAANC permission is required.
4. Maple Street Park
75 Maple St, Essex Junction, VT 05452, United States
The Maple Street Recreation Center sits at the main entrance to Maple Street Park and is home to administrative offices, a multi-purpose room, and public restrooms. Maple Park offers programs such as adult Tai Chi, Camp Maple Street, preschool playgroups, and many more.
Maple Park features sprinklers and water play, climbing equipment, slides, seesaws, infant swings, shade, benches, a picnic area, a playground, and restrooms. However, you have to get airspace approval before you can operate a drone in this place.
5. Mount Mansfield
44.543722, -72.818541
The tallest mountain in Vermont is Mount Mansfield, which has a summit that rises 4,395 feet (1,340 meters) above sea level.
The mountain's summit lies in the town of Underhill in the county of Chittenden; the ridgeline, which includes a few minor summits, reaches into Stowe in the county of Lamoille; and the mountain's sides also extend into Cambridge.
6. North Beach Park
44.492499, -73.240959
North Beach is located off of North Avenue in Burlington, Vermont. North Beach is the largest beach and the only beach with active lifeguards in the summer season.
North Beach has amenities for everyone, including food stands, a playground, restrooms with showers, picnic tables, and grills. In order to fully enjoy all that Burlington has to offer, you can also rent kayaks, canoes, and stand-up paddleboards from the vendor kiosk during the summer.
Again, you have to get LAANC approval from the FAA because the park falls within controlled airspace.
7. Owl's Head
44.401575, -73.145705
A short hike leads to a beautiful view of Lake Groton, Kettle Pond, and the Green Mountains from the Owls Head route. The route rises uphill to the parking area at the end of Lanesboro Road after traversing somewhat undulating terrain and avoiding a marshy region.
The Owl's Head summit route gains about 500 feet in height. This trail's peak has a stunning view and is the ideal location to use your drone to take pictures from even higher elevations.
8. Red Rocks Park
4 Central Avenue, South Burlington, VT 05403, United States
Red Rocks Park is one of the most beautiful parks in South Burlington and is located within controlled airspace. The rocky beachfront offers breathtaking views of Lake Champlain, Shelburne Bay, and the Adirondacks after trails wind through hemlock and pine forests.
9. Starr Farm Park
96 Starr Farm Rd, Burlington, VT 05408, United States
Starr Farm Park is close to Lake Champlain and the Burlington Bike Path, in an uncontrolled airspace. The expansive park includes a playground, a community garden, sporting grounds, and a dog park. Here is where you can take off with your drone and fly to the beach for even more breathtaking views.
Final Thoughts on Where To Fly A Drone In Vermont
So there you have it: the best places to fly a drone in Vermont!
I hope you have a great time exploring the beautiful landscape of Vermont from above. You can also check out where to fly a drone in other states and cities in the United States.
Always remember to obey the federal, state, and local drone laws in Vermont to avoid having issues with the law and authorities.
And don't forget to share this article with a friend and other drone pilots who will benefit from this information using the share icons below.