In this article, we've scouted out the best places to fly a drone in Pennsylvania.
Pennsylvania is referred to as the "Keystone State" because of its part in laying the groundwork for the United States of America. The Gettysburg Address, the United States Constitution, and the Declaration of Independence were all penned at this location.
In places like Ohiopyle State Park in the Laurel Highlands and the Pocono Mountains, nature lovers can explore their wild side by whitewater rafting, hiking, and biking through picturesque landscapes. The Liberty Bell in Philadelphia, the Valley Forge and Gettysburg combat sites, and a host of other historic monuments and attractions are all readily available to tourists.
In this article, I will reveal to you where to fly your drone in Pennsylvania as well as where it is permitted and not permitted by the law to fly a drone. I will also offer regulatory guidance to assist you in maintaining compliance with federal, state, and local laws.
Drone Regulations In Pennsylvania
The federal drone laws governing drone operations in Pennsylvania, which were created by the Federal Aviation Administration, classify drone operations as either recreational or commercial.
Federal Regulations In Pennsylvania
Recreational drone pilots are subject to the FAA rules for recreational flyers, which require them to register their drones if they weigh more than 250 g and complete The Recreational UAS Safety Test (TRUST) before they can operate their drone for recreational purposes in the United States of America.
Commercial drone pilots are subject to FAA rules for commercial pilots, which require them to follow The Part 107 regulations, complete a multiple-choice exam, and earn a drone pilot certification from the FAA before they can operate their drone for commercial purposes in the United States of America.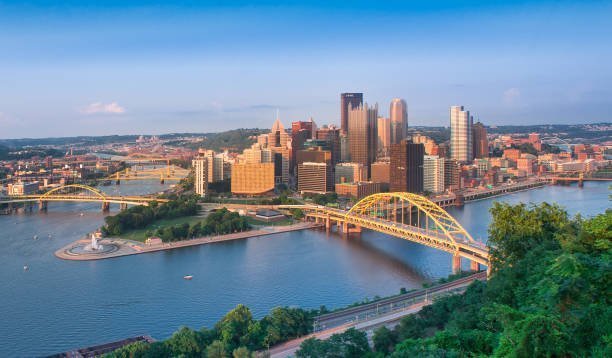 When flying within five miles of an airport, drone pilots are no longer needed to independently contact air traffic control. Instead, to obtain airspace authorization to fly in regulated airspace near and above numerous airports, both commercial and leisure fliers can use the automated LAANC system. You must apply for airspace authorization if you are operating in Class B, C, D, or E regulated airspace. In areas where LAANC is not available, you can use the FAA Drone Zone or LAANC.
Interested in becoming an FAA-certified drone pilot so you can operate under the Part 107 regulations and make money flying your drone? Check out our industry-leading online training course over at Drone Pilot Ground School.
State and Local Regulations In Pennsylvania
Here is an in-depth guide to the drone laws in Pennsylvania that we put together. Be sure to check them out to see the state and local drone laws you need to adhere to in Pennsylvania. You should always exercise sound judgment when in doubt and adhere to the FAA's regulations.
DISCLAIMER: Nothing on this website should be construed as legal advice and is solely provided for informative reasons. If there is anything we missed or if you have any further questions, please contact us at info [at] droneller [dot] com, and we will do our best to assist you.
Best PLaces To Fly A Drone In Philadelphia, Pennsylvania
Here are my top recommendations for where to fly a drone in Philadelphia, Pennsylvania. These places were chosen because of their accessibility, airspace constraints, and tourist attractions.
1. Bartram's Garden Dock and Community Boathouse
5400 Lindbergh Blvd., Philadelphia, PA 19143, United States
The Bartram's Garden Dock and Community Boathouse are located right next to Philadelphia's famous Bartram's Garden. The property is quietly situated on the Schuylkill River.
Its pier serves as an entry point for local fishermen, boaters, picturesque river excursions, and river activities. Nature coexists peacefully with the industrial backdrop in this lovely setting.
Pilots of camera drones have plenty of open space to photograph the surrounding wildlife and historic sites. To the north of the Boathouse, there is an operational steel railway bridge. Train and bridge enthusiasts should not have to wait long before seeing an operating locomotive.
2. Benjamin Franklin Bridge
1 Benjamin Franklin Bridge, Philadelphia, PA 08102, United States
The Benjamin Franklin Bridge, also known as the Delaware River Bridge and locally as the Ben Franklin Bridge, is a suspension bridge that connects Philadelphia, Pennsylvania, with Camden, New Jersey, across the Delaware River.
The Delaware River Port Authority owns and operates it, together with the Betsy Ross, Walt Whitman, and Tacony-Palmyra bridges, which connect Philadelphia with southern New Jersey. It carries Interstate 676/US Route 30, pedestrians, cyclists, and the PATCO Speedline.
The bridge was dedicated as part of the 1926 Sesquicentennial Exposition, which commemorated the signing of the United States Declaration of Independence on the 150th anniversary of its signing. From 1926 to 1929, it had the world's longest single span of any suspension bridge.
It is impossible to fly a drone in Philadelphia without photographing the Benjamin Franklin Bridge. The bridge itself is beautiful, but the surrounding piers and the sunset over the city skyline are equally spectacular. Drones are prohibited from launching from the bridge; instead, drone pilots should fly from Columbus Blvd. or Race Street Pier.
3. Boathouse Row
1 Boathouse Row, Philadelphia, PA 19130, United States
Boathouse Row is a historic property on the east bank of the Schuylkill River in Philadelphia, Pennsylvania, approximately north of the Fairmount Water Works and the Philadelphia Museum of Art.
It is made up of a row of 15 boathouses that house social and rowing clubs as well as their racing shells. Each boathouse has its own narrative to tell, and they all have addresses on both Boathouse Row and Kelly Drive (named after famous Philadelphia oarsman John B. Kelly Jr.).
Boathouse Row is a popular destination for drone pilots, especially at night. When the lights turn on, they cast beautiful reflections off the water's surface.
4. Fairmount Park
39.9884884, -75.1977714
Fairmount Park, located on the banks of the Schuylkill River in Philadelphia, Pennsylvania, is one of the city's major public parks. It is also Philadelphia's first legally constructed park. Its initial size was close to 800 acres, and it now occupies over 2,700 ha.
There are several historic mansions in the area, including William Peters' Belmont Mansion, the Historic Strawberry Mansion, the Woodford Mansion, an ancient monastery, and others.
However, the park is most known for its numerous contemporary sports facilities, which include a golf course, a few courts and fields, and so on.
5. General Pulaski Park
3001 E Allegheny Ave, Philadelphia, PA 19134, United States
Pulaski Park is located in the Port Richmond area on a tiny pier at the intersection of Delaware and Allegheny Avenues. The half-acre plot is part of Philadelphia's extensive public park system and provides people with a unique river experience. Visitors may fish from the pier or simply gaze out over the Delaware River to the north and south.
6. Philadelphia Museum of Art
2600 Benjamin Franklin Pkwy, Philadelphia, PA 19130, United States
The Philadelphia Museum of Art was established in 1876 for the Centennial Exposition in Philadelphia. The main museum structure was finished in 1928[8] atop Fairmount, a hill near the northwest end of the Benjamin Franklin Parkway at Eakins Oval.
The museum manages around 240,000 pieces, including large holdings of European, American, and Asian provenance. Sculpture, paintings, prints, sketches, photography, armor, and ornamental arts are among the different types of artwork.
The garden is also quite lovely, and it's not unusual to have numerous photographers roaming around at any given time. Simply choose a location to fly your drone here, but keep other park visitors in mind.
7. Schuylkill River Park
300 S. 25th St., Philadelphia, PA 19103, United States
The Schuylkill River Park Community Garden (SRPCG) is a one-of-a-kind community garden with roughly 70 plots (over 2,000 m2) of land located at 25th and Manning Streets in Philadelphia, Pennsylvania. The Garden is one of just a handful on Fairmount Park land, which is part of the Philadelphia Park System.
People can be found wandering around the serene green lawns and well-kept communal gardens. There are also two fenced-in dog parks in this park.
The recreation facility provides athletic facilities and hosts a variety of community activities. Drone pilots enjoy filming the scenic river views, river bridges, and surrounding city landscape.
8. Wissahickon Valley Park
40.0556589, -75.2184616
Wissahickon Valley Park, with 57 miles of trails and a verdant 1,800-acre ravine, is the ideal spot to retreat into the splendor of the Pennsylvania countryside. This undeniable jewel of Philadelphia's Fairmount Park system may be explored on foot, bike, or horseback. Permits are necessary to ride off-road bikes or horses on the top paths.
It provides ample room for a variety of outdoor activities and serves as a haven for healthy species. With such a large geographical area, there are practically limitless options for flying a drone in this park. maintain visual contact range unless otherwise approved by the FAA.
Best PLaces To Fly A Drone In Pittsburg, Pennsylvania
Here are my top recommendations for where to fly a drone in Pittsburgh, Pennsylvania. These places were chosen because of their accessibility, airspace constraints, and tourist attractions.
1. Aspinwall Riverfront Park
285 River Ave, Aspinwall, PA 15215, USA
Aspinwall Riverfront Park is located just outside of Pittsburgh on the banks of the Allegheny River. A mile from the impressive Highland Park Lock and Dam, it's a small but scenic recreation area. Users of action drones can record themselves kayaking on the river in the summer or sledding in the winter.
Those who prefer to film scenic aerial views can capture the nearby dam, surrounding riverscape, and industrial railway bridge.
2. Boyce Mayview Park
1551 Mayview Rd, Upper St Clair, PA 15241, United States
Boyce Mayview Park in Upper St. Clair has a variety of views and activities. The park's southern half has a network of walking routes and a vegetable garden, while other portions are designated for ball fields and event centers. The vast forests are ideal for flying your drone in an uncrowded environment. It is not advisable to fly a drone near the northern recreation center.
3. Lake Elizabeth
Lake Elizabeth, Pittsburgh, PA 15212, USA
Lake Elizabeth in Pittsburgh is a good place for aerial photography if you like smaller recreational areas. The gorgeous nature of the park surrounds the little artificial lake that replaced the ancient pond. West Park is a beautiful location for drone filming, and you don't have to fly far to see it all.
It ensures postcard-worthy views of beautiful meadows, quiet water, and charming pedestrian bridges. The background features passing trains and distant city skylines.
4. Millvale Riverfront Park
70 River Front Dr, Pittsburgh, PA 15209, United States
Millvale Riverfront Park is a tiny park that follows the Allegheny River and meanders beside it. The park's major attraction is a 1.7-mile path that traverses the full length of the property. The grassy strip is an excellent location for launching a drone and seeing the river, the surrounding Washington Crossing Bridge, and Herrs Island.
5. Point of View Park
1435 Grandview Ave, Pittsburgh, PA 15211, United States
Point of View Park is a Pittsburgh, Pennsylvania, parklet. It is located on the westernmost extremity of Grand View Scenic Byway Park and the Grand View Scenic Byway, a designated Pennsylvania scenic byway, on the edge of Mount Washington (Grandview Avenue at Sweetbriar Street).
Position of View Park provides a one-of-a-kind viewing point. Drone cameras may record stunning panoramic views of downtown Pittsburgh, the winding Ohio River, and multiple bridges.
6. South Shore Riverfront Park
40.4291356, -79.9651208
The 3.4-acre South Shore Riverfront Park is located upriver from downtown Pittsburgh, Pennsylvania, on the south bank of the Monongahela River, between 25th and 29th Streets.
The park is located next to the SouthSide Works shopping and living complex on the site of the former Jones & Laughlin Steel Mill.
The park is a component of the well-known Three Rivers Heritage Trail network in Pittsburgh. People visit this place to relax, go on walks, have picnics, and go boating.
The Birmingham Bridge, beautiful riverscapes, boats, and the stunning Pittsburgh skyline are among drone photography's top attractions.
Final Thoughts on Where To Fly A Drone In Pennsylvania
So there you have it: the best places to fly a drone in Pennsylvania!
I hope you have a great time exploring the beautiful landscape of Pennsylvania from above. You can also check out where to fly a drone in other states and cities in the United States.
Always remember to obey the federal, state, and local drone laws in Pennsylvania to avoid having issues with the law and authorities.
And don't forget to share this article with a friend and other drone pilots who will benefit from this information using the share icons below.