In this article, we've scouted out the best places to fly a drone in Oregon.
Oregon has a diverse range of scenery. Drone Pilots traveling to Oregon can cover a wide range of geography, from the coast to the mountains and the Oregon high desert. The abundance of locations to see and activities to do in Oregon might make arranging a trip seem daunting until you've seen everything the state has to offer.
An ancient lake formed by a volcanic eruption, a lush valley teeming with waterfalls, and many spectacular sea stacks rising out of the ocean are just a few of the stunning spots in Oregon. These picturesque attractions may be found all around the state, making for great road trips and excursions.
In this article, I will reveal to you where to fly your drone in the United States, as well as where it is permitted and not permitted by the law to fly a drone. I will also offer regulatory guidance to assist you in maintaining compliance with federal, state, and local laws.
Drone Regulations In Oregon
The federal drone laws governing drone operations in Oregon, which were created by the Federal Aviation Administration, classify drone operations as either recreational or commercial.
Federal Regulations In Oregon
Recreational drone pilots are subject to the FAA rules for recreational flyers, which require them to register their drones if they weigh more than 250 g and complete The Recreational UAS Safety Test (TRUST) before they can operate their drone for recreational purposes in the United States of America.
Commercial drone pilots are subject to FAA rules for commercial pilots, which require them to follow The Part 107 regulations, complete a multiple-choice exam, and earn a drone pilot certification from the FAA before they can operate their drone for commercial purposes in the United States of America.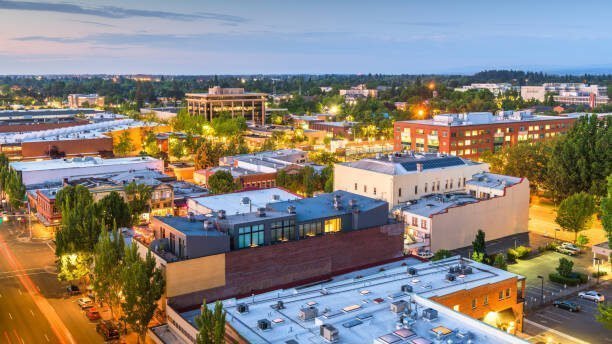 When flying within five miles of an airport, drone pilots are no longer needed to independently contact air traffic control. Instead, to obtain airspace authorization to fly in regulated airspace near and above numerous airports, both commercial and leisure fliers can use the automated LAANC system. You must apply for airspace authorization if you are operating in Class B, C, D, or E regulated airspace. In areas where LAANC is not available, you can use the FAA Drone Zone or LAANC.
Interested in becoming an FAA-certified drone pilot so you can operate under the Part 107 regulations and make money flying your drone? Check out our industry-leading online training course over at Drone Pilot Ground School.
State and Local Regulations In Oregon
Here is an in-depth guide to the drone laws in Oregon that we put together. Be sure to check them out to see the state and local drone laws you need to adhere to in Oregon. You should always exercise sound judgment when in doubt and adhere to the FAA's regulations.
DISCLAIMER: Nothing on this website should be construed as legal advice and is solely provided for informative reasons. If there is anything we missed or if you have any further questions, please contact us at info [at] droneller [dot] com, and we will do our best to assist you.
Best Places To Fly A Drone In Portland, Oregon
Here are my top recommendations for where to fly a drone in Portland, Oregon. These places were chosen because of their accessibility, airspace constraints, and tourist attractions.
1. Elk Rock Island
45.4359698, -122.650701
Elk Rock Island is an island in the Willamette River in Oregon, United States. Peter Kerr donated the 13-acre island, created 40 million years ago by a volcano, to Portland in 1940. Milwaukie took control of the park in April 2016. Spring Park provides access to the island.
The landscape of this island is intriguing since it was generated by a volcanic explosion and worn by river flows over millions of years. Because of the rough terrain, launching and landing a drone here is difficult, so you might be better off returning to the entry location.
2. Fly-A-Way RC Field
10770 NW Dersham Rd, Cornelius, OR 97113, USA
Dedicated RC airfields are ideal for both rookie and expert drone pilots to hone their flying abilities. The Fly-A-Way RC Field (AMA) is located in Cornelius, Oregon, just outside of Portland. To join the club, you must be an AMA member, as is the case with all AMA fields.
A huge runway is located on the property, which is bordered by nice rural scenery. Parking is available, as are pit tables and a shaded area for when it rains.
3. Little Crater Lake
45.1482155, -121.751151
Little Crater Lake is a lovely spring surrounded by lush meadows. When water from the aquifer below was driven up via a fault line, it dissolved siltstone.
The spring has widened the gap and eroded through the siltstone layer to the gravel layer 45 feet below. The water temperature here is freezing, staying around 34 degrees all year.
The lake is surrounded by small open meadows and a dense needle pine forest. It's a beautiful location and a wonderful location for capturing picturesque vistas with camera drones.
4. Lost Lake
Lakeshore Trail #656, Cascade Locks, OR 97014, United States
Lost Lake in the Mount Hood National Forest is one of Oregon's greatest nature retreats and one of the most gorgeous shooting locations. Lost Lake is a must-see site on Mount Hood's slopes, with stunning scenery, calm waters, and plenty of nice services.
The tranquil lake is located between Oregon's tallest mountain and the Columbia River Gorge on the northwest side of the state's largest mountain. Lost Lake, located at the end of a series of twisting forest roads, has become a paradise for boaters, campers, fishermen, and drone pilots with an eye for beauty.
5. Milwaukie Bay Park
11211 SE McLoughlin Blvd, Milwaukie, OR 97222, United States
Milwaukie Bay Park is a picturesque park along the Willamette River in downtown Milwaukie. It is situated between Kellogg Creek to the south and Johnson Creek to the north, right off McLoughlin Boulevard. The park has a grassy area, walking routes, restrooms, natural areas, a boat ramp, water access, and river views.
There are various local parks and natural places nearby, as well as substantial local and regional transportation links, including the Trolley Trail, bike and pedestrian pathways, MAX light rail, TriMet bus transit, and Oregon 99E.
Milwaukie Bay Park is a tiny, peaceful natural park along the Willamette River. Because there aren't many people here, it's a fantastic place to fly your drone along the waterfront. The boat parade draws a large crowd to the park during the holidays.
6. Pittock Mansion
3229 NW Pittock Dr, Portland, OR 97210, United States
The Pittock Mansion is a French Renaissance-style château in Portland, Oregon's West Hills. The mansion was initially erected in 1914 as a private residence for Henry Pittock, a London-born Oregonian publisher, and his wife, Georgiana Burton Pittock.
It is a 46-room residence constructed of Tenino Sandstone on 46 acres (19 ha) that is now held by the city's Bureau of Parks and Recreation and is accessible for tours.
The home, which was inspired by Victorian and French Renaissance styles, is located on the West Hills and offers panoramic views of downtown Portland. In 1974, the structure was listed on the National Register of Historic Places.
The estate's outstanding location is what really sets it apart. The property is located on a 1000-foot hill overlooking downtown Portland. Drone pilots may record breathtaking panoramic views of the Portland skyline, the Willamette River, and the Cascade Mountain Range in the distance.
7. Steel Bridge
N Steel Bridge, Portland, OR 97212, United States
The Steel Bridge, first completed in 1912, is a through-truss, double-deck, vertical-lift bridge that spans the Willamette River in Portland, Oregon, United States. The lower deck handles train and bicycle/pedestrian traffic, while the top deck carries road traffic (on Pacific Highway West No. 1W, formerly Oregon Route 99W) and light rail (MAX), making it one of the world's most multimodal bridges.
Because of its distinctive and omnipresent nature, the double-decker Steel Bridge is a favorite among drone pilots and photographers. Of course, if your drone is already flying over the river, there's nothing stopping you from crossing over to the Fremont or Morrison Bridges.
Final Thoughts on Where To Fly A Drone In Oregon
So there you have it: the best places to fly a drone in Oregon!
I hope you have a great time exploring the beautiful landscape of Oregon from above. You can also check out where to fly a drone in other states and cities in the United States.
Always remember to obey the federal, state, and local drone laws in Oregon to avoid having issues with the law and authorities.
And don't forget to share this article with a friend and other drone pilots who will benefit from this information using the share icons below.