In this article, we've scouted out the best places to fly a drone in Ohio.
Ohio is a great place to go if you're a drone pilot in need for a small-town getaway, a cosmopolitan experience, or a complete escape to nature. In addition to having some of the top cultural attractions in the state, Cleveland, Cincinnati, Columbus, and Dayton also have a wide range of other things to do.
For the finest of Amish Country, venture out into the countryside. Alternatively, visit one of the summertime fun towns, like Sandusky, and spend the day at an amusement park. The lakes and woodlands are appealing locations to explore Ohio's greatest outdoor experiences from spring to fall, many of which may be found in the state and national parks.
In this article, I will reveal to you where to fly your drone in Ohio, as well as where it is permitted and not permitted by the law to fly a drone. I will also offer regulatory guidance to assist you in maintaining compliance with federal, state, and local laws.
Drone Regulations In Ohio
The federal drone laws governing drone operations in Ohio, which were created by the Federal Aviation Administration, classify drone operations as either recreational or commercial.
Federal Regulations In Ohio
Recreational drone pilots are subject to the FAA rules for recreational flyers, which require them to register their drones if they weigh more than 250 g and complete The Recreational UAS Safety Test (TRUST) before they can operate their drone for recreational purposes in the United States of America.
Commercial drone pilots are subject to FAA rules for commercial pilots, which require them to follow The Part 107 regulations, complete a multiple-choice exam, and earn a drone pilot certification from the FAA before they can operate their drone for commercial purposes in the United States of America.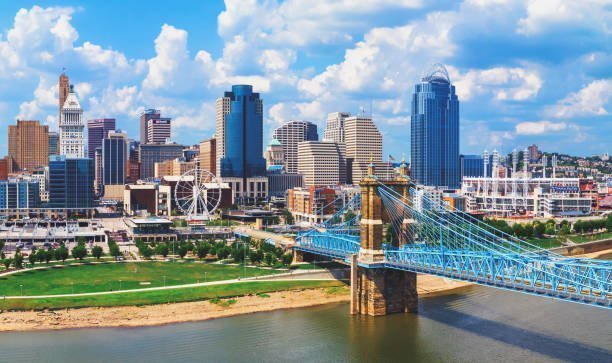 When flying within five miles of an airport, drone pilots are no longer needed to independently contact air traffic control. Instead, to obtain airspace authorization to fly in regulated airspace near and above numerous airports, both commercial and leisure fliers can use the automated LAANC system. You must apply for airspace authorization if you are operating in Class B, C, D, or E regulated airspace. In areas where LAANC is not available, you can use the FAA Drone Zone or LAANC.
Interested in becoming an FAA-certified drone pilot so you can operate under the Part 107 regulations and make money flying your drone? Check out our industry-leading online training course over at Drone Pilot Ground School.
State and Local Regulations In Ohio
Here is an in-depth guide to the drone laws in Ohio that we put together. Be sure to check them out to see the state and local drone laws you need to adhere to in Ohio. You should always exercise sound judgment when in doubt and adhere to the FAA's regulations.
DISCLAIMER: Nothing on this website should be construed as legal advice and is solely provided for informative reasons. If there is anything we missed or if you have any further questions, please contact us at info [at] droneller [dot] com, and we will do our best to assist you.
Best Places To Fly A Drone In Cincinnati, Ohio
Here are my top recommendations for where to fly a drone in Cincinnati, Ohio. These places were chosen because of their accessibility, airspace constraints, and tourist attractions.
1. East Fork State Park
3294 Elklick Rd, Bethel, OH 45106
East Fork State Park is a 4,870-acre (1,970 ha) public recreation area in Clermont County, 20 miles (32 km) southeast of central Cincinnati, Ohio, that surrounds the East Fork of the Little Miami River. The 33-mile "Steve Newman World-Walker" perimeter route is maintained, along with camping, hiking, swimming, and boating options.
The stunning vistas at this site will appeal to drone operators. Incredible drone video may be captured thanks to the mix of the old trees and the picturesque lake vistas. The East Fork Lake RC Club created and maintains this flying area.
2. Greater Cincinnati Radio Control Club Field (AMA)
1912 Woodsdale Rd. Trenton, Ohio 45067
Trenton, Ohio is home to the Greater Cincinnati Radio Control Club Field. The airfield is found in a tranquil rural area. The place has a sizable runway and a covered space for when a rest is required. This site is perfect for drone pilots to fly and refine their abilities because it has vast fields.
3. Joyce Park
25 Joe Nuxhall Way, Fairfield, OH 45014
Joyce Park is a 300+-acre green space with a playground, picnic shelter, sports facilities, and   restrooms located alongside the Great Miami River in Fairfield, Ohio. Joyce Park is also open from dawn to dusk.
It features a baseball pitch, a football field, a basketball court, a soccer field, a skate park, picnic shelters, playgrounds with swings, volleyball, river trail access, a BMX track (a private club), and Hawks Airfield (a private club) for drone pilots.
The river's sandy banks are flanked with old trees, creating a lovely scene that would look fantastic in any drone footage. It is significant to notice that a model airplane club is close by and, as such, heedless of other planes.
4. Keehner Park
7411 Barret Rd, West Chester Township, OH 45069
Keehner Park is a 123-acre public park located in West Chester Township, Ohio. The park boasts a log house from around 1833 that volunteers have restored, and it is well-known in the area for hosting different community activities, including free concerts and outdoor performances.
Playgrounds, picnic areas, sports fields (such as baseball diamonds, soccer fields, and tennis courts), walking and mountain bike routes, and other amenities like bathrooms and trash cans for the general public are all provided in the park.
5. Stonelick State Park
2895 Lake Dr, Pleasant Plain, OH 45162
Stonelick State Park is a public recreation facility along Ohio State Route 727, 24 miles (39 km) east of the center of Cincinnati. It is located in Wayne Township, Clermont County, Ohio, United States.
200 acres (81 hectares) of water and 1,058 acres (428 hectares) of land make up the state park. Fishing, hunting, hiking, picnicking, swimming, boating, and camping are all permitted activities in parks.
Farmland surrounds the house, resulting in a breathtaking rural scene. Stonelick Lake is the main draw, and the grounds are noted for their profusion of sweetgum trees and unusual varieties of wildflowers. The more than 1000 acres, which provide multiple filming options, will appeal to drone operators.
Best Places To Fly A Drone In Cleveland, Ohio
Here are my top recommendations for where to fly a drone in Cleveland, Ohio. These places were chosen because of their accessibility, airspace constraints, and tourist attractions.
1. Horseshoe Lake Park
2701 Park Dr, Shaker Heights, OH 44120
Horseshoe Lake Park is located in Shaker Heights, just outside of Cleveland, Ohio. It has a little lake with lovely old trees surrounding it. The property's expansive green spaces will appeal to drone operators. This location is perfect for drone footage because of Horseshoe Lake's picturesque surroundings.
2. La Due Reservoir
17759 Valley Rd, Auburn Township, OH 44023
La Due Reservoir is a reservoir in Geauga County, Ohio, near US Route 422 and Ohio State Route 44. It is located in the Auburn and Troy Townships. On October 11, 1961, it was renamed the La Due Reservoir after being known as the "Akron City Reservoir" in memory of Wendell R. La Due.
It is a portion of an 8,791-acre wildlife reserve that safeguards the east branch of the Cuyahoga River. The reservoir is surrounded by big, old trees, which makes it a lovely place to fly a drone.
3. Lakewood Park
14532 Lake Ave, Lakewood, OH 44107
Lakewood Park is a park that consists of 31 acres and features the Solstice Steps, which are large steps that sit on the hillside overlooking the lake. Lakewood Park is located just outside of Cleveland, on the shores of Lake Erie, in Lakewood, Ohio.
The steps make the ideal viewing platform for the breathtaking sunsets and picturesque vistas. Drone operators will like the park's openness and the far vistas of the city skyline.
4. Mile Long Pier
The Mile Long Pier is a pier that only extends into Lake Erie. The Mile Long Pier is in Lorain, Cleveland, Ohio. The American Army Corps of Engineers constructed it at its original location in the 1960s. The pier got a significant repair in 2007 that gave it a vintage boardwalk appearance and feel.
This place is ideal for taking that picture-perfect aerial photograph because it also has a marina. The iconic Lorain Harbor Lighthouse is visible in the distance, towering over the ocean. Drone operators will like the wealth of filming options that this place offers.
5. Warner Road Field (AMA)
4730 Warner Rd, Garfield Heights, OH 44125
Warner Road Field is an AMA field that is located in Garfield Heights, Ohio. The Cleveland Radio Control Club manages and runs the airfield. This expansive open field is situated on a hill, offering a good vantage point to see the surroundings. Additionally, Mill Creek borders the property. This place will appeal to drone pilots who want to fly alongside other aircraft enthusiasts.
Best Places To Fly A Drone In Columbus, Ohio
Here are my top recommendations for where to fly a drone in Columbus, Ohio. These places were chosen because of their accessibility, airspace constraints, and tourist attractions.
1. Battelle Riverfront Park
25 Marconi Blvd, Columbus, OH 43215
Battelle Riverfront Park is a 4.1-acre (1.7 ha) park established in 1983. The park is located in downtown Columbus, near Columbus City Hall, Ohio, United States. Battelle Riverfront Park is named after Gordon Battelle and was funded by the Battelle Memorial Institute.
The expansive open green space is ideal for flying a drone due to the newly renovated park that offers beautiful aerial footage of the Discovery Bridge and the downtown area.
2. Bicentennial Park
233 S Civic Center Dr, Columbus, OH 43215
Bicentennial Park is a 4.66-acre (1.89 ha) park that features a fountain, a park restaurant, and a performance pavilion. It's located at 233 Civic Center Drive in downtown Columbus, Ohio, United States,
Bicentennial Park was created in 1976 to commemorate the 200th anniversary of the United States. It was dedicated to John W. Galbreath, an Ohio philanthropist, builder, Kentucky Derby breeder, and owner of the Pittsburgh Pirates from 1945 to 1988.
The park also offers breathtaking views of the Main Street Bridge and the city skyline. Drone pilots will enjoy the beautiful surroundings that surround the site.
3. Dinneen Field (AMA)
5770 Africa Rd, Galena, OH 43021
The Alum Creek Reservoir's southernmost point is where Dinneen Field, an AMA field, is situated near Galena, Ohio. The Westerville Model Aeronautics Association is in charge of managing and operating the airfield.
It has a grass runway, flying stations with concrete pads, and a covered area. The five-square-mile reservoir, with its stunning vistas, is what draws most people to this field, though. This site offers enough room for a flight and the chance to get the ideal picture.
4. Goodale Park
120 W Goodale St, Columbus, OH 43215
Goodale Park is a public park located in the Victorian Village area of Columbus, Ohio, United States. Lincoln Goodale donated the park to the city in 1851. It served for a brief period of time as a staging station for Union forces during the Civil War.
The park is surrounded by Goodale Street on the south, Park Street on the east, Buttles Avenue on the north, and Dennison Avenue on the west. It is situated just north of downtown Columbus. A gazebo, tennis courts, a basketball court, restrooms, and a pond are among the amenities in Goodale Park.
The park's more than 32 acres are covered in old-growth trees, and it has a lovely pond. The gorgeous Victorian mansions that surround the site will delight drone operators. This is the ideal spot for some amazing drone video due to the size of the region and the variety of attractions.
5. Scioto Grove Metro Park
5172 Jackson Pike, Grove City, OH 43123
Scioto Grove Metro Park is a 620-acre park located along the Scioto River with mature woodlands and picturesque cliffs overlooking the river. There are more than seven miles of paths there, as well as two picnic spots with grills, tables, and shelters, a play area for children, and a number of viewing decks.
The park is a popular place for canoeists, kayakers, anglers, and visitors looking to observe ducks and other animals since it is situated on a picturesque bend of the Scioto River. Dogs on leashes are permitted anywhere in the park, which has a sledding slope.
The field offers a wonderful location for flying and is accessible to the public 24/7. Drone pilots will like this beautiful Scioto River bend location with its old-growth trees and cliffs. This property has seven miles of trails and a variety of recreational opportunities, so there is something for everyone to enjoy.
Final Thoughts on Where To Fly A Drone In Ohio
So there you have it: the best places to fly a drone in Ohio!
I hope you have a great time exploring the beautiful landscape of Ohio from above. You can also check out where to fly a drone in other states and cities in the United States.
Always remember to obey the federal, state, and local drone laws in Ohio to avoid having issues with the law and authorities.
And don't forget to share this article with a friend and other drone pilots who will benefit from this information using the share icons below.