In this article, we've scouted out the best places to fly a drone in North Dakota.
North Dakota's water-fed natural features, rocky badlands, and lush wooded settings offer a seemingly limitless variety of vistas to explore. In addition to its breathtaking natural beauty, the state offers an intriguing look into the history and culture of the area through its museums and historic sites.
Outdoor activities are popular among visitors to North Dakota at locations like Lake Sakakawea and Theodore Roosevelt National Park. The Plains Art Museum in Fargo or the North Dakota Heritage Center in Bismarck are two indoor tourist attractions.
In this article, I will reveal to you where to fly your drone in North Dakota, as well as where it is permitted and not permitted by the law to fly a drone. I will also offer regulatory guidance to assist you in maintaining compliance with federal, state, and local laws.
Drone Regulations In North Dakota
The federal drone laws governing drone operations in North Dakota, which were created by the Federal Aviation Administration, classify drone operations as either recreational or commercial.
Federal Regulations In North Dakota
Recreational drone pilots are subject to the FAA rules for recreational flyers, which require them to register their drones if they weigh more than 250 g and complete The Recreational UAS Safety Test (TRUST) before they can operate their drone for recreational purposes in the United States of America.
Commercial drone pilots are subject to FAA rules for commercial pilots, which require them to follow The Part 107 regulations, complete a multiple-choice exam, and earn a drone pilot certification from the FAA before they can operate their drone for commercial purposes in the United States of America.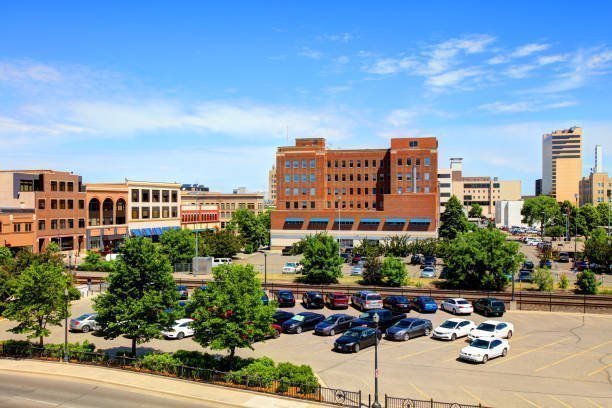 When flying within five miles of an airport, drone pilots are no longer needed to independently contact air traffic control. Instead, to obtain airspace authorization to fly in regulated airspace near and above numerous airports, both commercial and leisure fliers can use the automated LAANC system. You must apply for airspace authorization if you are operating in Class B, C, D, or E regulated airspace. In areas where LAANC is not available, you can use the FAA Drone Zone or LAANC.
Interested in becoming an FAA-certified drone pilot so you can operate under the Part 107 regulations and make money flying your drone? Check out our industry-leading online training course over at Drone Pilot Ground School.
State and Local Regulations In North Dakota
Here is an in-depth guide to the drone laws in North Dakota that we put together. Be sure to check them out to see the state and local drone laws you need to adhere to in North Dakota. You should always exercise sound judgment when in doubt and adhere to the FAA's regulations.
DISCLAIMER: Nothing on this website should be construed as legal advice and is solely provided for informative reasons. If there is anything we missed or if you have any further questions, please contact us at info [at] droneller [dot] com, and we will do our best to assist you.
Best Places To Fly A Drone In Bismarck, North Dakota
Here are my top recommendations for where to fly a drone in Bismarck, North Dakota. These places were chosen because of their accessibility, airspace constraints, and tourist attractions.
1. Cross Ranch State Park
1403 River Rd, Center, ND 58530, United States
Cross Ranch State Park is a public recreation area with a total area of 569 acres (230 ha), located on the west bank of the Missouri River in Oliver County, North Dakota, nine miles (14 km) south of Washburn.
Anglers will discover walleye, trout, catfish, salmon, pike, and bass in its waters. For those willing to explore this picturesque section of the river, a boat launch and canoe and kayak rentals are available.
During the winter, a vast route network may be explored on foot or with cross-country skis. A natural park featuring mixed grassland, river bottom woods, and timber draws is accessible via the paths.
The park's primitive campground is available to campers, or they can hike to a backcountry location and set up camp there. The park is renowned for hosting an annual bluegrass music event in June.
2. Fort Lincoln State Park
4480 Fort Lincoln Rd, Mandan, ND 58554, United States
Fort Abraham Lincoln State Park is a North Dakota state park located 7 miles (11 km) south of Mandan, North Dakota, United States. Fort Abraham Lincoln State Park is also the oldest park in North Dakota.
It features the typical hiking paths and rental cabins, but it also has historical buildings like the recreated Mandan Village elk lodges and the recreated quarters and barracks of the ancient fort.
There is plenty of room to fly your drone and record this important historical location both inside the park and across the Missouri River.
3. Fort Rice Recreation Area
46.5018409, -100.576241
The main feature of the Fort Rice Recreation Area is a campsite with a big open field and a boat launch that provides access to the Missouri River. You should be able to get a clear view of the neighboring Fort Rice State Historic Site, a historic fort and field base, by using a drone to fly over it.
Although the scenery is lovely but not particularly spectacular, drone operators will undoubtedly value the freedom that the open space provides.
4. Pioneer Overlook Park
1970 River Rd & Burnt Boat Dr, Bismarck, ND 58503, United States
Locals in Bismarck frequently visit Pioneer Park for leisurely strolls, biking on the fairly difficult routes, or having picnics. Local drone pilots frequently visit this location as well.
The views of the neighboring stream and river from Pioneer Park are beautiful, and there is plenty of open area for you to launch your drone. You may use a drone to take pictures of Chief Looking's Village, which is very close to the park.
5. The Enchanted Highway
607 Main St., Regent, ND 58650, USA
In the southwest of the U.S. state of North Dakota, a 32-mile (51-km) stretch of two-lane highway is home to a collection of the biggest scrap metal sculptures in the world, known as The Enchanted Highway. The Enchanted Highway will give you some unique drone footage
Tin Family (1991), Teddy Rides Again (1993), Pheasants on the Prairie (1996), Grasshoppers in the Field (1999), Geese in Flight (2001), Deer Crossing (2002), Fisherman's Dream (2006), and the most current piece, the Spider Web, are examples of abstract works of art.
Best Places To Fly A Drone In Fargo, North Dakota
Here are my top recommendations for where to fly a drone in Fargo, North Dakota. These places were chosen because of their accessibility, airspace constraints, and tourist attractions.
1. Champion Cottonwood
7913 Sunset Dr, Horace, ND 58047, United States
North Dakota's Champion Tree is the Champion Cottonwood, which may be viewed along 81st. If you take the time to appreciate it, the cottonwood tree is a wonderful example and still fairly stunning.
Drone photography of the Champion Tree from various perspectives should be a very easy endeavor since there aren't many people surrounding it.
2. Dill Hill
652 6th Ave S, Fargo, ND 58103, United States
Fargo's Dill Hill is a haven of green in the middle of a generally hectic metropolis. As it is a tiny park next to a school, many children are likely to be there. Essentially, Dill Hill is a single open field where you are free to fly your drone.
3. MB Johnson Park
3601 11th St N, Moorhead, MN 56560, United States
MB Johnson Park is located on the Minnesota side of the Red River of the North (not the North Dakota side!) about 2.5 miles (4 km) north of downtown Fargo. Although mountain bikers like its maze of trails, hikers may also use them; they just need to be aware of bikers plying the road.
It is a top place for recreational fishing due to its location along the Red River. The picnic area's large open spaces could be an ideal location for drone flights and rapid aerial photography.
4. Orchard Glen Park
900-992 Orchard Park Dr, Fargo, ND 58104, United States
Orchard Glen Park is a communal orchard that is open to the public and is one of Fargo's nature parks.
The natural environment is a well-liked background for photographers all through the year since it features lovely blossoms in the spring, greenery in the summer, brilliant hues in the fall, and sceneries covered in frost in the winter.
Orchard Glen, a project of the Urban Woods and Prairie Initiative with Audubon Dakota, offers many aerial views to capture the landscape and other animals in a natural environment along the Red River banks.
5. Rendezvous Park
1055 32nd Ave W, West Fargo, ND 58078, United States
Rendezvous Park is a fun little park with a wonderful space filled with many activities for everyone.
The park has two disc golf courses, a skate park, two soccer fields, public access to playground equipment, a sand volleyball court, four baseball fields, a basketball court, two disc golf courses, and walking and biking pathways all around.
Rendezvous Park in West Fargo, ND, is the perfect place to fly a drone due to the sheer novelty of its sights. Rendezvous Park is also a great place to take photos of the glaciers during the winter.
6. Trefoil Park
1321 Elm St N, Fargo, ND 58102, United States
A model airplane flight area is located in Trefoil Park beside the Red River alongside a grill, picnic table, recreational trails, and shoreline for fishing. The F-M Skylarks Inc. manages this field, which is a secure area for both RC model aircraft and drones. To fly a drone in this area, you must have an active AMA membership.
7. Veterans Memorial Bridge
46.8738053, -96.7776288
The beautiful Veterans Memorial Bridge spans the Red River and links Moorhead, Minnesota, with Fargo, North Dakota. Ten columns make up its structure, and each one displays the insignia of several veterans' groups and military branches.
Tom Staed, a well-known hotelier and Korean War veteran, was honored at the bridge's dedication. Currently, the park has 28 lovely overlooks, a walking route, a fishing pier, and a striking lighting system at night. To get a glimpse of the bridge with the Red River in the background, launch a drone from the parks on either side of the bridge.
Final Thoughts on Where To Fly A Drone In North Dakota
So there you have it: the best places to fly a drone in North Dakota!
I hope you have a great time exploring the beautiful landscape of North Dakota from above. You can also check out where to fly a drone in other states and cities in the United States.
Always remember to obey the federal, state, and local drone laws in North Dakota to avoid having issues with the law and authorities.
And don't forget to share this article with a friend and other drone pilots who will benefit from this information using the share icons below.