In this article, we've scouted out the best places to fly a drone in New Jersey.
New Jersey is home to several world-class tourist sites despite being the fourth-smallest state in the USA and barely 14,000 square miles in size. T
he state of New Jersey is well worth spending the time to visit, offering everything from national parks and places of exceptional natural beauty to top-notch museums and historical sites.
Along the Atlantic Coast of New Jersey is an excellent area to begin your "Garden State" vacation. You may easily cover a range of enjoyable things to do in New Jersey in a condensed amount of time by using any one of its several charming port towns or resorts as a jumping-off point.
In this article, I will reveal to you where to fly your drone in New Jersey, as well as where it is permitted and not permitted by the law to fly a drone. I will also offer regulatory guidance to assist you in maintaining compliance with federal, state, and local laws.
Drone Regulations In New Jersey
The federal drone laws governing drone operations in New Jersey, which were created by the Federal Aviation Administration, classify drone operations as either recreational or commercial.
Federal Regulations In New Jersey
Recreational drone pilots are subject to the FAA rules for recreational flyers, which require them to register their drones if they weigh more than 250 g and complete The Recreational UAS Safety Test (TRUST) before they can operate their drone for recreational purposes in the United States of America.
Commercial drone pilots are subject to FAA rules for commercial pilots, which require them to follow The Part 107 regulations, complete a multiple-choice exam, and earn a drone pilot certification from the FAA before they can operate their drone for commercial purposes in the United States of America.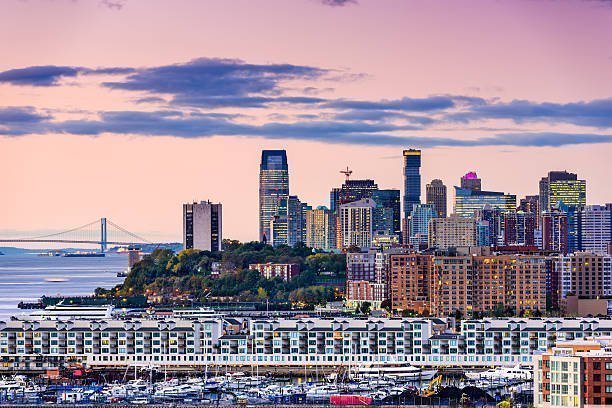 When flying within five miles of an airport, drone pilots are no longer needed to independently contact air traffic control. Instead, to obtain airspace authorization to fly in regulated airspace near and above numerous airports, both commercial and leisure fliers can use the automated LAANC system. You must apply for airspace authorization if you are operating in Class B, C, D, or E regulated airspace. In areas where LAANC is not available, you can use the FAA Drone Zone or LAANC.
Interested in becoming an FAA-certified drone pilot so you can operate under the Part 107 regulations and make money flying your drone? Check out our industry-leading online training course over at Drone Pilot Ground School.
State and Local Regulations In New Jersey
Here is an in-depth guide to the drone laws in New Jersey that we put together. Be sure to check them out to see the state and local drone laws you need to adhere to in Jersey. You should always exercise sound judgment when in doubt and adhere to the FAA's regulations.
DISCLAIMER: Nothing on this website should be construed as legal advice and is solely provided for informative reasons. If there is anything we missed or if you have any further questions, please contact us at info [at] droneller [dot] com, and we will do our best to assist you.
Best Places To Fly A Drone In Camden, New Jersey
Here are my top recommendations for where to fly a drone in Camden, New Jersey. These places were chosen because of their accessibility, airspace constraints, and tourist attractions.
1. Cooper River Park
39.9246782, -75.0617486
Cooper River Park is a 346.55-acre park that runs through Pennsauken, Cherry Hill, Collingswood, and Haddon Township. The park is bounded by North and South Park Drives, Route 130, and Grove Street.
The park also has four volleyball courts, a miniature golf course, a children's playground with pavilions, a boat launch for trailer and car-top boats, two softball fields, one cross-country course, a restaurant called "the lobster trap," a driving range, the Cooper River Yacht Club, and a dog park.
You should be able to fly a drone there securely because there are wide areas close to the river. Another excellent option to capture images of the Philadelphia skyline is from a fly along the Cooper River.
2. Freedom Pier
101 King St,, Gloucester City, NJ 08030, United States
Another excellent location for photos and launching a drone into the Delaware River is Gloucester's Freedom Pier. You may also take pictures of the neighboring Walt Whitman suspension bridge, which links Philadelphia and Gloucester.
3. Newton Lake Park
39.9054775, -75.0669537
Newton Lake Park is a stunning park that lies in the center of New Jersey. The park has a basketball court, a playground, picnic spaces, and a huge lake that is surrounded by a walking route. The park is a wonderful outdoor space to enjoy a sunny day with friends or family.
Summer and fall are particularly great times to visit the lake because of the trees. Be especially cautious where you fly your drone and where you land it because there is a lot of wildlife close to the lake.
4. Pyne Poynt Park
39.9564989, -75.115345
Pyne Point Park along the Delaware River is a relatively small park with sparse trees and a few sports fields. The riverfront area gets dirty periodically, but the park itself has a few pristine spots. This is a good spot to fly your drone, but we recommend going with a visual observer to help ward off the typical crowds.
Pyne Poynt Park is a 15-acre riverside green space located in North Camden between 6th, 7th, and Erie Streets. The park's facilities include a multi-age playground, basketball courts, and baseball and soccer fields.
The park itself has a few spotless areas; however, the riverside area occasionally gets dusty. This is a fantastic place to fly your drone, but we suggest going with a visible observer to avoid the usual crowds.
5. Roebling Park
32 Riverside Ave, Roebling, NJ 08554, USA
Roebling Park is part of the Abbott Marshlands, a pristine freshwater marsh adjoining the Delaware River. Visitors to Roebling Park may kayak through marshes, trek through woodland paths, and fish in Spring Lake, only a few minutes outside of Trenton.
The Roebling Museum is close to the park and is located on the site of the former Roebling plant, which produced steel rope for several suspension bridges around the nation, including the iconic Brooklyn Bridge. The stations that were used to transport these cables from the plant to the river still have some of their original structures.
Best Places To Fly A Drone In Newark New Jersey
Here are my top recommendations for where to fly a drone in Newark, New Jersey. These places were chosen because of their accessibility, airspace constraints, and tourist attractions.
1. Bailey Park
40.4571065, -74.3384536
Bailey Park is a park located in Sayreville, New Jersey, that's tucked away and poorly maintained. Although there are no picturesque vistas from this tiny park next to a lake, it is just big enough for some drone flight practice. You should be able to fly your drone in peace, as the park seldom has visitors.
2. Brookdale Park
40.8344616, -74.1908565
A county park called Brookdale Park may be found in the townships of Montclair and Bloomfield, New Jersey. The public has access to stunning panoramas, both active and passive leisure opportunities, including Brookdale Park.
For miles around, Brookdale Park is a magnet for nature lovers, families, and fitness enthusiasts thanks to its many amenities, including walking and running trails, lush groves and expansive lawns, playgrounds, sports fields, track facilities, tennis courts, an archery range, and a stadium grandstand. These are just a few of the park's many other attractions.
3. Emerson Woods
333 Main St., Emerson, NJ 07630, USA
Emerson Woods is a nice respite from the suburban buildings that surround it. On the land, there is a developing forest that serves as a protective filter for the neighboring water supply as well as a source of food and shelter for over a hundred different animal species.
For wildlife treks, head to the 19-acre park off Main Street, which features a heavily wooded region. However, you might want to hunt for a clearing to launch your drone and fly over the neighboring reservoir, because these look fantastic from a distance.
4. Kip's Castle Park
22 Crestmont Rd, Verona, NJ 07044, United States
Kip's Castle is a glorious 9,000-square-foot mansion that looks like a medieval Norman castle. The home, which encompasses eleven acres and is located on the Ridge of First Mountain in the townships of Montclair and Verona, offers breathtaking views of New York City.
Local trap rock with sandstone trim makes up the exterior of the castle and the 6,000-square-foot, two-story carriage house. The castle's interior is made up of thirty impressive rooms with different forms and high ceilings, as well as six elaborate fireplaces.
Despite the several acres of open space in the castle park, it might be difficult to fly a drone straight over the park due to the regular crowds. If you can obtain nice overhead photos, the castle looks fantastic when photographed against the New York cityscape.
5. Raritan Bay Waterfront Park
201 John T O'Leary Blvd, South Amboy, NJ 08879, United States
Raritan Bay Waterfront Park was the first park constructed in Middlesex County and is situated along the beautiful Raritan Bay. This park with a nautical motif offers stunning views of the New York skyline and has a famous pavilion overlook.
Visitors interested in learning more about the park's distinctive flora and animals can use the 114 acres of the park, of which 86 are wetlands. If you wish to take a leisurely stroll while enjoying a stunning view of the bay, the waterfront park is the ideal location.
One of the best places to see the sun rise is there as well. There are several places you may launch and land a drone safely in the big open expanses. Being a fairly calm place, be considerate to other visitors.
6. Staten Island Boat Graveyard
40.5563329, -74.2188276
The marine scrapyard off the coast of Staten Island is visible either from the New Jersey or New York sides. It's one of the more unique sights that you can explore and document with a drone. While this place is openly visible, it isn't exactly accessible to the public. Be respectful and try to keep a healthy distance away from the scrapyard.
The Staten Island boat graveyard is a maritime salvage yard situated on the West Shore of Staten Island, New York City, next to the Fresh Kills Landfill in the Arthur Kill neighborhood of Rossville.
Other names for it include the Tugboat Graveyard, the Arthur Kill Boat Yard, and the Witte Marine Scrap Yard. The Donjon Iron and Metal Scrap Processing Facility is its current name as of 2014.
Either the New Jersey or the New York sides provide a view of the Staten Island maritime scrapyard. It's one of the more distinctive views that a drone may investigate and capture.
Although clearly visible, this location is not exactly open to the general public. Be polite and make an effort to maintain a safe distance from the scrapyard.
Final Thoughts on Where To Fly A Drone In New Jersey
So there you have it: the best places to fly a drone in New Jersey!
I hope you have a great time exploring the beautiful landscape of New Jersey from above. You can also check out where to fly a drone in other states and cities in the United States.
Always remember to obey the federal, state, and local drone laws in New Jersey to avoid having issues with the law and authorities.
And don't forget to share this article with a friend and other drone pilots who will benefit from this information using the share icons below.