In this article, we've scouted out the best places to fly a drone in Nevada.
The flash and glamor of Nevada's largest city, Las Vegas, sometimes overshadows the state's breathtaking surroundings. Nevada is a state bursting with amazing natural features, picturesque highways, little villages, and fantastic chances for outdoor activities, even though this is a city you won't want to miss.
Outstanding terrain for hiking, bicycling, climbing, horseback riding, and fishing may be found in national parks and recreation zones. Even ski resorts may be found in the upper elevations. If you're not up for that much exertion, you may simply take in the scenery from your drone in the sky.
In this article, I will reveal to you where to fly your drone in Nevada, as well as where it is permitted and not permitted by the law to fly a drone. I will also offer regulatory guidance to assist you in maintaining compliance with federal, state, and local laws.
Drone Regulations In Nevada
The federal drone laws governing drone operations in Nevada, which were created by the Federal Aviation Administration, classify drone operations as either recreational or commercial.
Federal Regulations In Nevada
Recreational drone pilots are subject to the FAA rules for recreational flyers, which require them to register their drones if they weigh more than 250 g and complete The Recreational UAS Safety Test (TRUST) before they can operate their drone for recreational purposes in the United States of America.
Commercial drone pilots are subject to FAA rules for commercial pilots, which require them to follow The Part 107 regulations, complete a multiple-choice exam, and earn a drone pilot certification from the FAA before they can operate their drone for commercial purposes in the United States of America.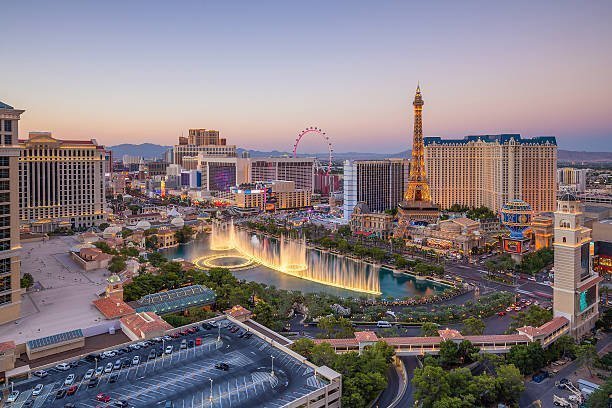 When flying within five miles of an airport, drone pilots are no longer needed to independently contact air traffic control. Instead, to obtain airspace authorization to fly in regulated airspace near and above numerous airports, both commercial and leisure fliers can use the automated LAANC system. You must apply for airspace authorization if you are operating in Class B, C, D, or E regulated airspace. In areas where LAANC is not available, you can use the FAA Drone Zone or LAANC.
Interested in becoming an FAA-certified drone pilot so you can operate under the Part 107 regulations and make money flying your drone? Check out our industry-leading online training course over at Drone Pilot Ground School.
State and Local Regulations In Nevada
Here is an in-depth guide to the drone laws in Nevada that we put together. Be sure to check them out to see the state and local drone laws you need to adhere to in Nevada. You should always exercise sound judgment when in doubt and adhere to the FAA's regulations.
DISCLAIMER: Nothing on this website should be construed as legal advice and is solely provided for informative reasons. If there is anything we missed or if you have any further questions, please contact us at info [at] droneller [dot] com, and we will do our best to assist you.
Best Places To Fly A Drone In Las Vegas, Nevada
Here are my top recommendations for where to fly a drone in Las Vegas, Nevada. These places were chosen because of their accessibility, airspace constraints, and tourist attractions.
1. Cornerstone Park
1600 Wigwam Pkwy, Henderson, NV 89074, United States
Cornerstone Park is a 100-acre park located in Henderson, Las Vegas, Nevada, USA. The lake's perimeter is surrounded by a route that is great for strolling, running, and kids riding bikes and scooters. Cross-country running competitions are occasionally held here by the neighborhood high schools.
The park also has lovely pathways around the lake where visitors may enjoy the stunning scenery and native fauna. Sports facilities, sheltered and uncovered picnic areas, and a workout area are additional attractions. Drones can be safely launched and landed on the open grass area.
2. Eldorado Canyon
35.7120282, -114.741206
El Dorado Canyon is a canyon in southern Clark County, Nevada, famed for its rich silver and gold mines. Steamboat entrepreneur Captain George Alonzo Johnson gave the canyon its name when gold and silver were found here in 1857. It empties into the Colorado River at what was once Nelson's Landing.
3. Lake Las Vegas
36.1179153, -114.920577
Lake Las Vegas is a magnificent residential and resort area. on a 320-acre privately owned lake with 11,000 hotel rooms in stunning luxury resorts that are all close to on-the-water activities, championship golf courses, amazing dining, and more.
Lake Las Vegas has breathtaking views, a vast amount of green space, two marinas, a European-style hamlet with a wide variety of stores and restaurants, and three opulent resorts. The marina also provides a range of boat rentals to add spice to your aerial photography.
4. Las Vegas Soaring Club
36.151095, -115.374587
The Las Vegas Soaring Club is an awesome place to fly fixed-wing drones. There is a paved runaway and miles of uninhabited land without any traffic or houses. You must purchase a membership to utilize the facilities at this site since it is a sanctioned club of the Academy of Model Aeronautics.
5. Potosi Mountain South
35.9596701, -115.521542
Potosi Mountain is located around 30 miles (50 km) southwest of Las Vegas in the Spring Mountains of Clark County, southern Nevada. There is a track leading to the peak, but getting there is difficult. In addition to having a lot of loose gravel in certain spots, it is also quite narrow and steep.
The oldest zinc and lead mine, the Potosi Lode Mine, as well as a number of historic shelter caves and mines on the hillsides are passed along the path. Every drone photographer's dream comes true when they see the vistas from the peak.
6. Red Rock Canyon
3205 NV-159, Las Vegas, NV 89161, United States
Red Rock Canyon, one of southern Nevada's most picturesque locations, is well-liked by both tourists and residents. The Silver State's most stunning location, with its red-banded canyons, soaring sandstone peaks, and prehistoric petroglyphs, draws up to 2 million visitors each year.
Anyone interested in drones who happens to be in Clark County, Nevada, needs to come here and explore this landscape. Epic cinematography is assured by aerial pictures of the Keystone Thrust Fault and the imposing sandstone summits. The Native American petroglyphs in this area are another amazing sight. This region of Nevada is particularly captivating due to the surrounding Mojave Desert scenery and other notable attractions nearby.
7. Seven Magic Mountains
S Las Vegas Blvd, Las Vegas, NV 89054, United States
The Seven Magic Mountains is a breathtaking piece of art located in southern Las Vegas, close to Jean Dry Lake. The work is by Swiss artist Ugo Rondiones. It has seven vertically piled rock constructions with vibrant colors. Each artwork attracts attention and is around 35 feet tall.
Whether you love them or not, you can't help but stare. Drone photography of the Seven Magic Mountains against the backdrop of the Mojave Desert is an exciting subject. Photographing this vivid building is even more important because it is doubtful that the artwork will remain there indefinitely.
Best Places To Fly A Drone In Reno, Nevada
Here are my top recommendations for where to fly a drone in Reno, Nevada. These places were chosen because of their accessibility, airspace constraints, and tourist attractions.
1. Peavine Peak
Nevada 89506, United States
Peavine Peak is the highest point on Peavine Mountain. It's located in Washoe County, Nevada, at the northwest corner of the Truckee Meadows and about 3.5 miles (5.6 km) due east of California. One of the most prominent geographical features in the Reno/Sparks region is formed by it.
Peavine has a broad variety of landscapes, from coniferous forests to arid scrublands. While the mountain's summit provides superb views of the surroundings, keep your distance from the radio towers to prevent signal interference.
2. Pony Express Air Park
Pony Express Air Park, Remote Control Road, Carson City, NV, USA
The Pony Express Airpark is a gated, paved area managed by the High Sierra Radio Control Club for flying radio-controlled airplanes.
Although it isn't a particularly picturesque location, there is enough room there for you to fly a drone. This facility may only be used by flyers who can provide documentation of their AMA membership or similar liability insurance.
3. Reno Radio Control Club
Reno Radio Control Club, County Highway 202, Sparks, NV, USA
Both Eagle Canyon Drive and Lemmon Valley Drive lead to the RC Flying Facility of the Reno Radio Control Club. This is a wonderful place to fly for drone operators in Reno who want to connect with other operators or obtain advice from professionals. Be aware that in order to fly your drone in this location, you must be an AMA member.
Final Thoughts on Where To Fly A Drone In Nevada
So there you have it: the best places to fly a drone in Nevada!
I hope you have a great time exploring the beautiful landscape of Nevada from above. You can also check out where to fly a drone in other states and cities in the United States.
Always remember to obey the federal, state, and local drone laws in Nevada to avoid having issues with the law and authorities.
And don't forget to share this article with a friend and other drone pilots who will benefit from this information using the share icons below.