In this article, we've scouted out the best places to fly a drone in Nebraska.
The state of Nebraska is home to friendly people, intriguing natural landmarks, and hospitable communities, despite it being frequently ignored as a good place for aerial photography.
The two major population centers are Omaha and Lincoln, which serves as the state capital. They merit a visit as they each offer interesting historical districts to explore and exciting cultural sights to take in.
Those that take the time to explore the Nebraska countryside can also find some unusual views, such as Chimney Rock and the picturesque Sandhills.
In this article, I will reveal to you where to fly your drone in Nebraska, as well as where it is permitted and not permitted by the law to fly a drone. I will also offer regulatory guidance to assist you in maintaining compliance with federal, state, and local laws.
Drone Regulations In Nebraska
The federal drone laws governing drone operations in Nebraska, which were created by the Federal Aviation Administration, classify drone operations as either recreational or commercial.
Federal Regulations In Nebraska
Recreational drone pilots are subject to the FAA rules for recreational flyers, which require them to register their drones if they weigh more than 250 g and complete The Recreational UAS Safety Test (TRUST) before they can operate their drone for recreational purposes in the United States of America.
Commercial drone pilots are subject to FAA rules for commercial pilots, which require them to follow The Part 107 regulations, complete a multiple-choice exam, and earn a drone pilot certification from the FAA before they can operate their drone for commercial purposes in the United States of America.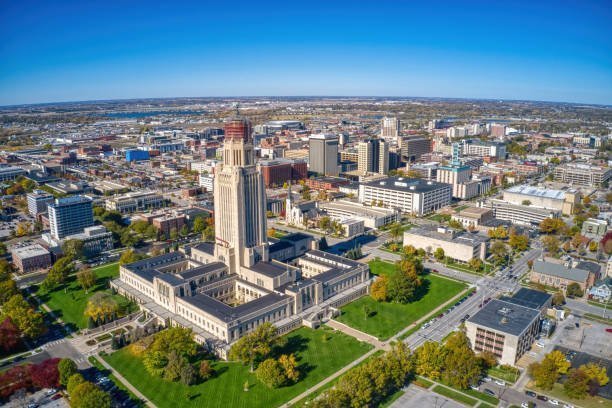 When flying within five miles of an airport, drone pilots are no longer needed to independently contact air traffic control. Instead, to obtain airspace authorization to fly in regulated airspace near and above numerous airports, both commercial and leisure fliers can use the automated LAANC system. You must apply for airspace authorization if you are operating in Class B, C, D, or E regulated airspace. In areas where LAANC is not available, you can use the FAA Drone Zone or LAANC.
Interested in becoming an FAA-certified drone pilot so you can operate under the Part 107 regulations and make money flying your drone? Check out our industry-leading online training course over at Drone Pilot Ground School.
State and Local Regulations In Nebraska
Here is an in-depth guide to the drone laws in Nebraska that we put together. Be sure to check them out to see the state and local drone laws you need to adhere to in Nebraska. You should always exercise sound judgment when in doubt and adhere to the FAA's regulations.
DISCLAIMER: Nothing on this website should be construed as legal advice and is solely provided for informative reasons. If there is anything we missed or if you have any further questions, please contact us at info [at] droneller [dot] com, and we will do our best to assist you.
Best Places To Fly A Drone In Omaha, Nebraska
Here are my top recommendations for where to fly a drone in Omaha, Nebraska. These places were chosen because of their accessibility, airspace constraints, and tourist attractions.
1. Hitchcock Nature Center
27792 Ski Hill Loop, Honey Creek, IA 51542, United States
For individuals who enjoy hiking, the Hitchcock Nature Center is a popular retreat destination. To completely explore this enormous park will require multiple journeys due to the number of paths and varied terrain.
Drone operators merely need to choose a large, open area where they can launch their machines and fly them around the wildlife reserve.
The Hitchcock Nature Center does not permit drone flights, according to several readers. It would be best to speak with the park authority before beginning your drone operations in order to avoid issues.
2. Jewell Park Mountain Bike and Hiking Trail
688-730 Combs Rd, Bellevue, NE 68005, United States
Jewell Park Trail is a 3-mile-long, well-liked blue single-track path situated close to Bellevue, Nebraska. This principal mountain biking track is physically challenging overall and may be utilized in either direction. This trail can be finished in 36 minutes on average.
Because of its challenging routes, Jewell Park is primarily a riding destination that draws more experienced riders. To fly their drones more safely, drone operators might deviate from the tracks. However, because of how heavily wooded this location is, you must have excellent flying abilities.
3. Linoma Lighthouse
26504 US-6, Gretna, NE 68028, United States
In Sarpy County, Nebraska, in the eastern region of the state, a privately owned leisure facility called Linoma Lighthouse was built around a man-made lake. Between Omaha and Lincoln, Nebraska, on U.S. Highway 6, the lighthouse is a noticeable landmark.
Although the lighthouse itself may not be particularly attractive, it is close to a sizable beach, a campground, and the neighboring Platte River. Always use caution when flying your drone over crowds of people and onlookers because the campsite can get congested with people and boats.
4. Omahawks RC Club – Hawk Field
41.3093597, -96.1282227
The largest AMA-chartered RC club in the Midwest is the Omahawks RC Club, which gives it a special distinction. The use of the club field at Hawk Field is available to anyone who joins. Joining is unquestionably worthwhile because of the club's ongoing educational and training programs for members.
5. Walnut Creek Recreation Area
11601 S 96th St, Papillion, NE 68046, United States
Although the walking and bicycling paths also draw a considerable population to this Walnut Creek leisure area, fishing and boating are its two most popular activities. Around the lake, there are several open areas where you can safely fly your drone without worrying about flying over other park guests.
Walnut Creek is unique, as it is a "pack in, pack out" facility. No trash service is offered in the park; you are responsible for removing any trash you generate during your visit, thus leaving the cleanliness of the park up to you, the user.
Note that there is no garbage collection service provided in the park; as a result, it is up to you, the visitor, to remove any waste you produce while there.
Final Thoughts on Where To Fly A Drone In Nebraska
So there you have it: the best places to fly a drone in Nebraska!
I hope you have a great time exploring the beautiful landscape of Nebraska from above. You can also check out where to fly a drone in other states and cities in the United States.
Always remember to obey the federal, state, and local drone laws in Nebraska to avoid having issues with the law and authorities.
And don't forget to share this article with a friend and other drone pilots who will benefit from this information using the share icons below.