In this article, we've scouted out the best places to fly a drone in Missouri.
Missouri has a wealth of attractions, including the beautiful Ozark Mountains, capital cities with vibrant cultures, and a lengthy history in the United States. While Kansas City and St. Louis each provide a ton of attractions, there are other places and cities in Missouri that have even more to discover.
In addition to having a flourishing live music scene, Branson is a great site for outdoor attractions. The Wilson Creek National Battlefield in Springfield preserves a significant chapter in Civil War history. With resorts, campgrounds, and thousands of miles of beachfront, the Lake of the Ozarks is a must-visit vacation spot for truly savoring the essence of Missouri tranquility.
In this article, I will reveal to you where to fly your drone in Missouri, as well as where it is permitted and not permitted by the law to fly a drone. I will also offer regulatory guidance to assist you in maintaining compliance with federal, state, and local laws.
Drone Regulations In Missouri
The federal drone laws governing drone operations in Missouri, which were created by the Federal Aviation Administration, classify drone operations as either recreational or commercial.
Federal Regulations In Missouri
Recreational drone pilots are subject to the FAA rules for recreational flyers, which require them to register their drones if they weigh more than 250 g and complete The Recreational UAS Safety Test (TRUST) before they can operate their drone for recreational purposes in the United States of America.
Commercial drone pilots are subject to FAA rules for commercial pilots, which require them to follow The Part 107 regulations, complete a multiple-choice exam, and earn a drone pilot certification from the FAA before they can operate their drone for commercial purposes in the United States of America.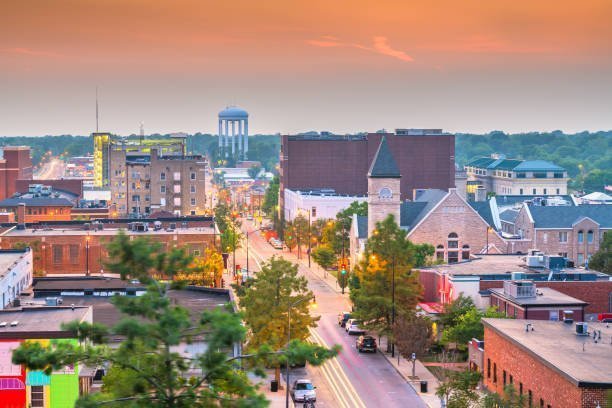 When flying within five miles of an airport, drone pilots are no longer needed to independently contact air traffic control. Instead, to obtain airspace authorization to fly in regulated airspace near and above numerous airports, both commercial and leisure fliers can use the automated LAANC system. You must apply for airspace authorization if you are operating in Class B, C, D, or E regulated airspace. In areas where LAANC is not available, you can use the FAA Drone Zone or LAANC.
Interested in becoming an FAA-certified drone pilot so you can operate under the Part 107 regulations and make money flying your drone? Check out our industry-leading online training course over at Drone Pilot Ground School.
State and Local Regulations In Maine
Here is an in-depth guide to the drone laws in Missouri that we put together. Be sure to check them out to see the state and local drone laws you need to adhere to in Missouri. You should always exercise sound judgment when in doubt and adhere to the FAA's regulations.
DISCLAIMER: Nothing on this website should be construed as legal advice and is solely provided for informative reasons. If there is anything we missed or if you have any further questions, please contact us at info [at] droneller [dot] com, and we will do our best to assist you.
Best Places To Fly A Drone In Kansas City, Missouri
Here are my top recommendations for where to fly a drone in Kansas City, Missouri. These places were chosen because of their accessibility, airspace constraints, and tourist attractions.
1. Charles W. Reed III Flying Field (AMA)
3581-3899 Rennau Dr, Lee's Summit, MO 64064
The Charles W. Reed III Flying Field is located in Lee's Summit, Missouri. The 49th Mid-America Jumbo Squadron and the Kansas City RC Association jointly manage and administer it. The airfield is located in Fleming Park, next to Lake Jacomo. It has a paved and grass runway, as well as covered sections and seating areas. The wide area and picturesque lake views make it the ideal place to fly a drone.
2. Jacob L. Loose Park
5200 Wornall Rd, Kansas City, MO 64112
Jacob L. Loose Park is the third-largest park in Kansas City, Missouri. The 75-acre park is located at 51st Street and Wornall Road. It contains a rose garden, tennis courts, a water park, a shelter house, Civil War memorials, a lake, and picnic spaces. All kinds of outdoor special events, such as theater productions and wedding ceremonies, are held in the Rose Garden.
Locally, the park is well-known for being a significant location during the Battle of Westport, during which Union forces routed Confederate forces in the region where the park is currently situated. An estimated 29,000 people took part in the conflict.
3. Liberty Memorial Park
1 Memorial Dr., Kansas City, MO 64108
The Liberty Memorial Tower may be seen at Kansas City, Missouri's Liberty Memorial Park. It was constructed as a monument to soldiers who fought in World War I.
The tower, a genuine piece of art, is 217 feet tall and dominates the surrounding landscape. Visitors may take the elevator to the top to access an observation deck with stunning city views.
Drone pilots will like this big park and all the interesting historical sites. It is significant to remember that the National WWI Museum and Memorial has established some drone regulations. It's advised that you visit their official website before using your drone.
4. Minor Park
11103 Holmes Rd, Kansas City, MO 64131
Minor Park is a 27-acre park with a beautiful setting and landscape that has both recreational and historic overtones. The park's most notable feature is a mild swale that runs across it. It was probably made by teams and wagons hauling up the hill after crossing the Big Blue River when it was wet.
Minor Park also contains the Old Red Bridge, a golf course, open fields, sports grounds, and the Blue River, which meanders around the property. A really peaceful atmosphere is produced by the pathways that follow the river. There are several options at this park to get stunning aerial photography.
5. Platte Landing Park
300 S Main St, Parkville, MO 64152
Platte Landing Park is a 140-acre park located in historic Parkville, Missouri, at the end of Main Street and adjacent to English Landing Park on the Missouri River. It is open every day from 5 a.m. until midnight.
Two miles of dog-friendly paths, two off-leash dog parks, and a brand new boat launch into the Missouri River's main channel are all included in the park. This is the perfect place for drone pilots to launch their aircraft due to the large properties along the river.
Best Places To Fly A Drone In Springfield, Missouri
Here are my top recommendations for where to fly a drone in Springfield, Missouri. These places were chosen because of their accessibility, airspace constraints, and tourist attractions.
1. Fellows Lake
6564 N Farm Rd 197, Strafford, MO 65757, United States
Fellows is an 860-acre lake created in 1955 by the impoundment of the Little Sac River. It is Springfield's primary supply of drinking water. Fellows Lake features a welcoming atmosphere for families with a boat motor limit of 40 horsepower.
Weekend visitors go to Fellows Lake's well-liked leisure area for activities including boating, fishing, hiking, and relaxing in the picnic areas. Along the trailhead, it's simple to find a site to launch a drone and fly it over the lake, the nearby farmland, and the verdant forest.
2. Ha Ha Tonka State Park
1491 Missouri D, Camdenton, MO 65020, United States
Ha Ha Tonka State Park is a public recreation area in the United States that is more than 3,700 acres (1,500 hectares) large and is located on the Niangua arm of the Lake of the Ozarks, about five miles south of Camdenton.
With sinkholes, caverns, a massive natural bridge, high cliffs, and Missouri's 12th-largest spring, the park is a geological paradise. Overlooking these treasures, the remnants of a 19th-century stone castle provide breathtaking views of the Lake of the Ozarks and Ha Ha Tonka Spring.
3. Nathanael Greene Park
2400 S Scenic Ave, Springfield, MO 65807, United States
A 112-acre public garden park that has been growing since the middle of the 1980s is called the Springfield Botanical Gardens at Nathanael Greene/Close Memorial Park.
Nathanael Greene Park has expansive fields, strolling paths, and a small lake where you can take beautiful drone photos. On the weekends, the park might get busy, so plan your drone flights appropriately.
Best Places To Fly A Drone In St. Louis, Missouri
Here are my top recommendations for where to fly a drone in St. Louis, Missouri. These places were chosen because of their accessibility, airspace constraints, and tourist attractions.
1. August A. Busch Memorial Conservation Area
2360 Hwy D, St Charles, MO 63304, United States
August A. Busch Memorial Conservation Area is a 6,987-acre (28.28 km2) conservation area located in St. Charles County that is owned and managed by the Missouri Department of Conservation. The visitor center features educational displays and naturalist-led programs in aquatic and forest ecology, reptiles, birds, and trees. The picnic facilities include barbecue grills, benches, and a covered pavilion.
The August Busch Memorial Conservation Area offers a wide range of recreational areas like biking and walking trails, open fields, and hunting and fishing areas. To prevent upsetting the wildlife in this park, we urge drone pilots to stay in the open spaces.
2. Buder North Park
101 Larkin Williams Rd, Valley Park, MO 63088, USA
The Aeropilots R/C Flying Club, which specializes in RC aircraft, including drones, is based in Buder North Park. The GSLMA, or Greater Saint Louis Model Association, is in charge of overseeing the airfield. Under the guidelines established by the organizers, anyone is welcome to fly here.
This specialized area for flying is a great spot to hone your flying abilities. Everyone who is new to RC aircraft, especially young children, is welcome.
Take note: Only experienced R/C pilots may supervise novices while they fly here. They must also have identification showing they have a current insurance certificate and pilot's license.
3. Carondelet Park
3900 Holly Hills Blvd, St. Louis, MO 63116, USA
Carondelet Park, which opened its doors in 1875, has a number of paved pathways, free public fishing, and a lot of classic charm. The Lyle House, a mansion from the Civil War, as well as antique pavilions and an elaborate boathouse, are all located inside the park. Two sizable lakes, baseball fields, and a recreation facility are also located there.
Point to remember: At the time of writing, anyone using a drone in Carondelet Park must have permission and evidence of insurance. For further information, speak with the City of St. Louis Board of Public Service.
4. Forest Park
5595 Grand Dr, St. Louis, MO 63112, USA
Forest Park is a beautiful natural oasis in the heart of St. Louis. With 1,300 acres, Forest Park is about 500 acres larger than Central Park in New York City and has over 180 acres of nature reserves, including woods, marshes, prairies, and savannas.
Additionally, the Missouri History Museum, Saint Louis Art Museum, Saint Louis Science Center, Saint Louis Zoo, and The Muny, the nation's biggest outdoor musical theater, are all located in the park.
Point to remember: Drone pilots are required to have permission and evidence of insurance in order to fly in Forest Park. For further information, speak with the City of St. Louis Board of Public Service.
5. Lafayette Park
2023 Lafayette Ave, St. Louis, MO 63104, United States
In St. Louis, Missouri, Lafayette Square is a neighborhood that is bordered on the north by Chouteau Avenue, the south by Interstate 44, the east by Truman Parkway, and the west by South Jefferson Avenue. It encircles Lafayette Park, the oldest public park in the city.
Lafayette Park's lack of open space is made up for by its breathtaking beauty, which includes historic structures, walking routes, a small lake, and a healthy number of trees. It's a wonderful location for drone photography, but keep in mind that there isn't much room and there are sometimes a lot of people there.
6. Laumeier Sculpture Park
–12580 Rott Rd, Sappington, MO 63127, United States
The Laumeier Sculpture Park is an open-air art gallery located in the southwest part of St. Louis County. There are more than 70 modern sculptures there by both domestic and foreign artists. 105 acres (42 hectares) of parks with walking routes, woodlands, and open fields are decorated with artwork. An interior gallery and a museum store are also housed in the stone home from 1816.
If you want a change of scenery from other drone flight spots, this is a wonderful place to fly. The sculptures in this location stand out aesthetically and will make good subjects for aerial photography. Just remember that flying over the park is not advised, especially when it's busy.
7. The Old Chain of Rocks Bridge
10820 Riverview Dr, St. Louis, MO, 63137, USA
The Old Chain of Rocks Bridge spans a beautiful section of the Mississippi River and was formerly a part of the illustrious Route 66. It connects Illinois and Missouri, two states. The bridge is only one mile long and 24 feet wide, but it currently carries bicycles and people rather than vehicles across the river.
It features excellent views of the rapids and a very noticeable curve in the center of the bridge. You may launch your drone from either the Missouri or Illinois side of the bridge to take pictures of the bridge and the river.
Final Thoughts on Where To Fly A Drone In Missouri
So there you have it: the best places to fly a drone in Missouri!
I hope you have a great time exploring the beautiful landscape of Missouri from above. You can also check out where to fly a drone in other states and cities in the United States.
Always remember to obey the federal, state, and local drone laws in Missouri to avoid having issues with the law and authorities.
And don't forget to share this article with a friend and other drone pilots who will benefit from this information using the share icons below.