In this article, we've scouted out the best places to fly a drone in Minnesota
Minnesota is bursting with natural and cultural splendor, from the lake-filled North Country to the marble facade of the State Capitol in St. Paul. Plan to visit cultural sites like the Minneapolis Institute of Art or the magnificent Munsinger Clemens Gardens in St. Cloud, as well as Minnesota's wilderness regions, such as the Superior National Forest and the North Shore of Lake Superior.
Minnesota is more than just a state with 10,000 lakes; there are countless activities to do there, like meandering down the hiking trails, canoeing the rivers, gliding down the ski slopes, and shopping at the Mall of America. With our list of the best tourist attractions, learn about more locations to visit.
In this article, I will reveal to you where to fly your drone in Minnesota, as well as where it is permitted and not permitted by the law to fly a drone. I will also offer regulatory guidance to assist you in maintaining compliance with federal, state, and local laws.
Drone Regulations In Minnesota
The federal drone laws governing drone operations in Minnesota, which were created by the Federal Aviation Administration, classify drone operations as either recreational or commercial.
Federal Regulations In Minnesota
Recreational drone pilots are subject to the FAA rules for recreational flyers, which require them to register their drones if they weigh more than 250 g and complete the Recreational UAS Safety Test (TRUST) before they can operate their drone for recreational purposes in the United States of America.
Commercial drone pilots are subject to FAA rules for commercial pilots, which require them to follow The Part 107 regulations, complete a multiple-choice exam, and earn a drone pilot certification from the FAA before they can operate their drone for commercial purposes in the United States of America.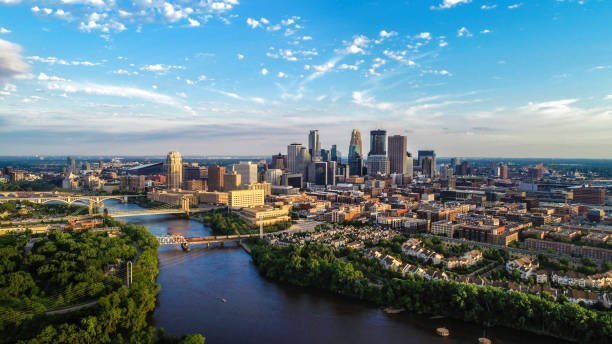 When flying within five miles of an airport, drone pilots are no longer needed to independently contact air traffic control. Instead, to obtain airspace authorization to fly in regulated airspace near and above numerous airports, both commercial and leisure fliers can use the automated LAANC system. You must apply for airspace authorization if you are operating in Class B, C, D, or E regulated airspace. In areas where LAANC is not available, you can use the FAA Drone Zone or LAANC.
Interested in becoming an FAA-certified drone pilot so you can operate under the Part 107 regulations and make money flying your drone? Check out our industry-leading online training course over at Drone Pilot Ground School.
State and Local Regulations In Minnesota
Here is an in-depth guide to the drone laws in Minnesota that we put together. Be sure to check them out to see the state and local drone laws you need to adhere to in Minnesota. You should always exercise sound judgment when in doubt and adhere to the FAA's regulations.
DISCLAIMER: Nothing on this website should be construed as legal advice and is solely provided for informative reasons. If there is anything we missed or if you have any further questions, please contact us at info [at] droneller [dot] com, and we will do our best to assist you.
Best Places To Fly A Drone In Minneapolis, Minnesota
Here are my top recommendations for where to fly a drone in Minneapolis, Minnesota. These places were chosen because of their accessibility, airspace constraints, and tourist attractions.
1. Alimagnet Park
211 Ridgeview Dr, Apple Valley, MN 55124, United States
Alimagnet Park is a 178-acre neighborhood park situated on County Road 11, two blocks north of County Road 42. Along with a host of other features, the park is home to Burnsville's award-winning Alimagnet Dog Park and multi-use trails that are open to cyclists, cross-country skiers, hikers, snowshoers, and skijorers.
Advanced drone flight abilities may be practiced in the deep jungle; however, we advise flying with a visual observer to more readily keep an eye out for onlookers. Keep in mind to show consideration for other park visitors, as drones have a very real potential to disturb the peace.
2. Bald Eagle – Otter Lake Regional Park
5750 Otter Lake Rd, White Bear Township, MN 55110, United States
Bald Eagle – Otter Lakes Regional Park is a 862-acre park located in White Bear Township, which is in the northeastern part of Ramsey County. The park is a sizable natural space in a suburban community that is under development.
Numerous animal species, including deer, foxes, beavers, bluebirds, and owls, can be found in the park's wide woodlands, ponds, and grasslands. Ospreys and otters, two rather uncommon types of animals, have been seen in this area.
Drone pilots have the chance to get close to nature on hiking paths. The park has 10.5 kilometers of cross-country skiing and 4 miles of paved hiking and biking routes.
NOTE: Drone use is restricted to predetermined zones and prohibited in all parks within the county, in accordance with a 2022 Parks and Recreation Ordinance published by Ramsey County.
3. Blackdog Park
10945 Territorial Dr, Burnsville, MN 55337, United States
Black Dog Park is a pet-friendly park located near Blackdog Lake in Burnsville that allows dogs on leashes. Dogs are allowed to play off-leash in a designated area of this park.
Black Dog Park earned its name due to its proximity to Black Dog Lake. Even though there isn't a designated dog park here, leashed dogs are welcome to visit.
Despite the Blackdog Park's seeming modest size, you may use it as a drone launch pad to travel to the considerably bigger wooded region of the Blackdog Reserve and Blackdog Lake.
In general, the area is not congested unless a football or baseball event is in progress. However you should avoid flying close to the power station near the park
4. Grassfield RC Club AMA Airfield
8901 101st Ave N, Brooklyn Park, MN 55445, United States
The Grassfield RC Club is located in Brooklyn Park, Minnesota. It is close to 101st Street and Highway 169. The open area is a great spot to enjoy yourself and improve your flying abilities.
The specialized RC airstrip features two smaller strips in addition to the main asphalt runway. Additionally, there is a covered space where members may assemble and seek refuge when it rains. Camera drone pilots are drawn to the area's agriculture, which is located in Minnesota.
5. Greenwood Shores Park
44.8752858, -93.5604429
Greenwood Shores Park is a 4.9-acre park located in Chanhassen, Minnesota. It's a great location for a brief break, a stroll, or maybe even a fast run before work. In Chanhassen, Greenwood Shores Park is a nice spot to go with your family or friends since it sits amidst lots of greenery. This park is for you if you like flying in less crowded areas.
6. Scenic Byway Road
25346 Scenic Byway Rd, Belle Plaine, MN 56011, USA
The Scenic Byway Road SW of Minneapolis has several excellent locations for drone photography if you don't mind going around. You may drive your automobile to any location along the route, get out, deploy your drone, and take stunning photos of your surroundings. The nicest part of this approach is that driving on broad roads makes it much simpler to avoid flying over congested places.
7. Sodbusters RC Flying Club
215 Manning Ave N, Lake Elmo, MN 55042, United States
Near Lake Elmo, along Manning Ave., is an AMA field owned by the Sodbuster RC Flying Club. As usual, in order to fly your drone here, you must be an AMA member. If you're searching for a group of like-minded amateurs, this is an excellent place to fly.
Final Thoughts on Where To Fly A Drone In Minnesota
So there you have it: the best places to fly a drone in Minnesota!
I hope you have a great time exploring the beautiful landscape of Minnesota from above. You can also check out where to fly a drone in other states and cities in the United States.
Always remember to obey the federal, state, and local drone laws in Minnesota to avoid having issues with the law and authorities.
And don't forget to share this article with a friend and other drone pilots who will benefit from this information using the share icons below.