In this article, we've scouted out the best places to fly a drone in Massachusetts.
Massachusetts has something for everyone in terms of culture, music, colonial history, national monuments, shopping, picturesque beaches, laid-back islands, and delectable seafood. Choose from a variety of tourist attractions, such as attending classical music performances by a renowned symphony orchestra or developing your tan on a beautiful beach.
Massachusetts, one of the original 13 colonies, has more than its fair share of historic sites that date back to the time of the pilgrims. But Boston's bustling Faneuil Hall Marketplace also has cutting-edge clothing, so it's not all about history.
In this article, I will reveal to you where to fly your drone in Massachusetts, as well as where it is permitted and not permitted by the law to fly a drone. I will also offer regulatory guidance to assist you in maintaining compliance with federal, state, and local laws.
Drone Regulations In Massachusetts
The federal drone laws governing drone operations in Massachusetts, which were created by the Federal Aviation Administration, classify drone operations as either recreational or commercial.
Federal Regulations In Massachusetts
Recreational drone pilots are subject to the FAA rules for recreational flyers, which require them to register their drones if they weigh more than 250 g and complete The Recreational UAS Safety Test (TRUST) before they can operate their drone for recreational purposes in the United States of America.
Commercial drone pilots are subject to FAA rules for commercial pilots, which require them to follow The Part 107 regulations, complete a multiple-choice exam, and earn a drone pilot certification from the FAA before they can operate their drone for commercial purposes in the United States of America.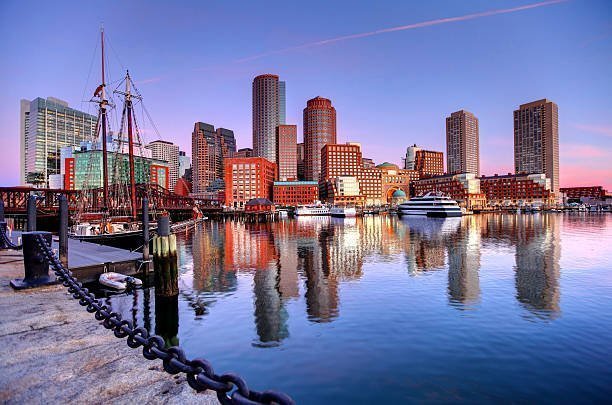 When flying within five miles of an airport, drone pilots are no longer needed to independently contact air traffic control. Instead, to obtain airspace authorization to fly in regulated airspace near and above numerous airports, both commercial and leisure fliers can use the automated LAANC system. You must apply for airspace authorization if you are operating in Class B, C, D, or E regulated airspace. In areas where LAANC is not available, you can use the FAA Drone Zone or LAANC.
Interested in becoming an FAA-certified drone pilot so you can operate under the Part 107 regulations and make money flying your drone? Check out our industry-leading online training course over at Drone Pilot Ground School.
State and Local Regulations In Massachusetts
Here is an in-depth guide to the drone laws in Massachusetts that we put together. Be sure to check them out to see the state and local drone laws you need to adhere to in Massachusetts. You should always exercise sound judgment when in doubt and adhere to the FAA's regulations.
DISCLAIMER: Nothing on this website should be construed as legal advice and is solely provided for informative reasons. If there is anything we missed or if you have any further questions, please contact us at info [at] droneller [dot] com, and we will do our best to assist you.
Best Places To Fly A Drone In Boston, Massachusetts
Here are my top recommendations for where to fly a drone in the Anchorage region of Arkansas. These places were chosen because of their accessibility, airspace constraints, and tourist attractions.
1. Birchwold Farm
1499 West St, Wrentham, MA 02093, United States
Birchwold Farm is a vast open green space with a small network of walking trails. Birchwold Farm produces small amounts of vegetables, honey and honey products, and a large number of eggs.
Birchwold Farm is the place to go if you like flying through and over trees or in open space. However, it's better to fly a drone over Birchwold Farm in the morning or early evening because it normally gets crowded in the middle of the day.
2. Capron Park Zoo
201 County St, Attleboro, MA 02703, United States
Capron Park Zoo is one of the top recreation spots in the city and is located in the center of Attleboro. Drone pilots may appreciate the wonders of animals from throughout the world or immerse themselves in the warmth of a tropical jungle. They can also be amazed by the roar of our lion pride.
Capron Park Zoo has a medium-sized space to fly drones, particularly in FPV mode. Without getting too close to the zoo area, there is enough open room to fly your drone. It's better to fly your drone early in the morning because it tends to get busy in the middle of the day.
3. Chandler Hovey Park
Lighthouse Ln, Marblehead, MA 01945, United States
Chandler Hovey Park is situated on Marblehead Neck off Ocean Avenue at the end of Follett Street. The 3.74-acre park has parking, pavilions, chairs, picnic tables, bathrooms, and views of Beverly and Manchester-By-The-shorelines that overlook the mouth of the harbor.
The Marblehead Light Tower is the main subject of fascination for the majority of camera drone operators. This area's drone footage is amazing and documents a little portion of the US coastline's history.
4. Chickatawbut Hill
–42.222982, -71.063167
Chickatawbut Hill is the point with the greatest elevation on the eastern edge of the Blue Hills. There are few views from the peak because it is really caged off on the north side.
However, there is a lookout tower with good views you can explore with your drone on the hill's north side, and there are also magnificent views of Buck Hill and Great Blue Hill on the hill's west side.
5. Christopher Columbus Waterfront Park
42.361107, -71.052068
The Christopher Columbus Waterfront Park is a public park located in Boston's North End. Overall, the Columbus Waterfront Park is a terrific place for kids to run around and burn off some energy. There are no swings, but there are beautiful views of the river and a lovely rose garden. The youngsters may ride the Greenway Carousel directly across the street for just $3 per spin.
Due to the frequent crowds, flying a drone over the park is unlikely, but you might try taking off from the port and flying out over the sea. Boston looks fantastic from this angle, especially when drenched in the sunset's crimson glow over the water.
6. Horn Pond Recreation Area
42.467848, -71.161566
A short distance outside of Boston lies the drone-friendly Horn Pond Recreation Area. The centerpiece is a tree-lined, fish-filled pond that is surrounded by a beautiful, 2.4-mile walk. Additionally, there are a few park seats scattered throughout from where visitors may unwind and take in the scenery.
There is lots of room in this area for filming and drone flying. Please be aware of this when flying drones, since there can occasionally be heavy traffic on the trail that surrounds the pond.
7. Lynn Woods
106 Pennybrook Rd, Lynn, MA 01905, USA
The 2,200-acre municipal forest park known as the Lynn Woods Reservation was established in 1881 and is the second-largest municipal park in the US. It is situated in Lynn, Massachusetts.
Over 30 miles of beautiful paths are available for activities including hiking, jogging, horseback riding, mountain biking (which is prohibited in the winter), cross-country skiing, and nature hikes. Beautiful drone shots can be had both from the ground and from the sky thanks to the surrounding landscape.
8. Magazine Beach
668 Memorial Dr, Cambridge, MA 02139, United States
Magazine Beach is Cambridge's second-largest park, centrally located along the Charles River, between the B.U. Bridge and Pleasant Street. A free outdoor Olympic-sized swimming pool is also located at Magazine Beach. The park is a green area with open fields, shady trees, and natural ecosystems.
The park comes to life in the fall with the beautiful leaves and trees. The beach isn't exactly a place where you can fly your drone very far, but it's still a wonderful spot to get some lovely aerial photos.
9. Reading Town Forest
42.550134, -71.130799
Reading Urban Forest has a vast network of trails, many of which are relatively flat roads, and is a pet-friendly town forest. The majority of these routes are appropriate for biking or walking;, however, you should be advised that many of them pass through marshy regions that could be muddy and damp.
One of the greatest places to practice drone flight is definitely the Reading Town Forest. FPV racers will enjoy maneuvering through the forest's thick pine trees. You may explore a variety of side paths to locate ideal drone flight locations away from the main population.
Final Thoughts on Where To Fly A Drone In Massachusetts
So there you have it: the best places to fly a drone in Massachusetts!
I hope you have a great time exploring the beautiful landscape of Massachusetts from above. You can also check out where to fly a drone in other states and cities in the United States.
Always remember to obey the federal, state, and local drone laws in Massachusetts to avoid having issues with the law and authorities.
And don't forget to share this article with a friend and other drone pilots who will benefit from this information using the share icons below.