In this article, we've scouted out the best places to fly a drone in Maryland.
Maryland is a tiny state that is practically split in half by the enormous Chesapeake Bay. Further west, when only 1.6 miles of Maryland stand between Virginia and Pennsylvania, the state is nearly split once more.
Maryland also provides drone pilots with a broad range of natural attractions, from the expansive beaches of its Eastern Shore to the densely wooded hills of its western counties. West of the Appalachian Mountains, state parks preserve lakes, waterfalls, and a variety of walking and hiking paths.
In this article, I will reveal to you where to fly your drone in Maryland, as well as where it is permitted and not permitted by the law to fly a drone. I will also offer regulatory guidance to assist you in maintaining compliance with federal, state, and local laws.
Regulations In Maryland
The federal drone laws governing drone operations in Maryland, which were created by the Federal Aviation Administration, classify drone operations as either recreational or commercial.
Federal Regulations In Maryland
Recreational drone pilots are subject to the FAA rules for recreational flyers, which require them to register their drones if they weigh more than 250 g and complete The Recreational UAS Safety Test (TRUST) before they can operate their drone for recreational purposes in the United States of America.
Commercial drone pilots are subject to FAA rules for commercial pilots, which require them to follow The Part 107 regulations, complete a multiple-choice exam, and earn a drone pilot certification from the FAA before they can operate their drone for commercial purposes in the United States of America.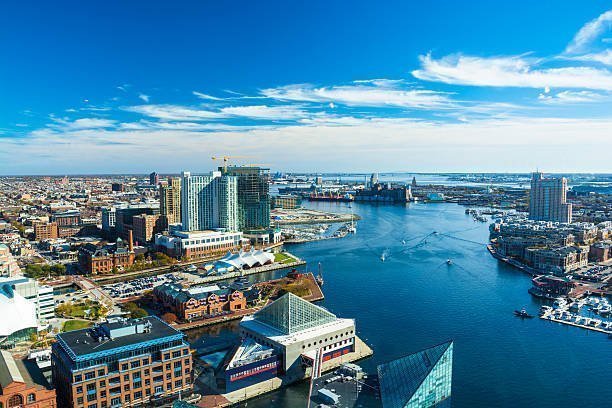 When flying within five miles of an airport, drone pilots are no longer needed to independently contact air traffic control. Instead, to obtain airspace authorization to fly in regulated airspace near and above numerous airports, both commercial and leisure fliers can use the automated LAANC system. You must apply for airspace authorization if you are operating in Class B, C, D, or E regulated airspace. In areas where LAANC is not available, you can use the FAA Drone Zone or LAANC.
Interested in becoming an FAA-certified drone pilot so you can operate under the Part 107 regulations and make money flying your drone? Check out our industry-leading online training course over at Drone Pilot Ground School.
State and Local Regulations In Maryland
Here is an in-depth guide to the drone laws in Maryland that we put together. Be sure to check them out to see the state and local drone laws you need to adhere to in Arkansas. You should always exercise sound judgment when in doubt and adhere to the FAA's regulations.
DISCLAIMER: Nothing on this website should be construed as legal advice and is solely provided for informative reasons. If there is anything we missed or if you have any further questions, please contact us at info [at] droneller [dot] com, and we will do our best to assist you.
Best Places To Fly A Drone In Baltimore, Maryland
Here are my top recommendations for where to fly a drone in Baltimore, Maryland. These places were chosen because of their accessibility, airspace constraints, and tourist attractions.
1. Curtis Creek Ship Graveyard
39.2088672, -76.5761468
The U.S. Navy invested $1 billion on wooden ships at Curtis Creek during World War I that were designed to transport supplies to Europe. None of the ships ever completed the voyage across the Atlantic since they were poorly constructed and unfit for the task at hand.
Curtis Creek is home to abandoned ships that disintegrated during World War I before they had ever been put to action. It can be difficult to fly a drone here; however, the I-95 bridge offers nice views of the ship graveyard.
2. Druid Hill Park
900 Druid Park Lake Dr, Baltimore, MD 21217, USA
Druid Hill Park is a 745-acre (3.01 km2) urban park located on the northwestern side of Baltimore, Maryland. The park is one of the first large public parks in America and Baltimore's first large municipal park. It is the third-oldest established park in the United States.
The park has various attractions like playgrounds, basketball courts, tennis courts, ball fields, athletic fields, a disc golf course, a pool, greenhouses, picnic groves/pavilions, a Zen garden, the Jones Trail, City Farms Garden, and Safety City that would keep you engaged after flying your drone.
3. Graffiti Alley
Graffiti Alley, Baltimore, MD 21218, United States
Graffiti Alley is an L-shaped alley located in the State North Arts and Entertainment District of Baltimore, Maryland. Graffiti Alley is owned by the Graffiti Warehouse and allows street artists to relieve stress and create colorful art without fear of being locked up.
You might want to think about bringing your drone with you if you like graffiti and have the proficiency to operate drones in confined quarters when you go to Baltimore's Graffiti Alley. The graffiti gives your footage a unique view when you can capture the local street art in pictures and films from a great height.
4. Inner Harbor
501 Light St, Baltimore, MD 21230, United States
The Inner Harbor is a famous landmark, tourist destination, and historic seaport in Baltimore, Maryland. The large and brief northwest branch of the Patapsco River is formed near the mouth of Jones Falls, which is where the Inner Harbor is situated.
Some of the city's most distinctive tourist attractions may be found around the Inner Harbor, which serves as a tourism hub. You may take pictures of West Shore Park, the National Aquarium, the Top of the World tower, and the historic ships berthed in the maritime museum by flying your drone above the Patapsco River.
5. Lake Montebello
39.3319891, -76.5848295
Lake Montebello is a reservoir that serves as a settling basin for activities in the filtration plant and is situated close to Mayfield and Coldstream-Homestead-Montebello in Baltimore City, Maryland. 
A 1.3-mile biking and walking trail surrounds Lake Montebello, serving as a recreational space for the nearby population. A disc golf course and Herring Run Park are located right next to the lake and are both excellent locations to fly your drone and view the neighborhood.
6. Gwynns Falls/ Leakin Park
4921 Windsor Mill Rd, Gwynn Oak, MD 21207, United States
Gwynns Falls/Leakin Park is the biggest forest park in Baltimore, Maryland, with a combined area of 1,216 acres (492 ha). It was designed as a "stream valley park" to save Baltimore's watersheds from excessive development and maintain their natural ecosystems, including Gwynns Falls.
Today, Gwynns Falls/Leakin Park presents a unique chance for drone pilots to discover a diversified natural setting distinguished by stream valleys, ridge tops, and meadows; take advantage of opportunities for active enjoyment; and discover historic buildings from a bygone period.
7. Loch Raven Reservoir
2583 MD-146, Cockeysville, MD 21030, United States
Loch Raven Reservoir is one of the cleanest outdoor areas where the Baltimore metropolitan region gets its drinking water. Visitors may enjoy miles of hiking paths that wrap around the banks of the reservoir, which is home to a variety of vibrant flora, animals, and stunning lake views.
Drone operations are prohibited over the reservoir. However, you can fly your drone from a safe distance away from the reservoir to explore the lush and varied array of plants and trees, including oaks, beeches, maples, poplars, raspberries, and wild roses.
8. Patterson Park
2601 E Baltimore Street, Baltimore, MD 21224, USA
Patterson Park is a beautiful 133-acre park located in the southeastern area of Baltimore, Maryland. It is the oldest and one of the most historic parks in all of Baltimore City. The park's legendary Pagoda, a three-story observatory perched atop storied Hampstead Hill, is its most recognizable feature.
The park also contains a boating lake, a marble fountain, wide-open green fields, historic battle sites, and a Pulaski monument. Pilots of camera drones may capture breathtaking images of the city skyline and the many attractive locations this park has to offer.
9. Southwest Area Park Model Air Flying Field
3939 Park Dr, Brooklyn, MD 21225, United States
The Southwest Area Park has a dedicated RC flying field managed by the Southwest Area Park Modelers. To fly here, you must be an AMA member; the club does accept visiting pilots. It would be preferable to contact the club before coming here, as the field only has a few hours of operation.
10. Seven Foot Knoll Lighthouse
Pier 5, Baltimore, MD 21202, United States
The Seven Foot Knoll Lighthouse is a lighthouse built in 1855 and is the oldest screw-pile lighthouse in Maryland. Up until it was replaced by a contemporary navigational aid and moved to Baltimore's Inner Harbor as a museum display, it was perched atop Seven Foot Knoll in the Chesapeake Bay.
Drone pilots can capture drone photography of this ancient structure with all its awesome bay views.
Final Thoughts on Where To Fly A Drone In Maryland
So there you have it: the best places to fly a drone in Maryland!
I hope you have a great time exploring the beautiful landscape of Maryland from above. You can also check out where to fly a drone in other states and cities in the United States.
Always remember to obey the federal, state, and local drone laws in Maryland to avoid having issues with the law and authorities.
And don't forget to share this article with a friend and other drone pilots who will benefit from this information using the share icons below.