In this article, we've scouted out the best places to fly a drone in Kansas.
The Sunflower State of Kansas has much more to offer to drone enthusiasts than what most people are familiar with from the movie that it is most renowned for serving as the setting for the American classic The Wizard of Oz.
In addition to having great spots for aerial photography, Kansas is a fantastic destination for anyone who enjoys the arts, music, speed, and adventure. At the Evel Knievel Museum, you may daydream about becoming a daredevil or watch a race.
In this article, I will reveal to you where to fly your drone in Kansas, as well as where it is permitted and not permitted by the law to fly a drone. I will also offer regulatory guidance to assist you in maintaining compliance with federal, state, and local laws.
Regulations In Kansas
The federal drone laws governing drone operations in Kansas, which were created by the Federal Aviation Administration, classify drone operations as either recreational or commercial.
Federal Regulations In Kansas
Recreational drone pilots are subject to the FAA rules for recreational flyers, which require them to register their drones if they weigh more than 250 g and complete The Recreational UAS Safety Test (TRUST) before they can operate their drone for recreational purposes in the United States of America.
Commercial drone pilots are subject to FAA rules for commercial pilots, which require them to follow The Part 107 regulations, complete a multiple-choice exam, and earn a drone pilot certification from the FAA before they can operate their drone for commercial purposes in the United States of America.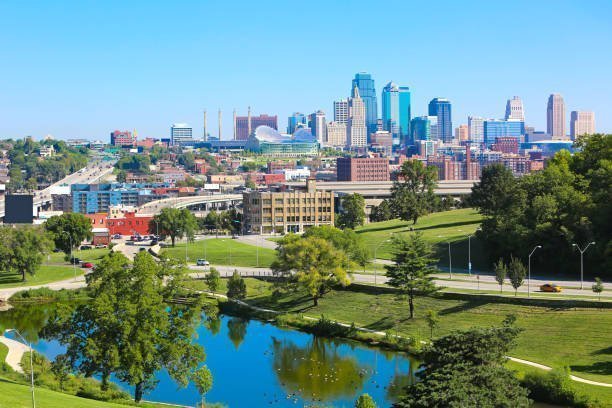 When flying within five miles of an airport, drone pilots are no longer needed to independently contact air traffic control. Instead, to obtain airspace authorization to fly in regulated airspace near and above numerous airports, both commercial and leisure fliers can use the automated LAANC system. You must apply for airspace authorization if you are operating in Class B, C, D, or E regulated airspace. In areas where LAANC is not available, you can use FAA Drone Zone or LAANC.
Interested in becoming an FAA-certified drone pilot so you can operate under the Part 107 regulations and make money flying your drone? Check out our industry-leading online training course over at Drone Pilot Ground School.
State and Local Regulations In Kansas
Here is an in-depth guide to the drone laws in Kansas that we put together. Be sure to check them out to see the state and local drone laws you need to adhere to in Kansas. You should always exercise sound judgment when in doubt and adhere to the FAA's regulations.
DISCLAIMER: Nothing on this website should be construed as legal advice and is solely provided for informative reasons. If there is anything we missed or if you have any further questions, please contact us at info [at] droneller [dot] com, and we will do our best to assist you.
Best Places To Fly A Drone in Kansas City, Kansas
Here are my top recommendations for where to fly a drone in Kansas City, Kansas. These places were chosen because of their accessibility, airspace constraints, and tourist attractions.
1. Charles W. Reed Flying Field
3581-3899 Rennau Dr, Lee's Summit, MO 64064, United States
The Charles W. Reed III Flying Field is located near Lee's Summit, Missouri. The facility is managed by the Kansas City RC Association and the 49th Mid-America Jumbo Squadron. The field is located in the center of Fleming Park, next to the magnificent, 970-acre Lake Jacomo.
The club itself has a 25-foot grass runway and a 500-foot asphalt runway. The location includes a modest safety fence as well as a covered space with seating for its visitors.
From a visual standpoint, Charles W. Reed III Flying Field is one of the most appealing clubs. Members may capture some amazing aerial videos of the lake and its surroundings.
2. Jacob L. Loose Park
5200 Wornall Rd, Kansas City, MO 64112, United States
Loose Park is situated at 51st Street and Wornall Road and is the third-largest park in Kansas City, Missouri. It contains a rose garden, tennis courts, a water park, a shelter house, Civil War memorials, a lake, and picnic spaces.
Finding a safe place to fly your drone might be difficult because of how busy the park often is. Fortunately, the park is so big and gorgeous from a distance that you can consider flying your drone just outside the park's limits.
3. Lake Olathe
625 S Lakeshore Dr, Olathe, KS 66061, United States
Lake Olathe Park has a 170-acre lake surrounded by a 258-acre community park. The Swim Beach has changing areas, outdoor showers, vending machines, and the Aqua Park, a floating obstacle course.
You can get all the best views of Lake Olathe by launching your drone from Lake Olathe Park. Although the park is modest, the lake is large enough to allow you to securely and freely fly your drone. The lake's scarlet fall leaves offer a striking contrast to its crystal-clear waters.
4. Longview Lake
11101 Raytown Rd, Kansas City, MO 64134, United States
Longview Lake is an artificial lake popular for swimming and other water activities. Rich greenery and extensive pastures surround the lake. This is a fantastic place to relax for the afternoon or to have some fun flying a drone. Be aware that park guards have frequently issued citations to visitors for infractions. The best course of action is to contact them before launching your drone.
5. Minor Park
11103 Holmes Rd, Kansas City, MO 64131, United States
Minor Park is well-known for its tennis courts, picnic areas, walking trails, and open fields. It was formerly a privately owned farm that was granted to the city. One of its most iconic locations is the Old Red Bridge. You can bring your drone to Minor Park to experience the variety of surroundings there as well as the wide space.
6. Platte Landing Park
300 S Main St, Parkville, MO 64152, United States
Platte Landing Park is a 140-acre park next to English Landing Park on the Missouri River, near the end of Main Street. Two miles of dog-friendly paths, two off-leash dog parks, and a brand new boat launch into the Missouri River's main channel are all included in the park.
Platte Landing Park is open every day from five in the morning until midnight. Drones are permitted by the park officials, so you may get some breathtaking images of the Missouri River and the surrounding area.
7. Wyandotte Park
5033 State Ave, Kansas City, KS 66102, United States
Wyandotte County Park features 325 acres and 7 shelters, all with water, electricity, restrooms, and playground equipment. In addition to an 18-hole disc golf course, there are four lit tennis courts, two lighted softball fields, one illuminated soccer field, a skate park, and a 6-hole junior golf course.
Finding a secure location to fly your drone here shouldn't be difficult. This park is a great place to capture the sunset, but it also provides many picture possibilities during the day and throughout the year.
Best Places To Fly A Drone In Wichita, Kansas
Here are my top recommendations for where to fly a drone in Wichita, Kansas. These places were chosen because of their accessibility, airspace constraints, and tourist attractions.
1. Botanica The Wichita Gardens
701 Amidon St, Wichita, KS 67203, United States
Botanica, The Wichita Gardens were opened in 1987 as a collaboration between the Wichita Area Garden Council and the City of Wichita. Originally consisting of four gardens, it currently spans 17.6 acres (7.12 hectares) and is situated at 701 North Amidon in Wichita, Kansas, in the United States.
We strongly advise coming here at night to catch the garden's variety of stunning lights if you're seeking a suitable location for drone photography. To prevent flying over crowds, you will need to operate your drone far beyond the borders of the site.
2. Chapin Park
2400 E MacArthur Rd, Wichita, KS 67216, United States
Chapin Park is a 0.9-mile (2,000-step) route located near Wichita, Kansas, USA. This straightforward route includes an elevation gain of roughly 49.2 feet. A dedicated RC-flying field is located in Chapin Park on its eastern side. The Wichita Radio Control Club manages the field. To fly your drone here, you must join the club and become a member.
3. Garrett Park
1100 E Chet Smith Ave, Derby, KS 67037, United States
Garrett Park is situated on Chet Smith Avenue and has more than 40 picturesque acres, making it Derby's second-largest park. The park has some of Derby's top outdoor leisure amenities, including the Derby Area Veterans Memorial, a 1/4-mile walking trail that pays homage to all military services.
4. Wichita Jeeps Motorcycle Club
605 E 101st St N, Valley Center, KS 67147, United States
Drone photography enthusiasts might find this members-only motorcycle racing club in Wichita to be an interesting subject. The Jeeps Cycle Club has long been a resident's favorite place to watch or participate in the sport. You can fly your drone directly outside the racetrack, but we still advise getting club authorization.
Final Thoughts on Where To Fly A Drone In Kansas
So there you have it: the best places to fly a drone in Kansas!
I hope you have a great time exploring the beautiful landscape of Kansas from above. You can also check out where to fly a drone in other states and cities in the United States.
Always remember to obey the federal, state, and local drone laws in Kansas to avoid having issues with the law and authorities.
And don't forget to share this article with a friend and other drone pilots who will benefit from this information using the share icons below.