In this article, we've scouted out the best places to fly a drone in Indiana.
Indiana is home to the Hoosiers and a history that runs deep. Additionally, there are attractions and entertainment in every part of the state. Indiana boasts a wide variety of intriguing sites to visit, from entertaining activities in the state capital, Indianapolis, to family-friendly tourist destinations in Fort Wayne, Bloomington, and Lafayette.
Many of the state's museums combine entertaining activities with worthwhile teaching. The Studebaker National Museum, WonderLab Science Museum, and Snite Museum of Art on the Notre Dame campus are a few of these educational getaways.
In this article, I will reveal to you where to fly your drone in Indiana, as well as where it is permitted and not permitted by the law to fly a drone. I will also offer regulatory guidance to assist you in maintaining compliance with federal, state, and local laws.
Regulations In Indiana
The federal drone laws governing drone operations in Indiana, which were created by the Federal Aviation Administration, classify drone operations as either recreational or commercial.
Federal Regulations In Indiana
Recreational drone pilots are subject to the FAA rules for recreational flyers, which require them to register their drones if they weigh more than 250 g and complete The Recreational UAS Safety Test (TRUST) before they can operate their drone for recreational purposes in the United States of America.
Commercial drone pilots are subject to FAA rules for commercial pilots, which require them to follow The Part 107 regulations, complete a multiple-choice exam, and earn a drone pilot certification from the FAA before they can operate their drone for commercial purposes in the United States of America.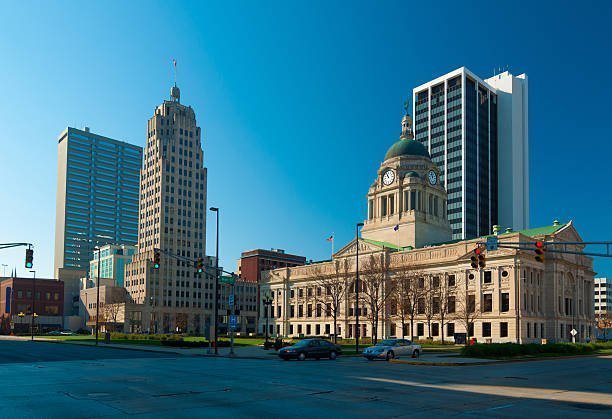 When flying within five miles of an airport, drone pilots are no longer needed to independently contact air traffic control. Instead, to obtain airspace authorization to fly in regulated airspace near and above numerous airports, both commercial and leisure fliers can use the automated LAANC system. You must apply for airspace authorization if you are operating in Class B, C, D, or E regulated airspace. In areas where LAANC is not available, you can use the FAA Drone Zone or LAANC.
Interested in becoming an FAA-certified drone pilot so you can operate under the Part 107 regulations and make money flying your drone? Check out our industry-leading online training course over at Drone Pilot Ground School.
State and Local Regulations In Indiana
Here is an in-depth guide to the drone laws in Indiana that we put together. Be sure to check them out to see the state and local drone laws you need to adhere to in Indiana. You should always exercise sound judgment when in doubt and adhere to the FAA's regulations.
DISCLAIMER: Nothing on this website should be construed as legal advice and is solely provided for informative reasons. If there is anything we missed or if you have any further questions, please contact us at info [at] droneller [dot] com, and we will do our best to assist you.
Best Places To Fly A Drone In Indianapolis, Indiana
Here are my top recommendations for where to fly a drone in Indianapolis, Indiana. These places were chosen because of their accessibility, airspace constraints, and tourist attractions.
1. American Legion Mall
700 N Pennsylvania St, Indianapolis, IN 46204
American Legion Mall is a park located in the heart of Indianapolis and has a number of war memorials. It is five city blocks long and was constructed in 1924 as a monument to soldiers who fought in World War I. The American Legion's national headquarters are located in the historic park.
The Indiana World War Memorial Plaza, which was constructed to memorialize WW1 veterans, is the primary draw. The building, which is 210 feet tall, looks down onto the square. There are many more important historical sites nearby that are worth photographing and filming. Pilots fly here for fun or to collect spectacular school assignments.
2. Garfield Park
2345 Pagoda Dr, Indianapolis, IN 46203
Garfield Park is a 128-acre (52 ha) regional city park located at the confluence of Pleasant Run and Bean Creeks on the near southside of Indianapolis, Indiana, United States. It was built in the late 19th century and is listed on the National Register of Historic Places. It is the oldest city park in Indianapolis.
The 1914 sunken gardens with European design elements and three magnificent water fountains with 2,500 water jets and 61 LED lights are additional points of interest. The latter includes mesmerizing fountain performances made possible by tens of thousands of water jets and brilliant LED lights. Drone pilots can discover many fascinating areas in the park.
3. Military Park
West New York Street, Indianapolis, IN 46202
Military Park is the oldest public park in Indianapolis, Indiana, covering 14 acres (6 ha). It is situated in the western part of downtown Indianapolis. Its name refers to the park's form, which resembles a military insignia. It is the preferred location to enjoy numerous festivals and other events hosted by the park officials. Additionally, visitors come here to take in the picturesque Canal Walk and the Medal of Honor Memorial. The park's terrain offers a lot to discover, as well as lots of room for drone pilots to operate.
4. Nest-RC Field (AMA)
15251 Olio Rd, Noblesville, IN 46060
The Nest-RC Field is located just outside of Indianapolis, directly behind Noblesville Fire Station 77, in Noblesville, Indiana. The airfield is run and operated by the Northeast Side Taildraggers R/C Aviation Club.
This location's ability to accept drones and all other kinds of R/C aircraft is fantastic. It even has dedicated takeoff and landing zones for drones. Although new applications are always accepted, you cannot fly here unless you are an AMA member.
5. Taggart Riverside Park
2420 E Riverside Dr, Indianapolis, IN 46208
Taggart Riverside Park is located next to the Indianapolis Parks and Recreation Department headquarters in Indiana. The park's open green space is where you'll find the tennis courts, a small lake, and various other leisure pursuits. The White River flows across the property, further enhancing the surrounding landscape. Here, drone pilots have a lot to learn and the chance to record numerous hours of drone footage.
Final Thoughts on Where To Fly A Drone In Indiana
So there you have it: the best places to fly a drone in Indiana!
I hope you have a great time exploring the beautiful landscape of Indiana from above. You can also check out where to fly a drone in other states and cities in the United States.
Always remember to obey the federal, state, and local drone laws in Indiana to avoid having issues with the law and authorities.
And don't forget to share this article with a friend and other drone pilots who will benefit from this information using the share icons below.