In this article, we've scouted out the best places to fly a drone in Georgia.
Georgia is a state that is full of contrasts, which makes it a particularly alluring destination for drone pilots. The magnificent natural features of North Georgia, including Lookout Mountain and the Okefenokee Swamp, as well as the picturesque historic squares of Savannah and Atlanta, are some of the attractions that draw visitors to the state of Georgia.
Georgia offers enjoyable activities for drone pilots and for every interest. Beautiful beaches, the biggest aquarium in the world, elegant antebellum residences, and historic sites that shed light on life and events from prehistory to the late 20th-century civil rights fight may all be found here.
In this article, I will reveal to you where to fly your drone in Georgia, as well as where it is permitted and not permitted by the law to fly a drone. I will also offer regulatory guidance to assist you in maintaining compliance with federal, state, and local laws.
Drone Laws In Georgia
The federal drone laws governing drone operations in Georgia, which were created by the Federal Aviation Administration, classify drone operations as either recreational or commercial.
Recreational Flying VS Commercial Flying
Recreational drone pilots are subject to the FAA rules for recreational flyers, which require them to register their drones if they weigh more than 250 g and complete The Recreational UAS Safety Test (TRUST) before they can operate their drone for recreational purposes in the United States of America.
Commercial drone pilots are subject to FAA rules for commercial pilots, which require them to follow The Part 107 regulations, complete a multiple-choice exam, and earn a drone pilot certification from the FAA before they can operate their drone for commercial purposes in the United States of America.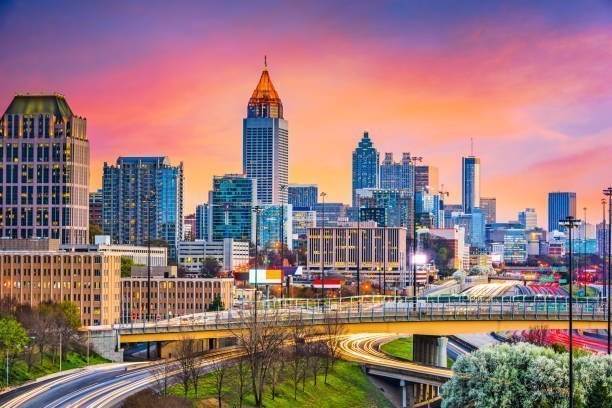 When flying within five miles of an airport, drone pilots are no longer needed to independently contact air traffic control. Instead, to obtain airspace authorization to fly in regulated airspace near and above numerous airports, both commercial and leisure fliers can use the automated LAANC system. You must apply for airspace authorization if you are operating in Class B, C, D, or E regulated airspace. In areas where LAANC is not available, you can use the FAA Drone Zone or LAANC.
Interested in becoming an FAA-certified drone pilot so you can operate under the Part 107 regulations and make money flying your drone? Check out our industry-leading online training course over at Drone Pilot Ground School.
What About The State and Local Drone Laws In Georgia?
Here is an in-depth guide to the drone laws in Georgia that we put together. Be sure to check them out to see the state and local drone laws you need to adhere to in Arkansas. You should always exercise sound judgment when in doubt and adhere to the FAA's regulations.
DISCLAIMER: Nothing on this website should be construed as legal advice and is solely provided for informative reasons. If there is anything we missed or if you have any further questions, please contact us at info [at] droneller [dot] com, and we will do our best to assist you.
Best Places To Fly A Drone In Albany, Georgia
Here are my top recommendations for where to fly a drone in Albany, Georgia. These places were chosen because of their accessibility, airspace constraints, and tourist attractions.
1. Lake Chehaw
2213 Beachview Dr, Albany, GA 31705, USA
Lake Chehaw is a 1,400-acre impoundment of the Muckalee, Kinchafoonee, and Flint Rivers that is close to Albany. We advise taking off from Chehaw Park to get the finest view of Lake Chehaw. Your drone should be able to view the dam in the distance from the lake, the nearby parks, and golf courses.
2. Lake Loretta
2198-2100 W Edgewater Dr, Albany, GA 31707, USA
Many locals visit Lake Loretta, which is near downtown Albany, for strolling, running, and general leisure. We advise limiting your drone flight to the area over the lake because it is relatively near residences. Due to the abundance of wildlife around the lake, keep a safe distance.
3. Pirate's Cove Nature Park
31.6444707, -84.1259166
The Pirate's Cove Park contains everything that nature enthusiasts are searching for, including thick woods, several walking routes, boardwalks, and streams. It may be difficult to launch a drone from a nature trail; therefore, it is recommended to launch it from a road with high clearance. One of Albany's top locations for aerial photography may be here.
Best Places To Fly A Drone In Atlanta, Georgia
Here are my top recommendations for where to fly a drone in Atlanta, Georgia. These places were chosen because of their accessibility, airspace constraints, and tourist attractions.
1. Brook Run Park
4770 N Peachtree Rd, Dunwoody, GA 30338, United States
Brook Run Park, a sizable park with strolling paths, a soccer field, a golf course, and a treetop amusement park, is located just north of Atlanta. If you fly an FPV drone, the highly forested bicycle track is a wonderful place to hone your advanced drone flight abilities. Additionally, the park is large and diverse enough to provide for stunning aerial photography.
2. Fayette Flyers Field (AMA)
2040 Joel Cowan Pkwy, Tyrone, GA 30290, United States
Fayette Flyers Field, located north of Peachtree City, is a location specifically designated for fans of RC drones. The AMA airfield features a lake that float planes utilize, although other types of aircraft, including drones, are permitted there. Two runways are available. The principal geotextile runway is one, while grass is the other.
It's a great location to hone your advanced flying abilities and meet new people with similar interests. For new candidates to join the Fayetteville Flyers Field, an AMA membership is required.
3. Murphey Candler Park
1551 W Nancy Creek Dr NE, Atlanta, GA 30319, United States
Murphey Candler Park is the biggest park in the City of Brookhaven and is a 135-acre multi-use park situated at 1551 West Nancy Creek Drive in northern DeKalb County. Playgrounds, picnic areas, tennis courts, swimming pools, lakes, and paths are just a few of the park's facilities.
The grounds surrounding the heavily forested lake and the nature paths are the top destinations for drone operators. The park has an abundance of animals, and there is excellent opportunity for filming and flying. Please be aware that this area is controlled class D airspace.
4. Piedmont Park
1320 Monroe Dr NE, Atlanta, GA 30306, United States
Piedmont Park is a 200-acre urban park in Atlanta, Georgia, situated between the Midtown and Virginia Highland neighborhoods and about one mile (1.6 km) northeast of Downtown. Each year, Piedmont Park welcomes more than 6 million guests and hosts hundreds of events.
Lake Clara Meer must be the main draw for drones. There are breathtaking views of the midtown skyline against the still, azure water that can be captured. The Meadow and Oak Hill, two open green spaces, are additional destinations for flying entertainment and aerial photography.
5. Tribble Mill Park
2125 Tribble Mill Pkwy SE, Lawrenceville, GA 30045, United States
Although you will need to go quite a distance outside of Atlanta, Tribble Mill Park is a fantastic location for wildlife photography. The park contains a lot of hiking paths, lush vegetation, lakes, streams, and a stunning waterfall. Tribble Mill Park's peace and spaciousness make the trip there unquestionably worthwhile.
Best Places To Fly A Drone In Macon, Georgia
Here are my top recommendations for where to fly a drone in Macon, Georgia. These places were chosen because of their accessibility, airspace constraints, and tourist attractions.
1. Amerson River Park
2551 Pierce Dr. N. Macon, GA 31204, United States
A bend of the Ocmulgee River encircles the sizable Amerson River Park, a popular location for biking and running. Drones may be safely launched from the open-air pavilions, and soaring beyond the tree line will give you a stunning perspective of the river and the surrounding forests.
2. Echeconnee Camp
2040 Joel Cowan Pkwy, Tyrone, GA 30290, United States
The Echeconnee Camp's sand road makes it an excellent location for distinctive and intriguing drone photography. One of the most exciting overhead images you can get is at a bike race, if you can manage to capture it. Outside the racetrack, there are wide open spaces where you can safely fly your drone.
3. Lake Tobesofkee
1642 Bonner Gilbert Rd, Macon, GA 31220, USA
The three nearby parks—Claystone, Sandy Beach, and Arrowhead—all provide access to the man-made Lake Tobesofkee reservoir, a well-liked leisure area. Almost every drone photo taken over Lake Tobesofkee will show off how beautiful the beaches, woodlands, water parks, and campers are nearby.
Final Thoughts on Where To Fly A Drone In Georgia
So there you have it: the best places to fly a drone in Georgia!
I hope you have a great time exploring the beautiful landscape of Georgia from above. You can also check out where to fly a drone in other states and cities in the United States.
Always remember to obey the federal, state, and local drone laws in Georgia to avoid having issues with the law and authorities.
And don't forget to share this article with a friend and other drone pilots who will benefit from this information using the share icons below.