In this article, we've scouted out the best places to fly a drone in Connecticut.
Connecticut is a little state in the New England Beaches that is jam-packed with extraordinary sights, spectacular natural beauty, flea shops, and a wide variety of museums. One day can include zip-lining, golfing, sailing, fishing, fine dining, or a delicious bowl of clam chowder at a beachfront shack.
Connecticut is the state where Yale University, the Peabody Museum, the Mystic Aquarium, and Lake Compounce are located. It was first settled by the Dutch and is covered in aromatic maples and old oaks. Here are a few of the top places to visit in Connecticut.
In this article, I will reveal to you where to fly your drone in Connecticut, as well as where it is permitted and not permitted by the law to fly a drone. I will also offer regulatory guidance to assist you in maintaining compliance with federal, state, and local laws.
Regulations In Connecticut
The federal drone laws governing drone operations in the United States, which were created by the Federal Aviation Administration, classify drone operations as either recreational or commercial.
Federal Regulations In Connecticut
Recreational drone pilots are subject to the FAA rules for recreational flyers, which require them to register their drones if they weigh more than 250 g and complete The Recreational UAS Safety Test (TRUST) before they can operate their drone for recreational purposes in the United States of America.
Commercial drone pilots are subject to FAA rules for commercial pilots, which require them to follow The Part 107 regulations, complete a multiple-choice exam, and earn a drone pilot certification from the FAA before they can operate their drone for commercial purposes in the United States of America.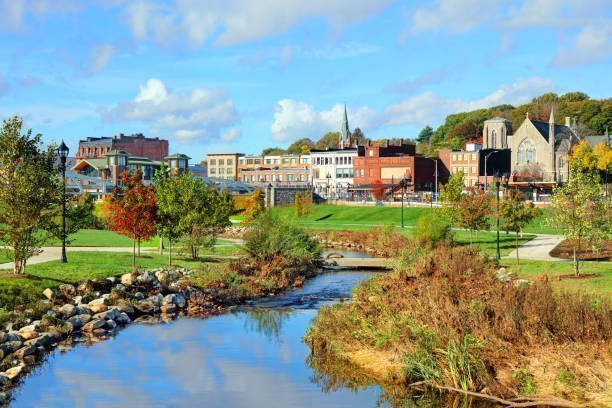 When flying within five miles of an airport, drone pilots are no longer needed to independently contact air traffic control. Instead, to obtain airspace authorization to fly in regulated airspace near and above numerous airports, both commercial and leisure fliers can use the automated LAANC system. You must apply for airspace authorization if you are operating in Class B, C, D, or E regulated airspace. In areas where LAANC is not available, you can use FAA Drone Zone or LAANC.
Interested in becoming an FAA-certified drone pilot so you can operate under the Part 107 regulations and make money flying your drone? Check out our industry-leading online training course over at Drone Pilot Ground School.
State and Local Regulations In Connecticut
Here is an in-depth guide to the drone laws in Connecticut that we put together. Be sure to check them out to see the state and local drone laws you need to adhere to in Arkansas. You should always exercise sound judgment when in doubt and adhere to the FAA's regulations.
DISCLAIMER: Nothing on this website should be construed as legal advice and is solely provided for informative reasons. If there is anything we missed or if you have any further questions, please contact us at info [at] droneller [dot] com, and we will do our best to assist you.
Best Places To Fly A Drone In Hartford, Connecticut
Here are my top recommendations for where to fly a drone in Hartford, Connecticut. These places were chosen because of their accessibility, airspace constraints, and tourist attractions.
1. Bushnell Park
1 Jewell St, Hartford, CT 06103
Bushnell Park is the oldest publicly funded park in the United States, located in the heart of downtown Hartford, Connecticut. The Corning Fountain is one of several monuments there, along with an antique carousel.
The Greater Hartford Festival of Jazz and the Hartford Marathon are just two of the significant occasions that take place at Bushnell Park each year.
Drone pilots will derive pleasure from exploring the scenic view of this park, which comprises 50 acres (20 ha) of green space and is visited by over one million people each year.
2. Hartford Reservoir No. 6
3070 Albany Ave, West Hartford, CT 06117, United States
The West Hartford Reservoir recreation area is situated 2.5 miles northeast of Farmington, Connecticut, on the western fringe of West Hartford, Connecticut. The park's eastern border is lined with six large reservoirs, while its southern border is traversed by a paved bike path. Drone pilots may explore the area a great deal and enjoy breathtaking sights from the air as far as their drone battery can take them.
3. Hockanum River Trail
New State Rd Trail, Manchester, CT 06042, United States
The Hockanum River Trail is located near Vernon, Connecticut, and is such a wonderful place to explore with your drone. A lovely river that runs beside the route contributes to its tranquility.
Although you'll need to be creative with your shot angles, it still gives some options for photography as well as an area for practicing flights. It's advisable to carry a landing pad and pick your landing place carefully because there is a lot of water and moist terrain in this area.
4. JB Williams Park
705 Neipsic Rd, Glastonbury, CT 06033, United States
Hikers and cross-country skiers use the park's numerous paths, and the Glastonbury High School cross-country team uses it as their home course. The trails have a large loop that is 0.9 miles (1.4 km) long. A pond for skating and fishing is close to the entrance, and there is also a playground and pavilion there. The smaller "dog pond" is located further into the park.
The park's dense tree cover can serve as an impromptu FPV course if you can find it on a day with little foot traffic. For aerial photography, you may fly at greater heights as well.
5. Ragged Mountain Memorial Preserve
41.6276763, -72.8166337
Drone pilots may enjoy some beautiful views of central Connecticut from Ragged Mountain Preserve, which is also Connecticut's most well-liked location for outdoor rock climbing.
The 5.5-mile-long Ragged Mountain main loop is renowned for its vast bare-rock panoramas, sheer cliff sides, and picturesque views of reservoirs and ponds perched on the cliff's edge.
The walk is classified as intermediate since it has some flat sections among the trees and rough, uneven ground, particularly closer to the preserve's cliff sides. The camera on your drone can also discover the high cliffs and hiking paths that skirt mythical pools.
Best Places To Fly A Drone In New Haven, Connecticut
Here are my top recommendations for where to fly a drone in New Haven, Connecticut. These places were chosen because of their accessibility, airspace constraints, and tourist attractions.
1. Castle Craig
41.557387, -72.842349
Castle Craig, located on East Peak in the Hanging Hills, is made of trap rock and stands 32 feet (10 meters) tall with a base circumference of 58 feet (18 meters).
A metal interior stairway is used to ascend the observation deck on top. It stands 976 feet (297 m) above sea level and provides an expansive view of the greater Meriden, Connecticut, area. Drone pilots who love the medieval style will enjoy exploring the area around this castle.
2. Lock 12 Historical Park
41.4767179, -72.9231589
Lock 12 Historical Park is situated in Cheshire and is part of the 5.5-mile Farmington Canal State Park Trail, which connects Hamden and Cheshire. Starting in 1825, Irish immigrants excavated the canal itself using shovels, wheelbarrows, and horse-drawn carts, which took ten years to finish the job.
Lock 12 Historical Park is mostly surrounded by houses and a few farms and has enough open grounds, walking trails, and trees for aerial photography and drone flight.
3. Long Beach
41.1522384, -73.1514681
Long Beach in Stratford ought to be one of your top options for drone flights if you enjoy the beach. The enormous surf, sandy beach, and open space beg you to fly your drone and capture breathtaking aerial photographs.
4. Savin Rock Park
435 Captain Thomas Blvd, West Haven, CT 06516, United States
There is a lovely area for hiking, fishing, or just hanging out at Savin Rock Park in Long Island Sound. Oak Street Beach's boardwalk offers a fantastic open area for drone flying. Off the beach's coast, fascinating rocks and other natural formations provide for captivating subjects.
5. Washburn Preserve
41.2634818, -72.7433048
As a result of its calm atmosphere and relative lack of crowds, Washburn Preserve makes a fantastic location for drone flights. After traveling for roughly half a mile, the hiking track ends at the water. Along the preserve, there are many different landscapes that would make for compelling drone footage.
Final Thoughts On Where To Fly A Drone In Connecticut
So there you have it: the best places to fly a drone in Connecticut!
I hope you have a great time exploring the beautiful landscape of Connecticut from above. You can also check out where to fly a drone in other states and cities in the United States.
Always remember to obey the federal, state, and local drone laws in Connecticut to avoid having issues with the law and authorities.
And don't forget to share this article with a friend and other drone pilots who will benefit from this information using the share icons below.