In this article, we've scouted out the best places to fly a drone in Colorado.
Colorado is a year-round vacation spot with spectacular terrain and unmatched natural beauty that captures the heart and mind.
The diversity of the state, which includes the spectacular Rocky Mountains, undulating hills, lovely alpine lakes, rivers, waterfalls, and the high desert of the Colorado Plateau, is nothing short of breathtaking.
Mountain towns are fantastic places to soak up some peace and take in the mountain mood, as well as being a haven for drone pilots, skiers, hikers, climbers, mountain bikers, and outdoor lovers of all kinds. 
In this article, I will reveal to you where to fly your drone in Colorado, as well as where it is permitted and not permitted by the law to fly a drone. I will also offer regulatory guidance to assist you in maintaining compliance with federal, state, and local laws.
Regulations In Colorado
The federal drone laws governing drone operations in Colorado, which were created by the Federal Aviation Administration, classify drone operations as either recreational flying or commercial flying.
Federal Regulations In Colorado
Recreational drone pilots are subject to FAA rules for recreational use, which require them to register their drones if they weigh more than 250 g and complete The Recreational UAS Safety Test (TRUST) before they can operate their drone for recreational purposes in the United States of America.
Commercial drone pilots are subject to FAA rules for commercial pilots, which require them to follow The Part 107 regulations, complete a multiple-choice exam, and earn a drone pilot certification from the FAA before they can operate their drone for commercial purposes in the United States of America.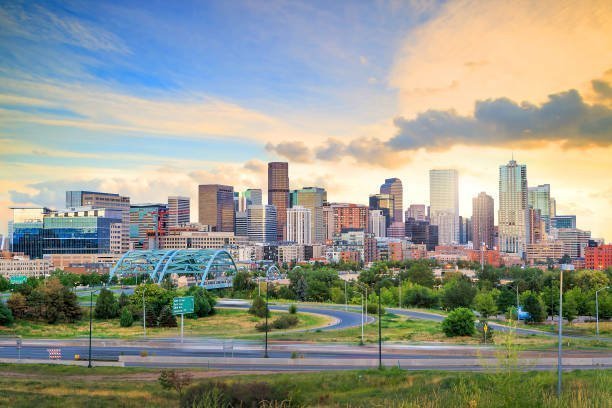 When flying within five miles of an airport, drone pilots are no longer needed to independently contact air traffic control. Instead, to obtain airspace authorization to fly in regulated airspace near and above numerous airports, both commercial and leisure fliers can use the automated LAANC system. You must apply for airspace authorization if you are operating in Class B, C, D, or E regulated airspace. In places where LAANC is unavailable, you can accomplish this using FAA Drone Zone or LAANC.
Interested in becoming an FAA-certified drone pilot so you can operate under the Part 107 regulations and make money flying your drone? Check out our industry-leading online training course over at Drone Pilot Ground School.
State and Local Regulations In Colorado
Here is an in-depth guide to the drone laws in Colorado that we put together. Be sure to check them out to see the state and local drone laws you need to adhere to in Colorado. You should always exercise sound judgment when in doubt and adhere to the FAA's regulations.
DISCLAIMER: Nothing on this website should be construed as legal advice and is solely provided for informative reasons. Send an email to info [at] droneller [dot] com if there is anything we missed or if you have any more questions, and we'll try our best to assist you.
Best Places To Fly A Drone In Colorado Springs, Colorado
Here are my top recommendations for where to fly a drone in Colorado Springs, Colorado. These places were chosen because of their accessibility, airspace constraints, and tourist attractions.
1. Cathedral Pines Trailhead
39.037299, -104.721207
The Cathedral Pines are located in the Black Forest and are home to the five-mile Pike Peak Loop trail. This pleasant loop, which passes under pine trees and through a few open areas, offers a lot of options for drone footage. The mountains in the area also provide a great contrast to the flat, arid ground of the Pike Peak Loop.
2. Cripple Creek and Victor Gold Mine
1632 Co Rd 82, Cripple Creek, CO 80813, United States
The open-pit, operational mine near Cripple Creek called the Victor Gold Mine offers instructional tours. The open pit mine is big enough that you can shoot beautiful pictures from a fair distance away, even though you probably won't be able to fly your drone straight over it. Additionally, the mine is bordered by several mountains and peaks, which provide for breathtaking panorama photos.
3. Monument Rock
39.087300, -104.904521
Monument Rock is one of Colorado's most distinctive rock formations. With a drone, you can capture stunning images and videos of Monument Rock from anywhere along the nearby hiking trail. The superb backgrounds provided by the nearby forest and the tiny lake to the north make you want more.
4. Palmer Lake Regional Recreation Area
199 County Line Rd, Palmer Lake, CO 80133, United States
Views of Palmer Lake and the adjacent Mt. Herman may be seen from this little village park. It's a terrific location for a leisurely afternoon of drone flying or trail walking. Always check before flying over the lake because paddle boarders and kayakers frequent it frequently.
5. Royal Gorge Bridge
4218 Co Rd 3A, Cañon City, CO 81212, United States
Drone photographers frequently visit the nation's bridges, and Colorado's Royal Gorge Bridge is no exception. There is a ton of breathtaking bridge video available that also shows the gorge in the park. But severe no-fly regulations are now in effect. However, commercial and recreational drone pilots must contact park officials in advance to get the most recent UAV regulations. Some pilots fly models into the park from outside the bounds; however, this is not recommended.
Best Places To Fly A Drone In Denver, Colorado
Here are my top recommendations for where to fly a drone in Denver, Colorado. These places were chosen because of their accessibility, airspace constraints, and tourist attractions.
1. Chatfield State Park RC Field
11500 N Roxborough Park Rd, Littleton, CO 80125, United States
The Chatfield State Park R/C Field is located in Littleton, Colorado, which is not far from Denver. It is a designated area for drone operations and other manned aerial vehicle (UAV) operations. This airfield's 3,889-acre area with lovely vistas is its main feature. You can see the enormous blue lake and the breathtaking mountain backdrop to the west.
2. East Reservoir
39.691713, -105.112051
The East Reservoir, which is one of the numerous lakes in Lakewood, is home to some of the most beautiful scenery for drone photography in Colorado Springs. The East Reservoir is surrounded by residential buildings, which blend well with the Red Rocks and the bigger rocks nearby.
3. Hutchinson Park
2030 S Wright St, Lakewood, CO 80228, United States
One of the few locations in Lakewood authorized for UAS operations is Hutchinson Park. Although Hutchinson Park's open area is not exceptionally large, it should be sufficient for occasional drone flights. It offers a wonderful perspective of the suburban neighborhoods close by and the distant rolling hills. Even though it gets crowded in the early evening, the park is a fantastic location for night photography.
4. Ketring Park
6028 S Gallup St, Littleton, CO 80120, United States
Ketring Park is one of the bigger public areas in Littleton. It includes a sizable grassy space and a magnificent lake with old-growth birch trees lining its shore. Drone cameras may float above the treetops and record the distant Rocky Mountain scenery.
5. Suhaka Model Airfield (AMA)
Model Airfield Access, Englewood, CO 80111, United States
Suhaka Field has been a part of Eaglewood's Cherry Creek State Park since the early 1960s. The Denver R/C Eagles manage a special area there for drone operators. Drone pilots are given their own flight area in order to differentiate fixed-wing models from multi-rotor UAVs. Also, the impressive surrounding environment provides camera drone pilots with very compelling aerial video they won't forget.
The politeness of the staff at Suhaka Model Airfield is another reason why drone pilots love this place. Everyone, including pilots with little experience, has access to a ton of support from the club.
Best Places To Fly A Drone In Fort Collins, Colorado
Here are my top recommendations for where to fly a drone in Fort Collins, Colorado. These places were chosen because of their accessibility, airspace constraints, and tourist attractions.
1. Poudre Canyon
33685 Poudre Canyon Rd, Bellevue, CO 80512, United States
The Poudre Canyon, located on the upper Cache la Poudre River in Larimer County, Colorado, is a 40-mile-long, narrow, lush canyon. Northwest of Fort Collins, the canyon is a valley that was created by glaciers in the Front Range of the Rocky Mountains.
One merely has to seek out any of the parking pull-offs along state route Co-14 to fly a drone close to the Poudre Canyon. Here, there is practically limitless room for drone flying, especially near the river. To prevent disturbing other drivers, do not fly your drone over a roadway. It would be preferable to relocate away from the road.
Final Thoughts on Where To Fly A Drone In Colorado
So there you have it: the best places to fly a drone in Colorado!
I hope you have a great time exploring the beautiful landscape of Colorado from above. You can also check out where to fly a drone in other states and cities in the United States.
Always remember to obey the federal, state, and local drone laws in Colorado to avoid having issues with the law and authorities.
And don't forget to share this article with a friend and other drone pilots who will benefit from this information using the share icons below.