In this article, we've scouted out the best places to fly a drone in Alaska.
Alaska is one of the most well-liked tourist destinations in the world because of its dramatic terrain and distinctive animals. Alaska has something to offer for whatever drone footage you're looking for.
Glaciers, woods, and animals can be found across the state, and drone pilots may take part in activities like hiking, bicycling, and kayaking. Additionally, there are several opportunities to unwind and enjoy the state's breathtaking nature due to the little communities that are dispersed across it.
In this article, I will reveal to you where to fly your drone in Alaska and also where it is permitted and not permitted by the law to fly a drone. I will also offer regulatory guidance to assist you in maintaining compliance with federal, state, and local laws.
Regulations In Alaska
The federal drone laws governing flying a drone in Alaska, which was created by the Federal Aviation Administration classifies drone operations as either recreational flying or commercial flying.
Federal Regulations In Alaska
Recreational drone pilots are subject to the FAA rules for recreational flyers which requires them to register their drones if it weighs more than 250g and complete The Recreational UAS Safety Test (TRUST) before they can operate their drone for recreational purpose in the United States of America.
Commercial drone pilots are subject to FAA rules for commercial pilots, which require them to follow The Part 107 regulations, complete a multiple-choice exam and earn a drone pilot certification from the FAA before they can operate their drone for commercial purpose in the United States of America.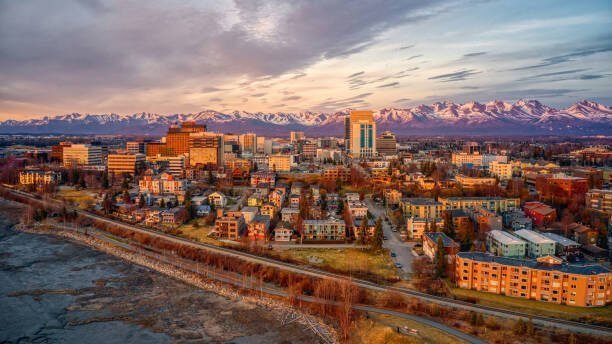 When flying within five miles of an airport, drone pilots are no longer needed to independently contact air traffic control. Instead, to obtain airspace authorization to fly in regulated airspace near and above numerous airports, both commercial and leisure fliers can use the automated LAANC system. You must apply for airspace authorization if you are operating in Class B, C, D, or E regulated airspace. In places where LAANC is unavailable, you can accomplish this using FAA Drone Zone or LAANC.
Get up-to-date airspace information, including temporary flight restrictions, using tools like B4UFLY, Kittyhawk, or Airmap.
Interested in becoming an FAA-certified drone pilot so you can operate under the Part 107 regulations and make money flying your drone? Check out our industry-leading online training course over at Drone Pilot Ground School.
State and Local Regulations In Alaska
Here is an in-depth guide to the drone laws in Alaska that we put together. Be sure to check them out to see the state and local drone laws you need to adhere to in Alaska. You should always exercise sound judgment when in doubt and adhere to the FAA's regulations.
DISCLAIMER: Nothing on this website should be construed as legal advice and is solely provided for informative reasons. Send an email to info [at] droneller [dot] com if there is anything we missed or if you have any more questions, and we'll try our best to assist you.
Best Places To Fly A Drone In Anchorage, Alaska
Here are my top recommendations for where to fly a drone in Anchorage, Alaska. These places were chosen because of their accessibility, airspace constraints, and tourist attractions.
You'll discover that the majority of the spots I've picked are situated in unregulated Class G airspace, where flying is permitted without any authorization. I also made sure to draw attention to any areas with recognized UAS or remote aircraft fields.
1. Storck Remote Control Aircraft Park
7020 Clarks Rd, Anchorage, AK 99516, United States
E. Ray Storck Homestead is a park located in the eastern part of Potter Hill, Alaska. E. Ray Storck Homestead is also one of the only two parks that allows drones and other remote-controlled aircraft to be flown for fun. Regional parks on Rabbit Clark's Road and Creek Road are nearby. There is plenty of room in the designated drone area for users to safely fly for amusement or filming.
2. Loretta French Park
18100 Old Glenn Hwy, Chugiak, AK 99567, United States
Alaska's Anchorage is home to Loretta French Park. It is located close to Chugiak and has an elevation of 143 meters. In this location, recreational drone users are currently free to fly. There is also a lot of room to enjoy. On the sizable slope in the northeast corner, action photographers may capture footage of themselves or others sledding throughout the winter.
3. Reed Lakes Trail
61.82350, -149.18686
Reed Lakes Trail is a hiking spot with plenty of spots to fly your drone in Alaska. It's an 8.7 mile hike there and back and features gorgeous landscapes, a picturesque alpine lake, and a beautiful river.
4. Hatchers Pass
61.76793, -149.30339
Hatcher Pass is a mountain pass that traverses through the Talkeetna Mountains in Alaska's southwest. It bears the name of miner and prospector Robert Hatcher. Palmer, Wasilla, and Willow, which are all within a distance of 26 miles to the west and 12 miles to the south, respectively, are the closest towns.
Final Thoughts on Where To Fly A Drone In Alaska
So there you have it: the best places to fly a drone in Alaska!
I hope you have a great time exploring the beautiful landscape of Alaska from above. You can also check out where to fly a drone in other states and cities in the United States.
Always remember to obey the federal, state, and local drone laws in Alaska to avoid having issues with the law and authorities.
And don't forget to share this article with a friend and other drone pilots who will benefit from this information using the share icons below.